Overview
Baker Tilly Capital, LLC's H1 2019 Specialty foods M&A Update provides an overview of the U.S. specialty foods market, industry trends and relevant transactions from January 1, 2019 to June 30, 2019 (H1 2019).
Sales of specialty foods continue to outpace growth of the broader food market, although the industry is seeing some slowing growth as the market matures. Specialty foods accounted for approximately $148.7 billion in sales in 2018, a 9.8 percent increase from 2016 to 2018, according to the Specialty Food Association (SFA) in its State of the Specialty Food Industry 2019 report.  Sales of specialty foods continue to outpace overall food sales by a factor of three, but have slowed a bit year-over year, growing 4.3 percent in 2018 compared to 5.4 percent in 2017.  Despite the recent slowdown, Mintel still forecasts that specialty food retail sales will grow at a compound annual growth rate of 5.9 percent from 2018 to 2023.  
Plant-based foods continue to be one of the fastest-growing and hottest sectors in the food industry.  According to Mintel, the retail market for plant-based specialty items grew 24 percent from 2016 to 2018 and the category now comprises nearly 5 percent of the total specialty food and beverage market. Beyond Meat Inc., a plant-based specialty foods company, continues to attract favorable attention to the plant-based segment of the food industry.  The company recently listed its shares on the public market and successfully raised $240 million in its initial public offering at a valuation of $1.5 billion.  Despite its strong valuation, Beyond Meat Inc. has yet to turn a profit, but the company's mission and focus on "creating a better way to feed the planet" through its plant-based food alternatives continues to drive positive public sentiment and is evidence that the plant-based retail vertical is primed for continual growth. On top of the strong growth of plant-based products at retail, imitation meat products have made significant strides at foodservice outlets in the first half of the year.  According to data from Technomic Inc., as of March 2019, meatless burgers were being offered at 15 percent of U.S. restaurants, or nearly 20,000 locations across the country.  Among the chains now offering the Beyond Meat and Impossible Foods products are Burger King, White Castle System Inc., TGI Fridays Inc., Del Taco Restaurants Inc., Carl's Jr., Red Robin Gourmet Burgers Inc. 
The explosive demand for these plant-based products is expected to have huge implications for the food supply chain.  Impossible Foods and Beyond Meat struggled to fulfill demand earlier in the year, until the former partnered with OSI Group, one of the original and largest beef suppliers to McDonald's, to help double production.  Many of the large food companies have been launching their own plant-based burgers and ground meat products, which should continue to drive demand for yellow peas. Pea protein is one of the key ingredients and large agribusinesses are beginning to ramp up production of pea protein, as evidenced by Cargill's investment in PURIS (North America's largest supplier of pea protein).
Specialty foods defined
Baker Tilly Capital defines "specialty foods" as unique, premium quality food items, which can be categorized into one or more of the following market segments:
Health and wellness: This market segment includes food products that are perceived by consumers as positively contributing or that actually contribute to their health and overall well-being. Sub-segments within health and wellness can be further divided into the following: (i) organic, (ii) natural foods, (iii) fortified foods and (iv) allergen-friendly foods.
Indulgence: Food products that satisfy or play off of consumers' senses (especially taste and smell), evoke certain memorable feelings or turn eating into more of an experience than a necessity.
Ready-to-eat (RTE): American consumers are snacking and eating on the go more often than ever before and the
ready-to-eat market segment includes the following sub-segments: (i) fully-prepared foods, (ii) partially-prepared foods,
(iii) hand-held foods or foods with convenient packaging and (iv) bundled products.
Ethnic: The ethnic market segment includes food products or dishes that are popular in other ethnic regions (i.e., taco shells, paneer cheese, sushi, etc.) or ingredients, spices or toppings that are often used in ethnic dishes (i.e., salsa, curry, hot sauce, etc.).
Public company summary
Market data is provided in Table 2 for 15 select publicly traded specialty foods companies. As of June 30, 2019, these companies were trading at a mean enterprise value (EV)/last twelve months (LTM) EBITDA multiple of 15.7x with a median of 14.8x. Mean EV/LTM revenue multiples were 1.4x with a median of 1.5x.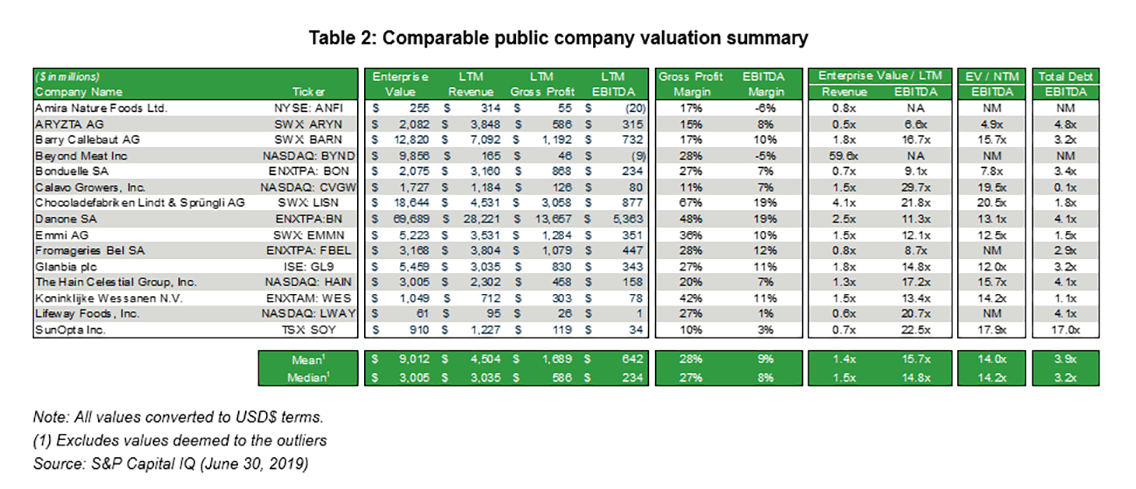 Public company multiples for specialty foods companies trended upwards during H1 2019 after trending down throughout 2018.  Trading multiples nearly returned to the seven-year high average of 16.0x EV/EBITDA as December 31, 2017 to 15.7x as of June 30, 2019 (excluding outliers).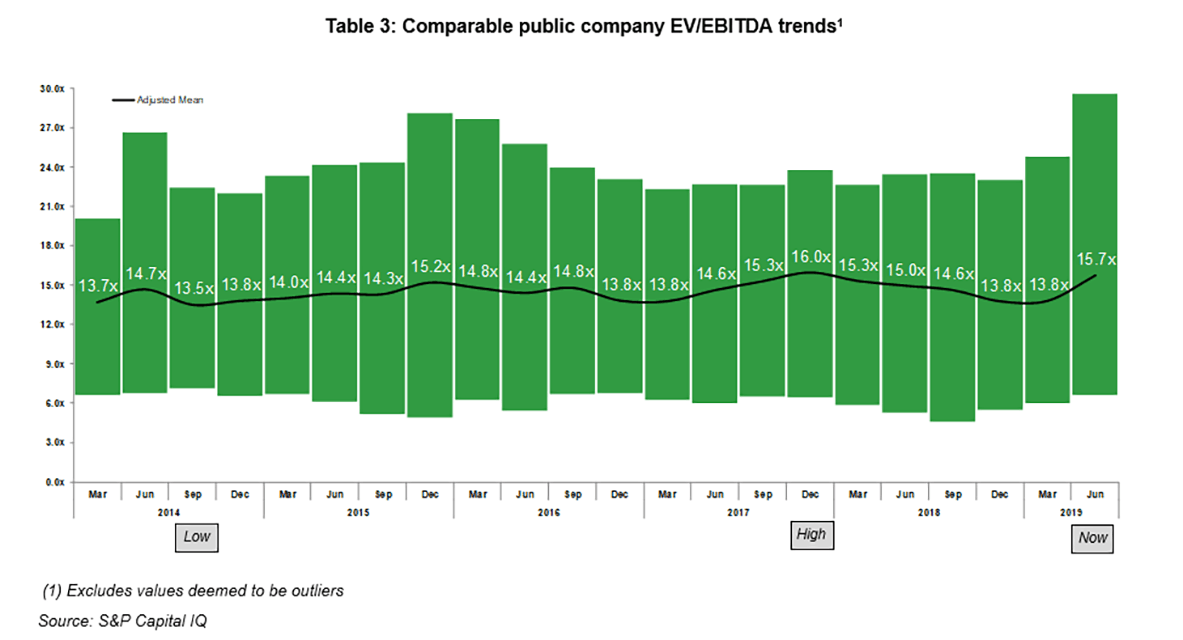 Specialty foods U.S. M&A transactions summary [2]
Specialty foods M&A activity remained active in H1 2019 as highlighted by the transactions presented in Table 4.  Notable in this period's M&A activity is the increased level of divestitures by some of the larger food and beverage companies, some of which are highlighted below.   
May 2019: The Hain Celestial Group, Inc. sold its Hain Pure Protein and WestSoy tofu, seitan and tempeh businesses
May 2019: TreeHouse Foods, Inc. divested its ready-to-eat cereal business
April 2019: Campbell Soup Co. exited Campbell Fresh unit with sales of Bolthouse Farms and Garden Fresh Gourmet
April 2019: Danone S.A. sold Earthbound Farm, LLC
April 2019: Kellogg Company divested its cookies and fruit snack business
February 2019: Hormel Foods Company sold CytoSport nutrition business
The majority of these divestitures were of assets deemed to be non-core to the respective parent company's operations.  A number of years ago, many of the larger packaged food companies began diversifying away from the core amid growing demand for fresher food products and waning demand for traditional packaged food products.  Several of these companies sought out transformational acquisitions to diversify the product portfolio, rather than focusing on reinforcing an at-risk or struggling core business.  In several cases, these acquisitions added complexity to the acquiring company's business upon realization that operating in the center-of-store is much different than the perimeter and also loaded the combined entity with debt.  Many of the previously mentioned companies above are now focusing on reducing complexity, streamlining portfolios and strengthening their core businesses to drive sustainable growth.
On the next page are select U.S. M&A transactions announced or completed in H1 2019 with a more comprehensive list of transactions announced in H1 2019 provided in Table 4. 
[1] Source: S&P Capital IQ; Wall Street Journal; Company press releases
[2] Source: S&P Capital IQ; Wall Street Journal; Company press releases
BFY Snacking: Mondelez acquires majority stake in Perfect Bar – RTE/ Health and wellness
Perfect Snacks, maker of the Perfect Bar that popularized refrigerated protein bars with its organic, non-GMO, nut butter-based protein bars and bites, was acquired by Mondelez International, Inc. (NasdaqGS:MDLZ) in June 2019.  Perfect Snacks was generating approximately $70 million in sales at the time of purchase and experiencing double-digit growth year-over-year.
Mondelez will operate Perfect Snacks as a separate entity, with the founders retaining a minority stake in the company and continuing to operate the business from its San Diego, CA headquarters.  With Mondelez, Perfect Snacks will be able to leverage the parent company's distribution network and R&D resources to accelerate growth.
The purchase follows last year's purchase of Tate's Bake Shop (maker of premium bagged chocolate chip cookies) for $528 million and the opening of Mondelez's innovation hub for new snacking brands called SnackFutures. The innovation hub launched in November 2018 to "capitalize on new trends and mobilize entrepreneurial talent and technologies to build and grow small brands with large-scale potential."
Divestitures: Campbell Soup divests Bolthouse Farms to private equity firm Butterfly Equity – Health and wellness
Bolthouse Farms, a vertically-integrated food and beverage company focused on developing, manufacturing and marketing natural, healthy food products, was acquired by Butterfly Equity from Campbell Soup Company (NYSE: CPB) for $510 million.  Bolthouse, which is a leader in fresh carrots and refrigerated premium beverages and offers a line of refrigerated salad dressings, was initially acquired by Campbell in 2012 for over $1.5 billion. 
The divestiture is part of Campbell's recent strategy to focus on its core packaged foods businesses, including snacks, meals and beverages.  As demand for fresh food products grew, Campbell attempted to diversify away from its core with the acquisition of Bolthouse and the 2015 purchase of Garden Fresh Gourmet, a provider of refrigerated fresh salsas.  Earlier in the year, Campbell announced it was divesting Garden Fresh to Fountain of Health USA.   
This marks the fourth investment for Butterfly Equity, which specializes in the food and beverage sector and pursues a "seed to fork" approach with investments spanning agriculture, aquaculture, food and beverage products, food distribution and foodservice.  Jeff Dunn, who previously served as President and CEO of Bolthouse from 2008 to 2012 and continued to lead the business under Campbell's ownership until 2016, is an operating partner with Butterfly and will again assume the leadership role at Bolthouse.
"Sc-ouped" Up: Kettle Cuisine expands with Harry's Fresh Foods acquisition – RTE/Health and wellness
Kettle Cuisine, a leading artisan producer of refrigerated and all-natural soups, continues to grow under the ownership of Kainos Capital with the April 2019 acquisition of Harry's Fresh Foods, a Portland, OR-based custom food manufacturer of soups, sauces and other specialty items.  Harry's was acquired from Joshua Green Corp., who purchased the business from Sun Capital Partners and Main Street Capital Holdings in 2013.   
Since acquiring the business in 2015, Kainos has invested over $300 million to acquire complementary businesses to expand capacity and capabilities.  Kettle Cuisine has grown to become the only coast-to-coast national fresh soup supplier in the U.S., offering premium soups, sauces, sides, entrees, sous vide meats, glace, demi-glace and broth concentrates for foodservice operators and grocery retailers.   
Following the acquisition, Kettle Cuisine plans to shutter Harry's plants in Tennessee and Portland and move all production to its Everett, WA plant, which was acquired by Harry's earlier in the year from Campbell Soup.The company expects to make significant investments in the plant and add 200-300 jobs as it scales up.
Leafy Greens: Taylor Farms buys Earthbound Farms from Danone – Health and wellness
Danone S.A. (ENXTPA: BN), a large multinational provider of dairy, plant-based, water and nutrition products, sold Earthbound Farm LLC to Taylor Fresh Foods, Inc. in April 2019.  Earthbound Farms sells organic packaged salads, fruits and vegetables and was initially acquired by WhiteWave Foods (which was itself acquired by Danone in April 2017) for $600 million in 2014.
Danone divested Earthbound as part of a previously announced portfolio management and capital reallocation optimization strategy. 
The sale to Taylor Fresh Foods returns the business to local roots and family ownership.  Taylor is a leading North American producer of salads and healthy fresh foods, including salad kits, stir fry kits, snack trays and on-the-go salads, among other products. 
Shaking Up: Hormel Foods sells CytoSport business to PepsiCo - Indulgence
Hormel Foods Corp. (NYSE: HRL) sold its CytoSport business, including Muscle Milk products, to PepsiCo (NasdaqGS: PEP) in February 2019 for $465 million.  CytoSport sells a variety of protein-focused sports nutrition products under the Muscle Milk, Evolve (free-from dairy, soy and gluten), Monster Milk and Cytomax brands, with products including ready-to-drink beverages, protein-based powders, sports nutrition bars and energy chews.
PepsiCo was already a long-term distribution partner for CytoSport before the acquisition, placing the company in an attractive position to expand the business.  The acquisition broadens PepsiCo's product portfolio, complementing the Gatorade brand, which introduced protein-based powders, ready-to-drink shakes and bars in recent years.
Hormel initially bought CytoSport in 2014 for $450 million, one of several acquisitions around that time focused on building out the company's portfolio of protein-oriented products. On a December 2018 earnings call, Hormel management noted that CytoSport had a "disappointing year" after sales declines of powders and ready-to-drink beverages.