Overview
Baker Tilly Capital, LLC's H1 2019 Specialty foods M&A Update provides an overview of the U.S. specialty foods market, industry trends and relevant transactions from January 1, 2019 to June 30, 2019 (H1 2019).
Sales of specialty foods continue to outpace growth of the broader food market, although the industry is seeing some slowing growth as the market matures. Specialty foods accounted for approximately $148.7 billion in sales in 2018, a 9.8 percent increase from 2016 to 2018, according to the Specialty Food Association (SFA) in its State of the Specialty Food Industry 2019 report.  Sales of specialty foods continue to outpace overall food sales by a factor of three, but have slowed a bit year-over year, growing 4.3 percent in 2018 compared to 5.4 percent in 2017.  Despite the recent slowdown, Mintel still forecasts that specialty food retail sales will grow at a compound annual growth rate of 5.9 percent from 2018 to 2023.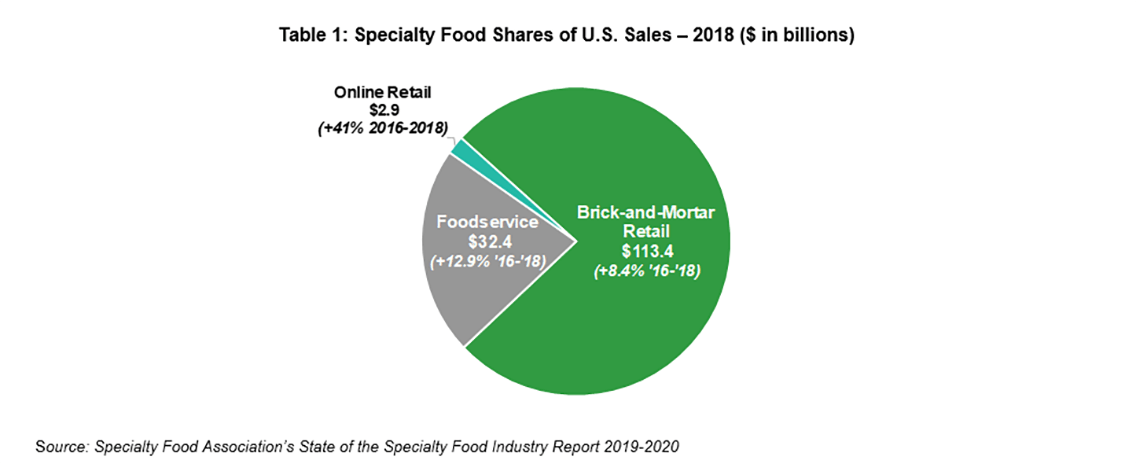 Plant-based foods continue to be one of the fastest-growing and hottest sectors in the food industry.  According to Mintel, the retail market for plant-based specialty items grew 24 percent from 2016 to 2018 and the category now comprises nearly 5 percent of the total specialty food and beverage market. Beyond Meat Inc., a plant-based specialty foods company, continues to attract favorable attention to the plant-based segment of the food industry.  The company recently listed its shares on the public market and successfully raised $240 million in its initial public offering at a valuation of $1.5 billion.  Despite its strong valuation, Beyond Meat Inc. has yet to turn a profit, but the company's mission and focus on "creating a better way to feed the planet" through its plant-based food alternatives continues to drive positive public sentiment and is evidence that the plant-based retail vertical is primed for continual growth. On top of the strong growth of plant-based products at retail, imitation meat products have made significant strides at foodservice outlets in the first half of the year.  According to data from Technomic Inc., as of March 2019, meatless burgers were being offered at 15 percent of U.S. restaurants, or nearly 20,000 locations across the country.  Among the chains now offering the Beyond Meat and Impossible Foods products are Burger King, White Castle System Inc., TGI Fridays Inc., Del Taco Restaurants Inc., Carl's Jr., Red Robin Gourmet Burgers Inc.