Engineering and construction industry overview and indicators
Baker Tilly Capital, LLC's engineering and construction M&A newsletter provides an overview of the US engineering and construction sector, including recent performance and M&A trends for the six months ending June 30, 2019 (H1 2019).
H1 2019 construction spending totaled $615.1 billion which represented a 0.7 percent decrease over the same six-month period in 2017. Trailing twelve months (TTM) spending as of June 30, 2019 was $1.3 trillion, which is 1.7 percent above the TTM ended June 30, 2018. Though total construction spending has continued to increase, growth rates have decelerated since 2015.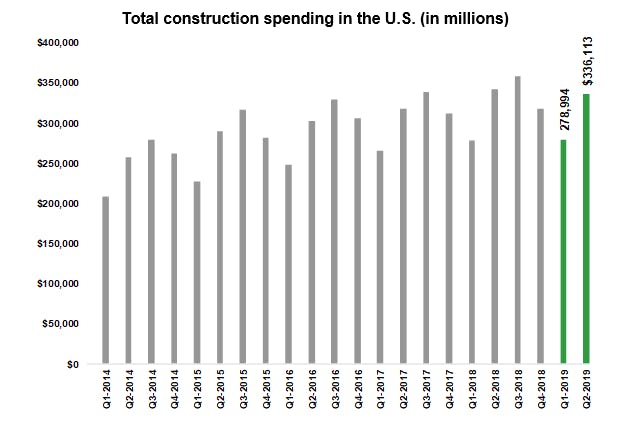 Year-over-year (YOY) total construction spending growth as of June 30, 2019 was driven by power, highway and street, and commercial spending. Since the Great Recession (2007-2009), public spending has declined towards a long run average and private spending continues to pace above the long run average.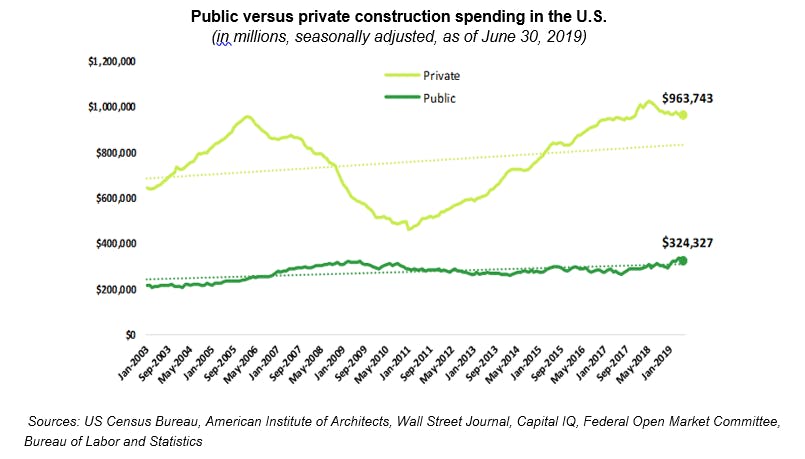 The consensus forecast compiled by the American Institute of Architects (AIA) for non-residential construction spending estimates that 2019 should see a 3.8 percent growth and 2020 will see a smaller growth rate of 2.4 percent. The AIA also provides the Architecture Billing Index (ABI), which is a leading indicator of construction spending. Since January, the ABI has trended downwards from 55.3 in January to 49.1 in June. Any ABI score below 50 indicates a declining market. The AIA states that four out of 10 architectural firms have seen a direct negative impact on their projects from tariff-related concerns.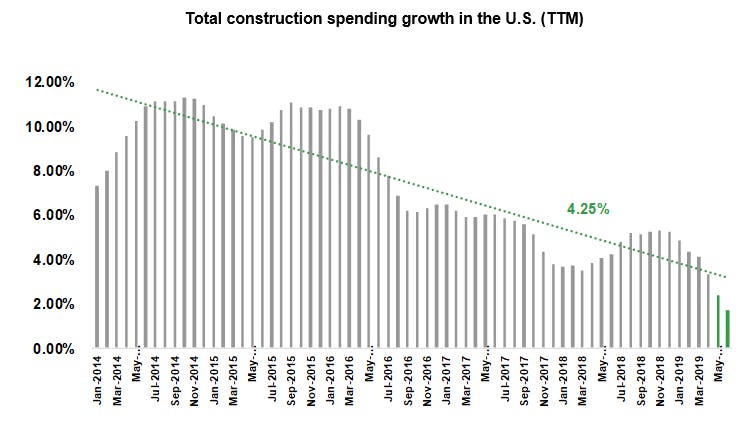 The Federal Open Market Committee (FMOC) remains accommodative on monetary policy, but expects rates to move closer to the 2.25 percent target. At the end of H1 2019 the federal funds rates stood at 1.82 percent. In the minutes for the June 2019 meeting, the FMOC cited a tight labor market, strong economic activity and inflation as the key reasons to pursue the targeted 2.25 percent federal funds rate.
During the first and second quarter of 2019, real gross domestic product (GDP) grew at 2.7 percent and 2.3 percent annual rate, respectively. The current rate of growth for 2019 is between the prior two-year's annualized growth rate of 2.9 percent in 2018 and 2.2 percent in 2017. This growth is due to above average government spending, uncertainty surrounding tariffs and U.S. monetary policy, and a lingering bump in household consumption expenditure from the Tax Cuts and Jobs Act. Unemployment rates have continued their downward trend during the H1 2019 and at the end of June stood at 3.6 percent, signaling a robust job market. Inflation for items other than energy and food were 2.1 percent according to the FMOC as of June 2018, which is very close to the target inflation rate.
Overall the U.S. economy is growing, yet stable. However, shifting economic policy and a changing geo-political climate could lead to uncertainty in the broader market, which could ultimately impact the construction and engineering industry. 
Sources: US Census Bureau, American Institute of Architects, Wall Street Journal, Capital IQ, Federal Open Market Committee,
Bureau of Labor and Statistics
Select public company metrics
Baker Tilly Capital reviewed publicly traded companies in the engineering and construction industry. As of June 30, 2019, the identified comparable public companies (after exclusion of outliers) traded at an average of 9.0x EBITDA and traded between 5.8x and 69.5x EBITDA. Average EBITDA multiples increased from 8.4x at the end of 2018 to 9.0x EBITDA as of June 30, 2019.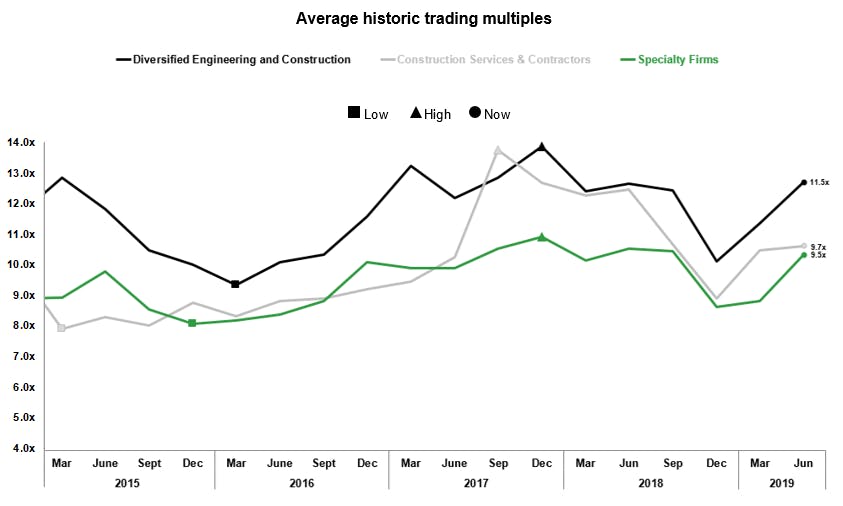 Public company valuations for engineering and construction firms can vary considerably, depending on the specific service and/or end market the company does business in. Generally, companies we classify as specialty firms lag the other constituents of the peer group in terms of trading multiples and that trend continued during the H1 2019. During H1 2019, specialty firms averaged 7.9x EBITDA, while the diversified engineering and construction and the construction services and contractors services averaged 11.0x and 9.0x respectively.
All three sub sectors have seen an increase in average EBITDA multiples from the beginning of the year. The table on the next page displays all construction and engineering companies under coverage and are broken down into their respective sub sectors.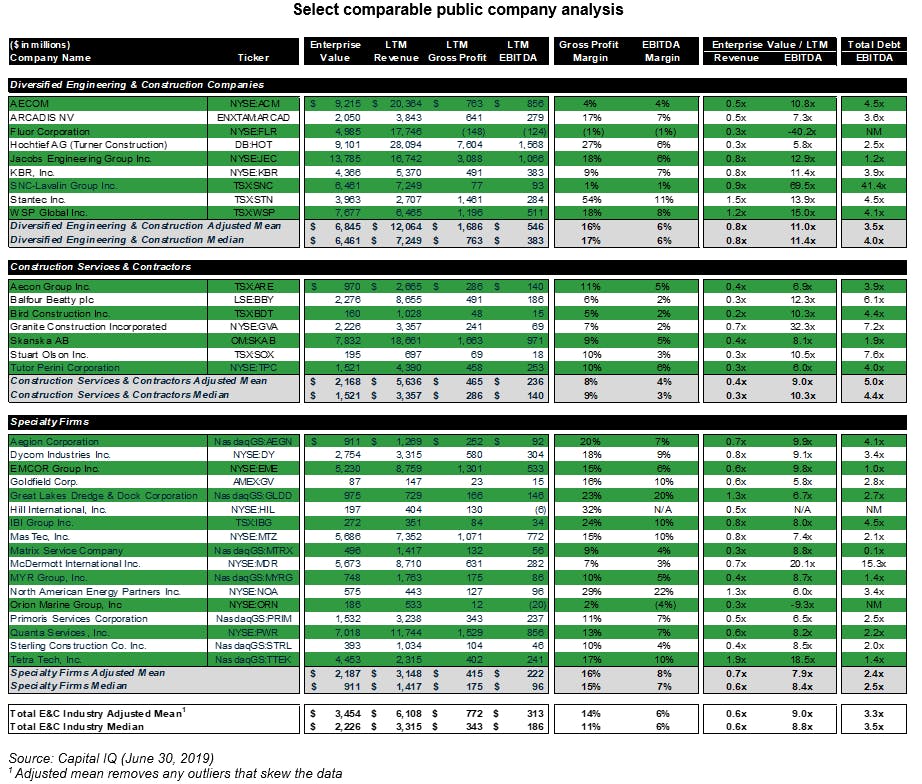 Select H1 2019 transactions
Merger and acquisition activity within the construction and engineering sector during H1 2019 is characterized by low deal volume and low aggregate transaction value. The total number of deals stayed relatively steady YOY with 64 deals in the H1 2018 and 67 deals so far in 2019.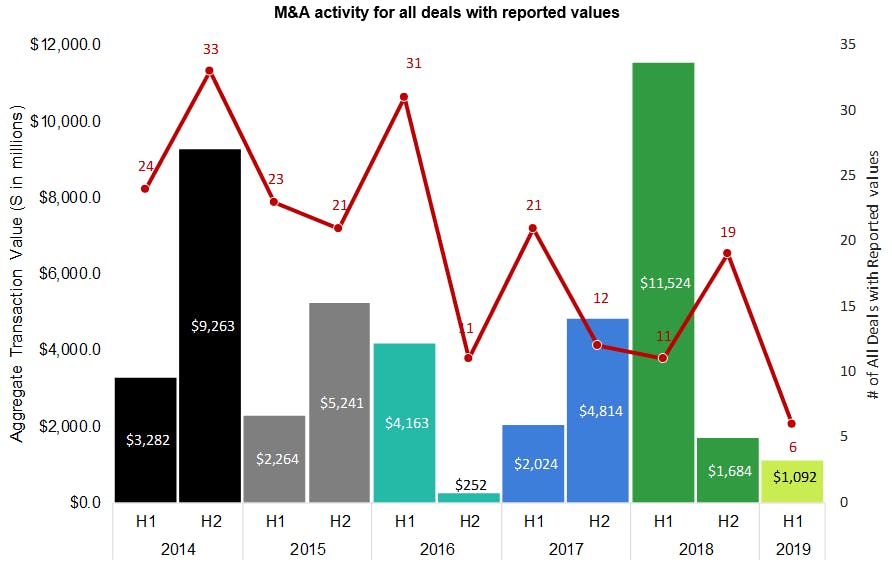 The average number of deals per half from 2014-2016 was 98, but since the beginning of 2017, the average number of closed deals in the construction and engineering industry has averaged 69.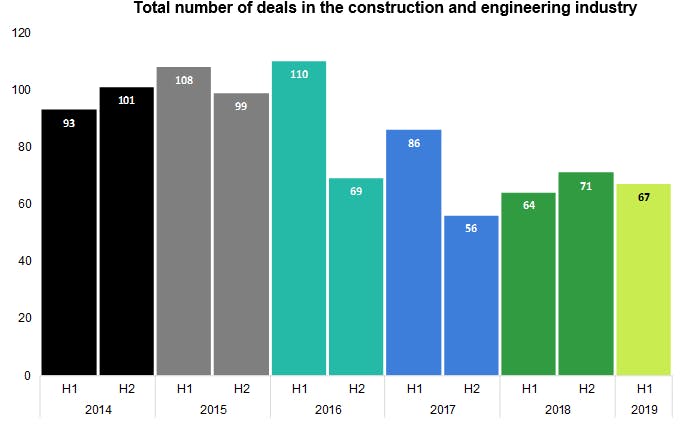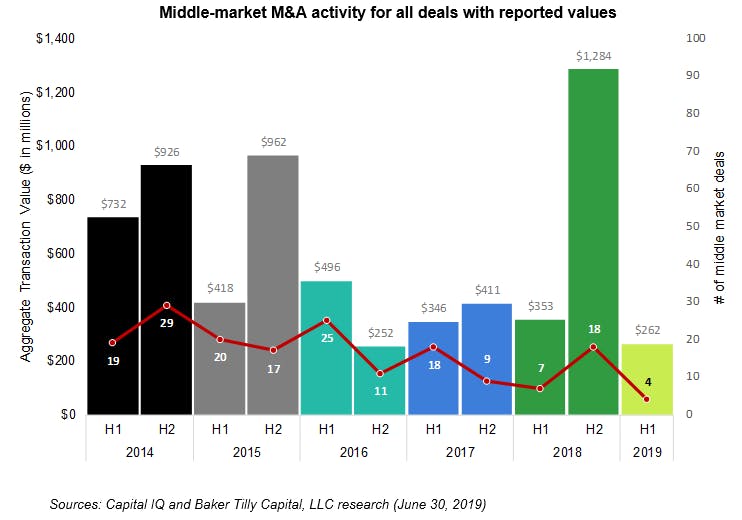 The selected transactions with numerical data below are from companies in the engineering and construction industry that occurred during H1 2019.