Engineering and construction industry overview and indicators
Baker Tilly Capital, LLC's engineering and construction M&A newsletter provides an overview of the US engineering and construction sector, including recent performance and M&A trends for the six months ending June 30, 2019 (H1 2019).
H1 2019 construction spending totaled $615.1 billion which represented a 0.7 percent decrease over the same six-month period in 2017. Trailing twelve months (TTM) spending as of June 30, 2019 was $1.3 trillion, which is 1.7 percent above the TTM ended June 30, 2018. Though total construction spending has continued to increase, growth rates have decelerated since 2015.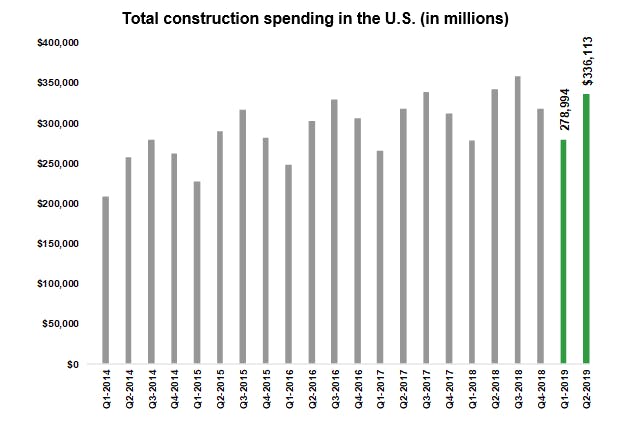 Year-over-year (YOY) total construction spending growth as of June 30, 2019 was driven by power, highway and street, and commercial spending. Since the Great Recession (2007-2009), public spending has declined towards a long run average and private spending continues to pace above the long run average.