Major U.S. indexes
The third quarter of 2019 (Q3 2019) showed relatively stagnant performance for the broader U.S. equity market, as the S&P, DJIA and NASDAQ closed up 1.2 percent, 1.2 percent and -0.1 percent, respectively, for the quarter. For the 12 months ending September 30, the S&P, DJIA and NASDAQ closed up 2.2 percent, 1.7 percent and -0.6 percent, respectively.
Food & Beverage relative performance
As of September 30, 2019, three of the five food & beverage segments exhibited increases on a trailing twelve months basis. As a whole, markets in 2019 rebounded from a turbulent end to 2018 and presented investors with a slight easing of stock market volatility. For the remainder of 2019, political and trade uncertainties could determine growth drivers and consumption levels will continue to be closely monitored as related to perceived market stability.
The stocks of the snack segment performed the best of the five food & beverage segments. This segment exhibited stock gains of 26.8 percent, leading the performance of the S&P 500 index's 2.2 percent increase during the observed period. The entirety of the snack segment constituents experienced closing quarterly stock prices within 95 percent of their respective 52-week highs, which led to the segment's gain. The natural/organic segment, on the other hand, suffered significant declines.
A key driver of the branded packaged goods segment's increase was Campbell Soup Company's announced divestiture of its Australian snack business in an effort to initiate a corporate turnaround. The company announced the sale of its Australian snack business, which includes the Arnott's cookies brand, to KKR for $2.2 billion. The divestiture is the latest in a restructuring effort to improve profitability. So far, in 2019, the company has shed some of its business units with the intention of producing $945 million in cost savings by fiscal year 2022. The restructuring will allow the company to pay down a portion of its debt, which has reached nearly $10 billion in 2019.  The company still faces its biggest task – turning around the core soup business. While investors have shown patience and optimism, they are still aware that the turnaround is a long, arduous process. As said in the Wall Street Journal, "Investors are celebrating early signs of success at Campbell Soup, but the task of turning around its core soup business has only just begun."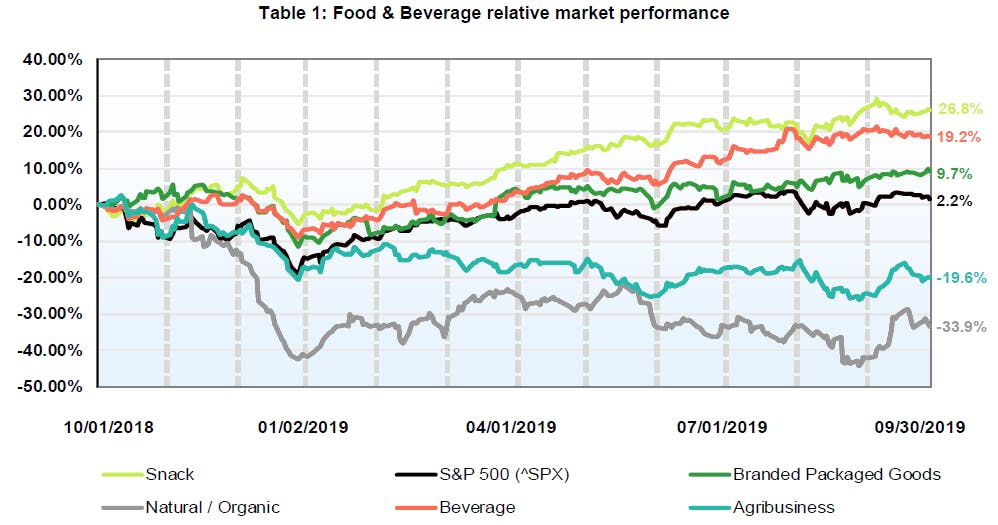 LTM as of September 30, 2019
EV = Enterprise value
Source: S&P Capital IQ, The Wall Street Journal and Baker Tilly Capital research (October 2019)