M&A activity
There were 37 transactions that closed in the Pittsburgh regional market during the third quarter of 2019 (Q3 2019), down from the 50 closed transactions in the prior quarter. The 37 closed transactions marked a decrease of 14.0 percent from the 43 closed transactions during the same period in 2018.
In Q3 2019, North America's overall M&A activity remained robust, totaling over $600 billion. So far, as of Q3 2019, more than 8,000 deals have closed with an aggregate transaction value of roughly $1.6 trillion. In Q3 2019, eight megadeals closed with valuations greater than $10 billion, accounting for more than one-third of total deal value. Median deal size in North America rose to $93.5 million through Q3 2019, a dramatic increase from $57.0 million in 2018. One broader movement that has influenced markets in Q3 2019 is the tense relationship between the U.S. and China that has resulted in a trade war. Aside from the day-to-day volatility of international relations, the M&A market has been one of the areas hit hardest by the trade war. Deal value for North American target companies with a Chinese acquirer are on pace to fall by more than 90% since the peak in 2016.
With the increased prominence of startups and companies staying private for longer periods, high-growth companies have contributed to lofty valuations. The median valuation / EBITDA multiple for M&A transactions rose slightly to 10.4x through Q3 2019, up from 9.4x in 2018.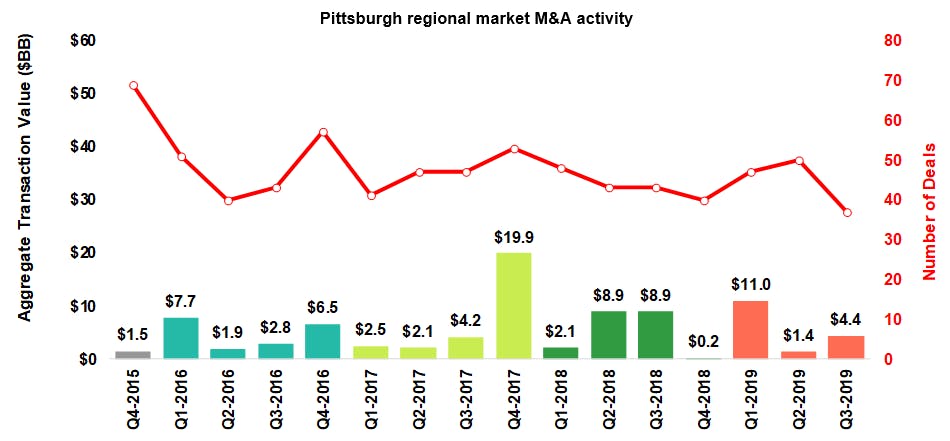 M&A activity by industry
The Pittsburgh region's Q3 2019 M&A activity was led by the Consumer and Industrials sectors, each with 21.6 percent of the total deals closed in the period. The Information Technology sector accounted for the third largest percentage of the total deals closed, with 16.2 percent. The Materials and Healthcare sectors represented the next most closed deals, each with 13.5 percent. The Energy sector followed with 8.1 percent of the completed deals. The Financials sector rounded out the Q3 2019 M&A activity with 5.4 percent of closed deals. The even distribution of industries with closed deals in Q3 2019, combined with the M&A trends of recent quarters, points to a sustained diversification in business activity in the Pittsburgh region.
Baker Tilly Capital, LLC disclosure
Baker Tilly Capital, LLC privacy policy
Baker Tilly Capital, LLC social media disclaimer
For more information on this topic, or to learn how Baker Tilly specialists can help,  contact our team.
Source: S&P Capital IQ, PitchBook (October 2019)
More insights like this
Central Pennsylvania regional M&A update: Q3 2019 
Philadelphia regional M&A update: Q3 2019 
Texas regional M&A update: Q3 2019

You might be interested in
Asset management
Banking
Insurance
Mergers and acquisitions
Private equity
Technology