There were 45 transactions that closed in the Central Pennsylvania regional market during the third quarter of 2019 (Q3 2019), a slight decrease from the 47 closed transactions in the prior quarter. The 45 closed transactions marked a notable increase of 28.6 percent from the 35 closed transactions during the same period in 2018.
In Q3 2019, North America's overall M&A activity remained robust, totaling over $600 billion. So far, as of Q3 2019, more than 8,000 deals have closed with an aggregate transaction value of roughly $1.6 trillion. In Q3 2019, eight megadeals closed with valuations greater than $10 billion, accounting for more than one-third of total deal value. Median deal size in North America rose to $93.5 million through Q3 2019, a dramatic increase from $57.0 million in 2018. One broader movement that has influenced markets in Q3 2019 is the tense relationship between the U.S. and China that has resulted in a trade war. Aside from the day-today volatility of international relations, the M&A market has been one of the areas hit hardest by the trade war. Deal value for North American target companies with a Chinese acquirer are on pace to fall by more than 90% since the peak in 2016. 
With the increased prominence of startups and companies staying private for longer periods, high-growth companies have contributed to lofty valuations. The median valuation / EBITDA multiple for M&A transactions rose slightly to 10.4x through Q3 2019, up from 9.4x in 2018.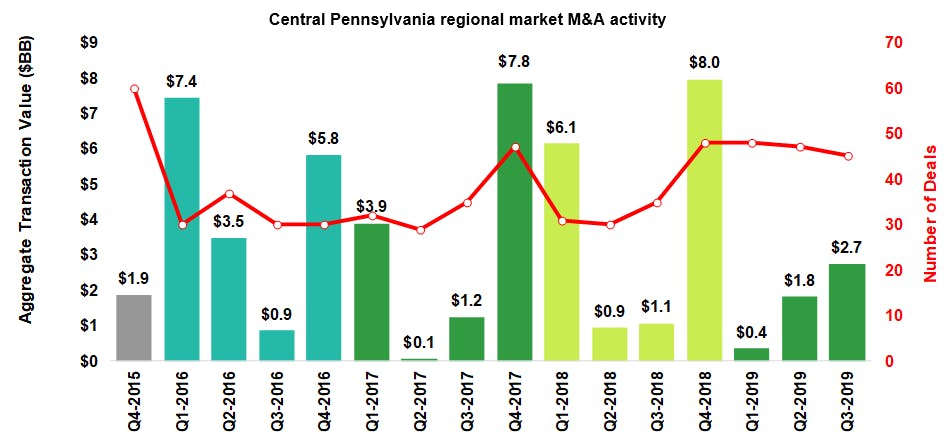 Source: S&P Capital IQ, PitchBook (October 2019)