Among many other industries, the craft beer sector has fallen on hard times in recent years.
Industry experts believe the market has become oversaturated following the explosion of new brands over the last decade, and there are several other recent factors for the industry's downturn that we will discuss below.
The end result, for many craft beer owners, is a challenging situation that includes difficult realities such as decreasing sales, crippling debt and sometimes even a need to cease operations.
This level of distress can be felt not just among our craft beer clients, but across companies that we work with in many industries. It's not a pretty picture these days for many companies that once were quite profitable or had visions of long-term staying power in their industry.
Fortunately, there is a solution.
Craft beer: one of many distressed industries
At the moment, there are more than 9,000 craft brewers in the United States. That number has nearly doubled in the last six years, and it's light-years ahead of the figures we saw a decade ago, when private equity firms first began to get heavily involved in the industry.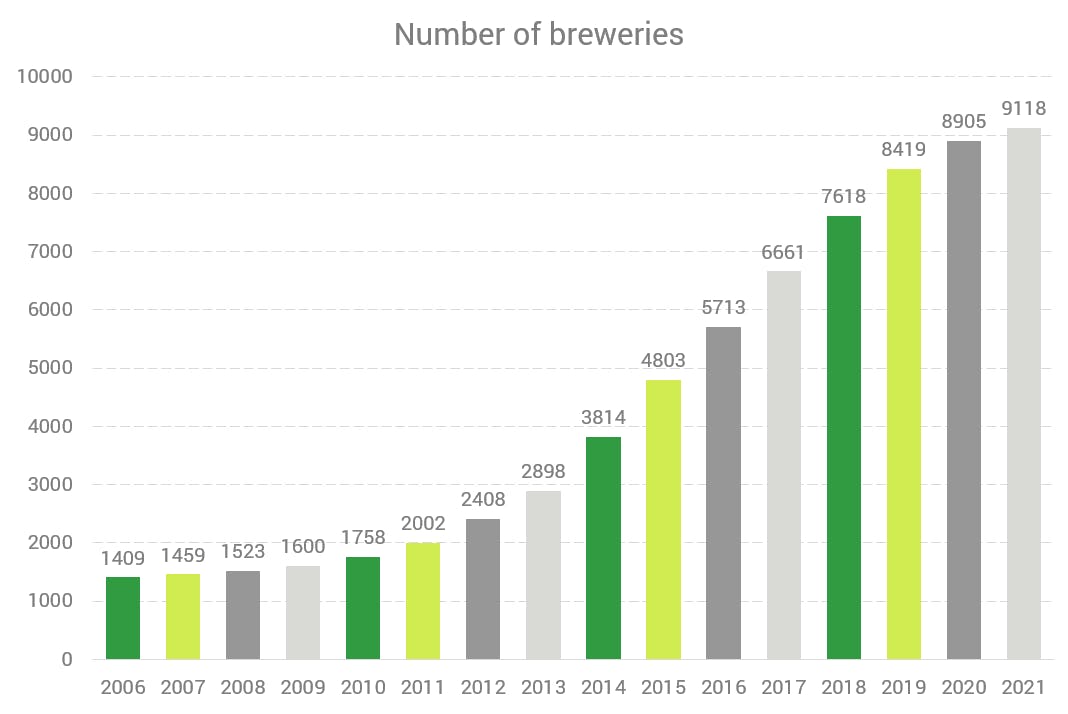 Source: Number of operating craft breweries in the United States, Statista, 2021
Yet, the increase in the number of craft brewers certainly has not led to a booming industry. In this case, more companies has not equated to greater overall success, at least not at the moment.
If anything, the last 4-to-6 years have seen many craft brewers deal with a steady decline in sales volumes and sales. The reasons for this include:
Alternative beverages: The industry has seen an increase in demand for ciders, seltzers and other alcohol alternatives.
Declining on-premise sales: The COVID-19 pandemic has put a serious dent in in-person sales over the last two-plus years.
New technology: The development of brewing technology has decreased the competitive advantages that used to come with owning a proprietary recipe.
Rising inflation and costs: The economy's overall inflationary environment has created rising supply and labor costs, which have not helped matters in an already struggling industry.
With these factors setting a foundation, we are seeing signs of distress in the marketplace as many brewers and their lenders are faced with the realities of a shrinking market and a lot of debt that needs to be paid off, or restructured, based on the industry outlook.
Additionally, large conglomerates like Molson Coors that purchased smaller breweries in the years leading up to the pandemic are now unable to generate profits with many of these craft brewers. There are just too many craft beers and the larger companies simply cannot make the math work anymore. The result is that they are forced to decide which of their brands to truly get behind with their financial backing and their marketing muscle. And, in turn, they must decide which brands to move on from.
The other side of the situation is that some of the big players in the industry will be interested in purchasing quality brands for cheap, or pulling them out of bankruptcy for little-to-no cost.
The reality of the craft beer industry is harsh at the moment and even unfair, in some ways. Plenty of good brands (and good beers) are struggling mightily. There are just so many options these days – so much competition between brands, so little shelf space available, and, honestly, so much marketing power behind certain products, that even the owners of some of the best tasting beers and the highest quality products find themselves in a battle for survival.
A distressed industry takes no prisoners, and the pandemic certainly hasn't helped matters. With that in mind, it is critical for distressed companies to get help before it's too late.
Distressed M&A: Your company is not alone
Of course, mergers and acquisitions (M&A) receive a considerable amount of attention at Baker Tilly and at other leading accounting firms. M&A transactions can be complex – and may involve a considerable amount of money – and they typically require third-party professional assistance. 
A unique area that fewer firms specialize in is distressed mergers and acquisitions and turnaround (DMAT). Baker Tilly's niche DMAT practice works closely with companies – spanning the industry gamut – that are feeling the effects of a distressed market.
Baker Tilly's DMAT specialists help debtors and creditors navigate their operational, financial and other turnaround issues to get companies where they need to be. Sometimes that means nursing a company back to health and setting it up for a promising future. Other times, realistically, the smartest path to take is to liquidate a company's assets, or to attempt to find a buyer for the intellectual property, or perhaps for the company as a whole.
Many craft brewers, and other distressed companies, are faced with a daunting reality. The owner, or CFO, or controller realizes that they have a payroll issue, or a cash flow issue, or an inability to pay vendors – or worse, an inability to pay the bank.
Baker Tilly can assist management teams, investors and other stakeholders in performing critical financial and operational analyses to help identify areas for operational improvement and assess strategic options going forward given the current environment.
By hiring a financial advisor, a business owner can preserve any equity value, if the company has any remaining. Advisors like Baker Tilly also can help minimize the capital loss, and perhaps can turn the company around by finding a new financial or operational partner. Baker Tilly can provide the operational consulting to maximize current cash flow, explore all liquidity possibilities and find the smartest course of action for the company.
Don't go at it alone
Distressed companies that attempt to figure things out on their own could find themselves beginning a turbulent journey.
Without the right combination of financial acumen and problem-solving skills, a struggling company in a distressed industry likely will continue to experience increasing debt and decreasing sales. At some point, the bank is going to come take the keys. That's simply the reality for hundreds of craft brewers and thousands of companies across other similarly struggling industries.
We are actively assisting clients in distressed situations (across a variety of industries) and providing solutions to their financial and operational issues. Our current efforts include negotiating debt payment deferrals with lenders and helping companies assess strategic options, such as debt refinancing, assessing potential strategic partners, divesting non-core assets and assessing areas for operational improvement. In some ways, the possibilities are endless.
When it comes to distressed companies, nothing is linear. It's more like a matrix where things can go in any direction, at any time. With the vast array of options and the enormous amount at stake, it's critical to find a partner who understands all the challenges, all the possibilities, all the risks and all the potential rewards.