At some point, most organizations will go through significant changes. Realizing this inevitability, you may wonder if your organization is ready for a transformation. That can be difficult to gauge as there is no one-size-fits-all approach to transformation and many contributing factors to an organization's preparedness for change. Regardless of scale, one common element is foundational to successful change: people.
Organizational readiness puts people at the center of the equation sooner
The ability to transform is crucial in responding to changing market conditions - for survival and to remain competitive in the marketplace. More importantly, prosperous organizations know that the people within their organization are essential in helping them reach their goals. Inviting those impacted by a change to share their perspectives and participate in developing solutions intended to drive the business forward helps to promote innovation. Further, it instills a greater sense of purpose, acceptance and belonging in the work. The most effective companies driving transformation today begin planning for change with the voice of their people in the decision-making.
By using insights provided by early participation and ongoing assessment, organizations can identify and understand critical factors that enhance or challenge a successful transformation, enabling them to proactively mitigate obstacles and leverage their collective strength to support the mission. As a result, the organization's workforce has a better experience with changes to technology, processes and organizational priorities, resulting in easier adoption and better utilization while optimizing efficiency and maximizing ROI.
Organizational readiness takes a proactive approach to change
By operating from a holistic mindset for end-to-end transformation, organizational readiness establishes early leadership alignment, builds understanding and desire across the organization and drives optimization through a commitment to continuous improvement. While every change initiative is different, Baker Tilly's approach focuses on three pillars essential to successful digital transformation, with people as the central focal point: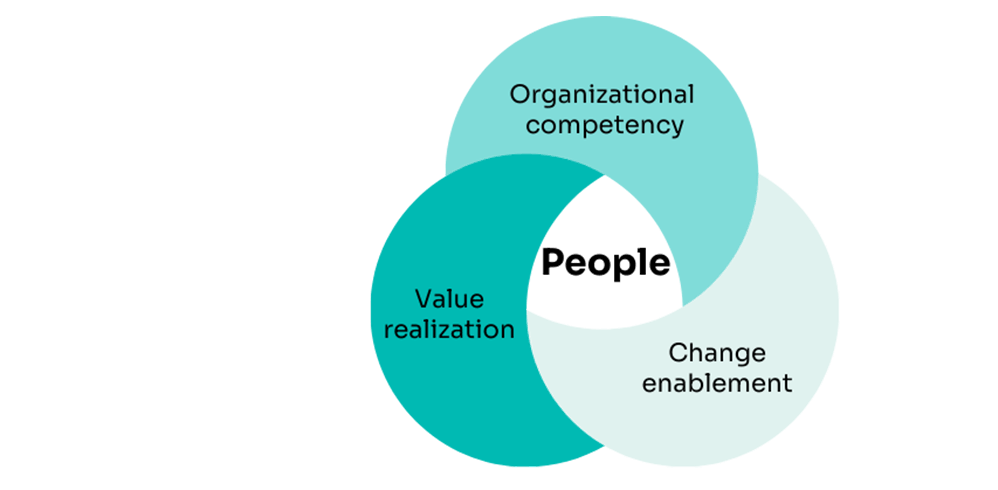 Organizational competency
A successful digital transformation aligns with the organization's mission, goals, objectives and culture while establishing leadership buy-in and advocacy for the desired future state.
This pillar focuses on improving an organization's capacity for change. To do this, we combine traditional and modern assessment techniques to understand where the organization is today and how to bridge the gap to a reimagined future. Based on the current environment, we work alongside organizational leadership to define the transformation strategy, structure and people required to identify opportunities and overcome potential obstacles before the transition begins.
Change enablement
A digital transformation is only as successful as people's understanding of why the change matters, how it impacts them and what is required to succeed.
This pillar combines human-centered methodologies with proven strategies to lead people through change, promoting adoption, proficiency and optimum solution utilization by driving the psychological and behavioral changes required to thrive in the future-state environment.
Value realization
Up to 84% of transformations are estimated to fail to deliver the expected value and ROI. The value of a transformation should be monitored well beyond implementation, from utilization to efficiency and maximized ROI. A comprehensive governance and maintenance program rooted in continuous improvement ensures the initiative provides maximum value realization to drive desired outcomes, both now and into the future.
This pillar provides a road map for a sustained future by fostering commitment to the ongoing maintenance and sustainment of the new ways of working, building confidence that the solution will be supported and optimized along the way.
The A+ approach to organizational readiness – moving your organization forward
The backbone of our approach to organizational readiness is our A+ model. Regardless of the stage in the transformation journey, the four components – assess, assemble, activate and advance - work together to engage people at every level of the organization at the right time to promote awareness, foster commitment and forge the behaviors required to sustain change.