From new guidance on SOC® 2, updated Trust Services Criteria and the onset of SOC for Cybersecurity, significant changes to SOC reporting have occurred within the last two years. As organizations navigate these developments, challenges are likely to surface. In this series, Baker Tilly SOC specialists provide you with updates on the latest SOC guidance and discuss some of the key lessons learned, common pitfalls and unique nuances experienced on both sides of these examinations.
Previous webinars in this series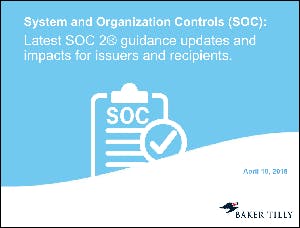 Baker Tilly SOC specialists will discuss key topics service organizations and users should consider as they perform their SOC 2® examinations under the new guidance.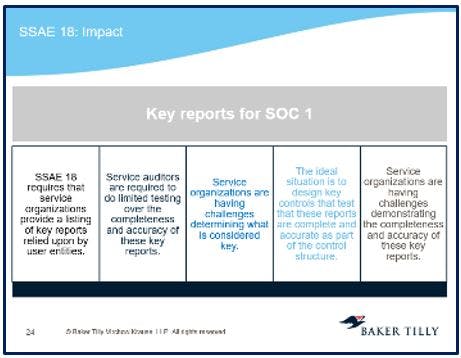 In this webinar, we take an eye to the first year of SSAE18 and SOC for Cybersecurity, sharing common challenges and lessons learned.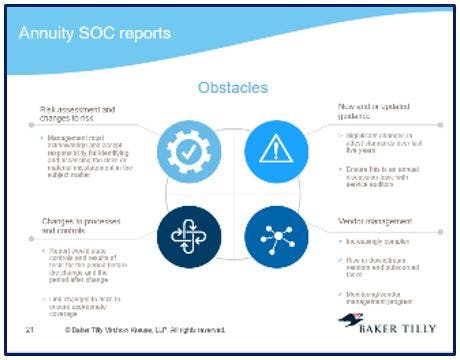 Baker Tilly discusses key topics SOC issuers should consider as they perform their exams, along with focal points of user entities as they evaluate vendor's SOC reports.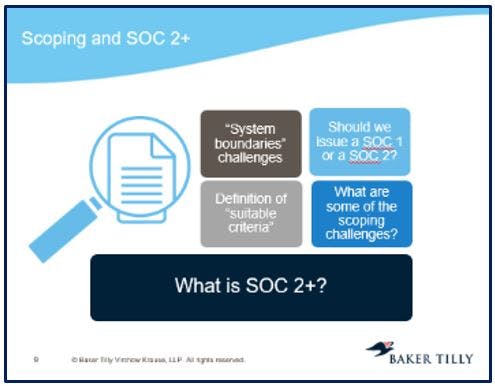 The SSAE 18 standard, recent changes to Trust Services Criteria and approaches for future planning are discussed.
For more information on this topic, or to learn how Baker Tilly specialists can help, contact our team.