Valuation, buyers, market trends and executive compensation and retention
This presentation provides a basic overview of how construction businesses are valued and highlights the key issues that may impact the valuation of your business as well as how different exit strategies could impact the value.
Presenters explored current trends in the mergers and acquisitions market, including:
Where we are seeing comparable and transaction multiples
Who we are seeing as buyers in the construction industry
Challenges we are seeing in deals getting done and strategies used to mitigate them
Finally, Chris Henderson of M3 Financial provides an overview of executive-level benefits that can be used to attract and retain talent in the construction industry, because your management team may also be an option for the transition of your business.
Key learning objectives
Understand how your business is valued and key issues impacting value
Evaluate current market opportunities for transitioning ownership and the types of potential buyers
Assess various benefits strategies for executives and long-term retention strategies
View other webinars in this series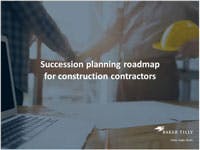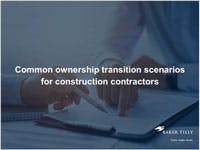 For more information on this topic, or to learn how Baker Tilly specialists can help, contact our team.