In a recent National Contract Management Association (NCMA) webinar, Baker Tilly advisors along with litigation industry leaders discussed the complex and evolving issues within government contracts intellectual property as well as ways contractors can prepare themselves to help protect their intellectual property investments. 
This webinar discussed some of the basic rules governing rights in technical data and computer software, including the data rights allocation schemes established by the FAR and DFARS, and for both noncommercial and commercial items, with the primary focus discussing the increasing spotlight being placed on intellectual property rights by the government, particularly the Department of Defense. For example, the Department of Defense's Better Buying Power 2.0 initiative, describing both what it looks like on paper, and how it's being implemented in practice.  
Highlights include:
Overview of rules governing rights in technical data & computer software
The federal government's increasing focus on data rights
Anatomy of a data rights challenge
Practical pointers for responding to and avoiding data rights challenges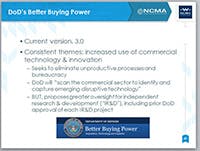 Download the presentation: Preserving Intellectual Property Rights under Government Contracts >
For more information on this topic, or to learn how Baker Tilly specialists can help, contact our team.