M&A activity in Pennsylvania continues its late 2020 strong upward trend
After a strong rebound during the second half of 2020, M&A activity in Philadelphia and Central Pennsylvania continues on the same trajectory in H1 2021. This growth is driven by several factors:
Continued reopening of M&A markets and increase in available debt financing
Continued confidence in industries highly affected by the COVID-19 pandemic (telehealth, transportation, groceries)
A total of 468 transactions closed in the Philadelphia and Central Pennsylvania regional markets during the first half of 2021 (H1 2021), up from the 419 closed transactions in the second half of 2020. These transactions also marked a substantial 66.6% increase from the 281 closed transactions during the same period in 2020. However, an uptick in M&A activity in this regional market contrasts with the 4.1% decline seen in the U.S. M&A markets.
Philadelphia & Central Pennsylvania regional market M&A activity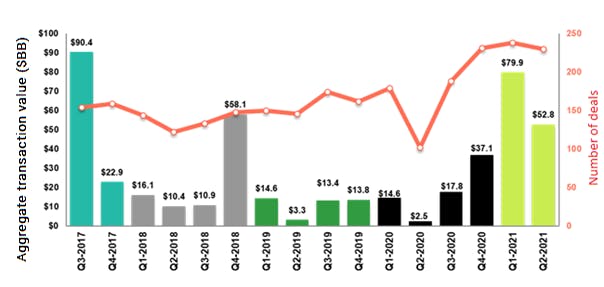 Source: S&P Capital IQ; (August 2021)