Major U.S. indexes
The first quarter of 2019 (Q1 2019) showed improved performance for the broader U.S. equity market, as the S&P, DJIA and NASDAQ closed up 13.1 percent, 11.2 percent and 16.5 percent, respectively, for the quarter. For the 12 months ending March 29, the S&P, DJIA and NASDAQ closed up 7.3 percent, 7.6 percent and 9.4 percent, respectively.
Food and beverage relative performance
As of March 29, 2019, three of the five food and beverage segments exhibited increases on a trailing 12-month basis. As a whole, markets rebounded from a weak end to 2018 fueled by perceived progress in U.S.-China trade talks. Additionally, the Federal Reserve announced a dovish stance regarding near-future rate hikes.
The snack segment performed the best of the five food and beverage segments, exhibiting stock gains of 14.6 percent and leading the performance of the S&P 500 Index's 7.3 percent increase during the observed period. The entirety of the snack segment constituents experienced closing quarterly stock prices within 90 percent of their respective 52-week highs, which led to the segment's gain. The natural/organic segment, on the other hand, suffered significant declines.
A key driver of the decline has been United Natural Foods, Inc.'s ("United") poor stock performance. In the fourth quarter of 2018 (Q4 2018), the stock decline stemmed from investor disapproval of the acquisition announcement of SUPERVALU. However, in Q1 2019, uncertainty surrounding the successful implementation of United's SUPERVALU acquisition had investors worried further that the competition from Amazon's Whole Foods will be too strong to realize future growth prospects. Amazon has shown in the past that it has the ability to de-emphasize competitive brands and, given the company's scale, it has the resources to compete for SUPERVALU's targeted customers.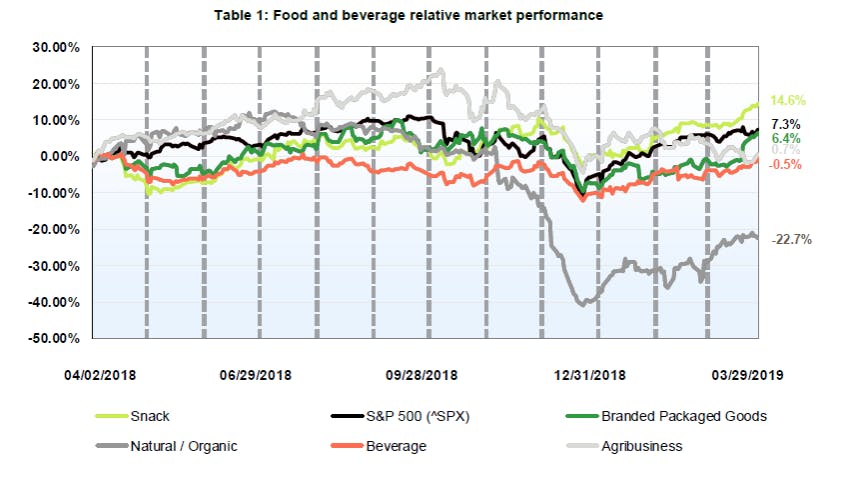 Source: S&P Capital IQ and Baker Tilly Capital research (May 2019)
Baker Tilly Capital, LLC disclosure
Baker Tilly Capital, LLC privacy policy
Baker Tilly Capital, LLC social media disclaimer
For more information on this topic, or to learn how Baker Tilly specialists can help, contact our team.