There were 48 transactions that closed in the central Pennsylvania regional market during the first quarter of 2019 (Q1 2018), in line with the 48 closed transactions in the prior quarter. The 48 closed transactions marked a large increase of 54.8 percent from the 31 closed transactions during the same period in 2018.
Following a strong 2018, North America's overall Q1 2019 M&A activity slowed. M&A aggregate deal value decreased 2.6 percent and deal volume decreased 36.4 percent compared to 2018. However, M&A activity is likely to sustain momentum driven by megadeals, with six deals closing at a value above $10 billion in Q1 2019 and several others announced. Median deal size in North America rose to a record $101 million in Q1 2019, a dramatic increase from $57 million in 2018.
A competitive bidding market has led to many deals in recent years closing at double-digit EV/EBITDA multiples, which had risen near all-time highs in 2017 due to ample private equity dry powder reserves and readily available debt financing. The median valuation/EBITDA multiple for M&A transactions rose slightly to 10.5x in Q1 2019, up from 9.4x in 2018.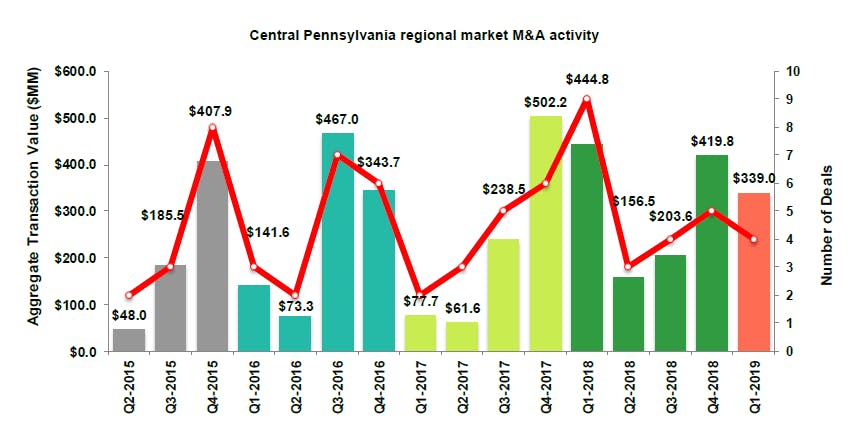 Source: S&P Capital IQ, PitchBook and Baker Tilly Capital research (April 2019)
Baker Tilly Capital, LLC disclosure
Baker Tilly Capital, LLC privacy policy
Baker Tilly Capital, LLC social media disclaimer
For more information on this topic, or to learn how Baker Tilly specialists can help, contact our team.