Authored by Kevin Brandt and Sam Lunde
Test automation tools save time and effort when upgrading to a new version of Deltek Costpoint. With organizations moving to Costpoint 8.0, automated testing is becoming more common and more beneficial, since the need for robust regression testing grows with each new release.
With automated testing, a "bot" executes each step of a test case. Automated testing reduces the manual burden of testing and allows teams to focus on unique and complex tests, while bots complete the bulk of the straightforward testing.
But which tool should you use for your Costpoint testing? Two contenders are Deltek Test Runner and the Costpoint Testing Accelerator, powered by Tricentis Tosca.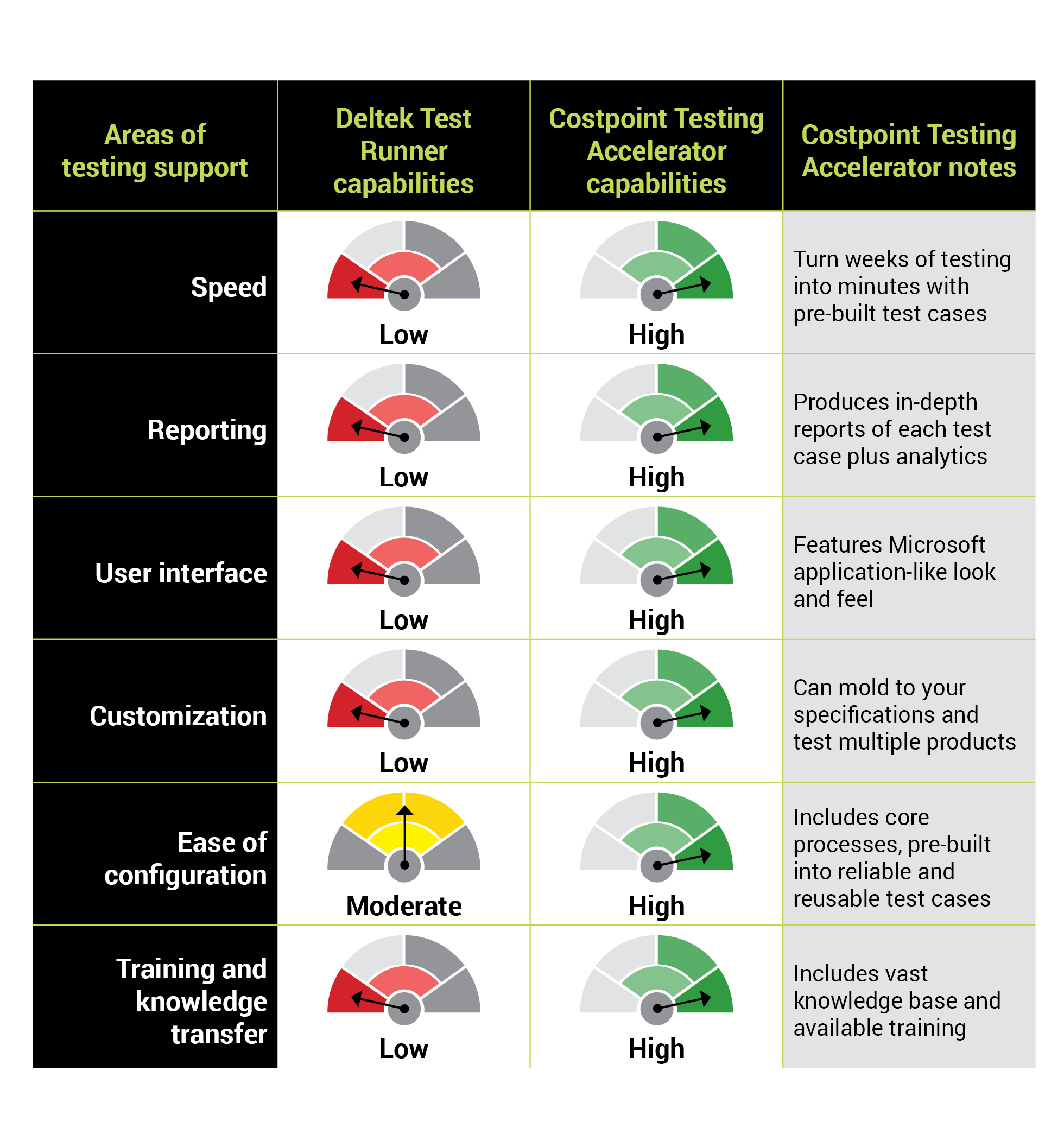 The Costpoint Testing Accelerator is a custom, automated test solution designed for Costpoint, leveraging Tricentis Tosca. This tool has key strengths, including:
Speed: Rapid execution of test cases equals hundreds of test cases per hour.
Efficiency: Test cases are linked together quickly and easily to rapidly produce integrated tests.
Reporting: Test cases are linked to an execution list to provide comprehensive data on results and detailed reporting.
Interface: Managing test cases is easy with intuitive navigation and process flow.
Costpoint Extensibility compatibility: Screen customizations and extensions are easily handled.
Training and knowledge transfer: Tricentis' suite of online resources and community is supported with Baker Tilly's end-user training.
Deltek Test Runner has some gaps, including:
Speed: Does not allow for configuration of an automated agent, which causes the automation to move at a pace that is slower than many users.
Efficiency: Is able to package automated test scripts to run in a test suite; however, the scripts tend to deteriorate when run together, as fields are missed and the tool moves more slowly.
Reporting: Lacks in-depth reporting features that offer key metrics and analysis.
Interface: Home screen does not show a clear methodology for end users to follow.
Costpoint Extensibility compatibility: Not able to efficiently account for customized fields that are set up through Costpoint Extensibility.
Training and knowledge transfer: Basic documentation; lacks online resources and a community of shared experience.
 To learn more about the Costpoint Testing Accelerator and how it can increase your testing coverage and speed your testing cycles, while reducing demands on your team, contact Kevin Brandt or Sam Lunde.