All businesses must transition ownership and leadership positions at some point, whether because of retirement, resignation, dismissal, or other unplanned or opportunistic circumstances. Within the construction industry, the prevalence of aging business owners is building a significant need for transition planning. Despite this trend and the awareness organizations have about the importance of this type of strategic planning, many construction businesses do not have a formal ownership transition plan in place.
Developing a plan to handle management or ownership succession can be a complex and sensitive issue, but smooth transition is critical to the future success of every construction business.
The second session in the series of webinars explored the fundamentals of planning and executing successful ownership transitions.
The presenters reviewed common strategies and structures construction contractors use to transition ownership, as well as concepts for each strategy. Listen in to explore the benefits, challenges and other considerations for each ownership structure.
Learning objectives:
Evaluate various ownership transition structures
Understand tax implications for each transition structure
Assess various options related to entity structures
View other webinars in this series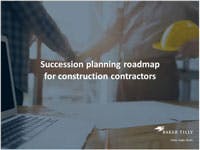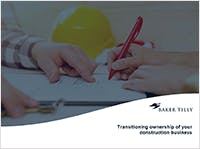 For more information on this topic, or to learn how Baker Tilly construction specialists can help, contact our team.