M&A activity
There were 146 transactions that closed in the Philadelphia regional market during the second quarter of 2019 (Q2 2019), a decrease of approximately 2.7 percent from the 150 closed transactions in the prior quarter. The 146 closed transactions mark an increase from the 122 closed transactions during the same period in 2018. However, aggregate reported transaction value decreased approximately 68.5 percent from Q2 2018.
Following a strong 2018, North America's overall Q2 2019 M&A activity has remained fervent. Median deal size in North America rose to $93.5 million through Q2 2019, a dramatic increase from $57.0 million in 2018. The sustained stock market boom amidst a historically borrower-friendly lending environment has spurred this rise in deal size, with the $19.7 billion merger between Harris Corporation and L3 Technologies and the $11.0 billion take-private of Ultimate Software Group representing the largest transactions. Sponsor-backed transactions continue to increase as such transactions accounted for 39.4 percent of transactions through Q2 2019, up from 36.3 percent in 2018.
With slowing organic growth and increasing fear of a market downturn, large companies are insulating themselves from potential adverse effects of a changing economic landscape through M&A to shore up profit margins and increase market share. Because of active M&A markets, valuations continue to climb. The median valuation / EBITDA multiple for M&A transactions rose slightly to 10.2x through Q2 2019, up from 9.4x in 2018.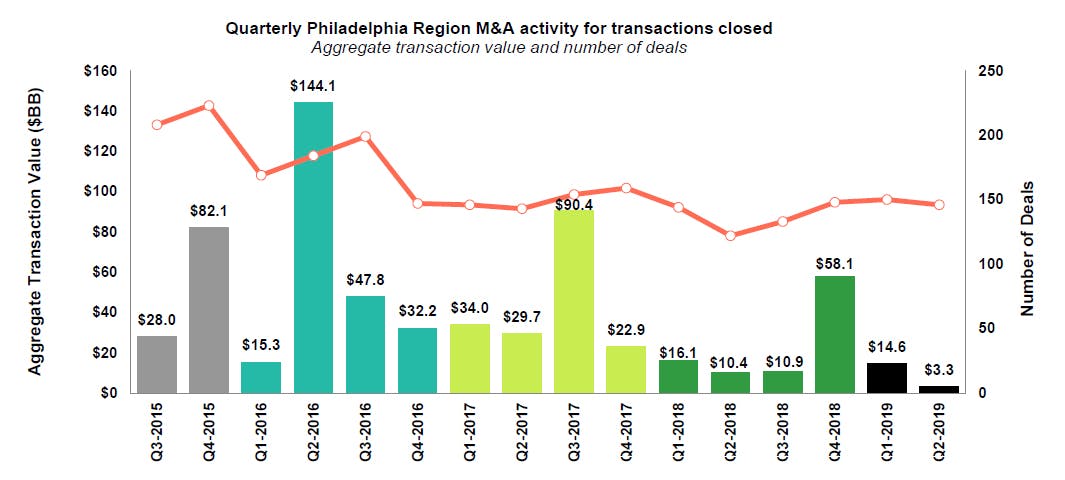 M&A activity by industry
The consumer sector led the Philadelphia region's M&A activity with 27.4 percent of the total deals closed in Q2 2019. Information technology represented 20.5 percent and industrials and healthcare each represented 19.9 and 17.1 percent, respectively, while financials followed with 6.8 percent. Other accounted for the remainder of the transactions representing 8.2 percent.
Baker Tilly Capital, LLC disclosure
Baker Tilly Capital, LLC privacy policy
Baker Tilly Capital, LLC social media disclaimer
For more information on this topic, or to learn how Baker Tilly specialists can help, contact our team.
Source: S&P Capital IQ, PitchBook and Baker Tilly Capital research (July 2019)