In an in-depth interview featured in June's NCMA Contract Management magazine, Baker Tilly government contractor advisor Patrick Fitzgerald talks about the importance of professional development and staying current in today's complex contracting environment and offers some guidance for those just starting out in the industry. 
"I would like to help our dedicated staff … by sharing my experiences and what I have learned over my career. I really enjoy working with our newer professionals; it is a great opportunity to give back to a profession that I have found so fulfilling.… The legacy I have attempted to achieve in both my personal and professional interactions is simple—to leave things better, even if only marginally so, than I have found them. If that can be my legacy, then I will consider myself very fortunate."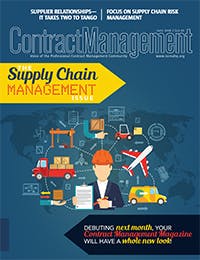 Download the article to read Pat's thoughts on the following:
Challenges facing government contractors in light of current budget uncertainty and increasing regulatory requirements and how Baker Tilly can provide assistance
How his previous roles as director of the Defense Contract Audit Agency (DCAA) and auditor general for the US Army have prepared him to help Baker Tilly's government contractor clients
Baker Tilly's cultural, organizational, and training tools for helping practitioners' improve their performance and their ability to best serve clients
How to manage the challenges of meeting agency missions and organizational goals in the current environment
The importance of continued learning and professional growth throughout one's career
For more information on this topic, or to learn how Baker Tilly government contractor specialists can help, contact our team.