Stay out of the spotlight
College and university governance practices come into the spotlight almost weekly. Take for example the involuntary resignation (and later reinstatement) of a university president due to a "philosophical difference of opinion" between the president and the governing board. These actions led to negative publicity and speculation about the university governing board's judgment and decision making processes. Or, consider the university where a grading controversy, due to poor communication with faculty and staff, left the Faculty Senate leadership in question.
Governance self-assessments can provide a mechanism for trustees to evaluate their performance in key areas of ongoing responsibilities, considering questions such as: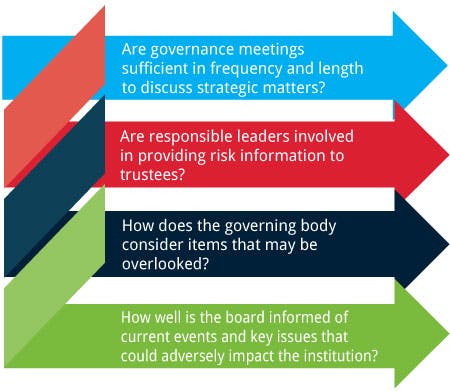 Perform a governance self-assessment
Responsibility areas which trustees may wish to consider to assess effectiveness and accountability include:
Understanding and monitoring enterprise risks
Engaging in strategic planning
Assuring effective fiscal management
Understanding, supporting, and evaluating the relationship between/among board, the president, and senior leadership
Selecting and orienting new trustees
Including perspectives of key constituencies
Efficiently communicating and conducting meetings
Using committees to enhance board function
Providing financial support via fundraising efforts
Overcome challenges in governance self-assessments
Ensuring confidentiality of responses: Consider having a third party or audit function conduct the survey/self-assessment such that institutional personnel do not have access to the survey to be able to attribute responses to a particular survey participant. Once confidentiality has been established, convey this assurance on the survey and in communication sent to recipients.
Completely and wholly capturing feedback: Ask specific questions regarding governing board responsibilities, but also allow open-ended response sections in the survey/self-assessment, as well as provide the option for survey participants to call a third party or internal auditor to discuss feedback that can be added to the collected responses.
Ensuring 100% participation: Communication is a key component of governance self-assessments. Continually follow-up with survey recipients to provide reminders, as well as consider alternative formats to distributing the survey (e.g., hard copies, iPads at board meetings, online survey links, etc.).
Establishing appropriate self-assessment timing: Consider the frequency with which to conduct survey/self-assessments (e.g., consider performing annually to gauge improvement). Also consider when in the calendar year to launch the survey/self-assessment for wider participation (e.g., conduct the survey/self-assessment near full board meetings so that the results of the survey/self-assessment can be discussed and be available for completion by board members).
Assess aspects of governance
Compare governance practices to established frameworks promulgated by the Association of Governing Boards, the American Institute of Certified Public Accountants, and Board Source.
Facilitate a discussion with a board-designated committee to identify opportunities and next steps to improve processes designed to meet the strategic goals of the institution.
Assess trustees' monitoring of critical areas such as:

For more information on this topic, or to learn how Baker Tilly specialists can help, contact our team.