If administered properly, subcontract management promotes consistency in managing subcontracts across functions, mitigates risk to the organization and contract, and can increase profitably. Defining expectations across procurement and program management personnel is a critical component of subcontract management.
Management of subcontracts can be identified through a subcontract lifecycle. Understanding specific tasks in managing the subcontract, as well as requirements and assignment of responsibilities during each lifecycle phase, will aid compliance. Knowing the specific tasks and responsibility within the organization is critical to success. Review the following phases and corresponding tasks:
Pre-award phase
Identify capability versus capacity and the costs and the costs and benefits
Define technical, performance and/or deliverable requirements
Identify pricing and funding considerations
Identify subcontract types based upon the type of work
Identify potential vendors
Award phase
Perform the technical and price reasonableness evaluation as part of the proposal analysis
Identify past performance/reputation considerations
Evaluate representations and certifications
Validate debarment status
Document award
Post award
Maintain subcontract files from both procurement and program management perspectives
Ensure compliance with the subcontracts administrative requirements
Review and approve/rejecting subcontract deliverables
Obtain, review, and act upon subcontractor status reports
Project cost analysis and reporting include:
Obtain and report subcontractor costs at the proper levels
Incorporate subcontractor costs into program level on a timely basis
Identify how subcontractor utilization is impacting performance, funding and contract levels
Contract close-out
Verify completion and acceptance of SOW and all deliverables
Manage government furnished property
Obtain waivers and releases
Finalize indirect rates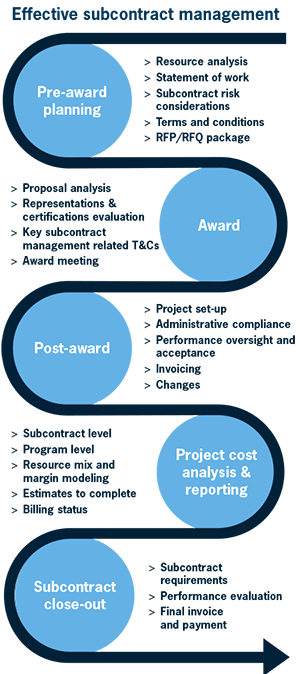 For more information on this topic, or to learn how Baker Tilly government contractor specialists can help, contact our team.