In January 2020 the General Services Administration (GSA) began Phase II of the GSA Consolidation effort with the release of a Mass Modification (Mass Mod) to all current schedule holders. The purpose of the Mass Mod is for all GSA contractors to align the terms and conditions of their contracts with those of the new consolidated Multiple Award Schedule (MAS) that was released on Oct. 1, 2019. Contractors will have until July 31, 2020, to review the Mass Mod, negotiate any exceptions and migrate over to a single GSA MAS contract.

What contractors need to know
Exceptions to terms and conditions
Contractors are required to review each clause in the Mass Mod and either accept or request an exception. If an exception is requested, contractors must include a written narrative to justify each request and all exceptions must then be negotiated with their Contracting Officer (CO). We recommend that contractors with clause exceptions reach out to their CO sooner rather than later to ensure there is adequate time to negotiate the exceptions before the July 31, 2020 deadline.
If contractors are taking an exception that was previously negotiated prior to the MAS consolidation, the CO will validate those exceptions and determine whether the exception still applies. Contractors should have any documentation that supports the exception ready to provide to their CO.
For clauses that don't apply, contractors do not have to take an exception to the clause. For example, if your contract is under the Transactional Data Rule (TDR) you do not need to take exception to the Price Reductions Clause (PRC) as it does not apply to your contract. Additionally, contractors with multiple GSA Schedule contracts will have to accept a Mass Mod for each of their contracts. The terms and conditions will be migrated into a single contract during Phase III of the consolidation.
Special Item Number alignment
The MAS consolidation reduced the number of Special Item Numbers (SINs) by more than 60% to approximately 318 unique numeric or alpha-numeric codes that directly correspond to North American Industrial Classification Standards (NAICS) codes. When a contractor accepts the Mass Mod, their contracts will be automatically updated to the new SIN structure. In many cases, multiple SINs have been consolidated into a single SIN. For example, six legacy financial (520) and consulting (874) SINs were combined into a single SIN.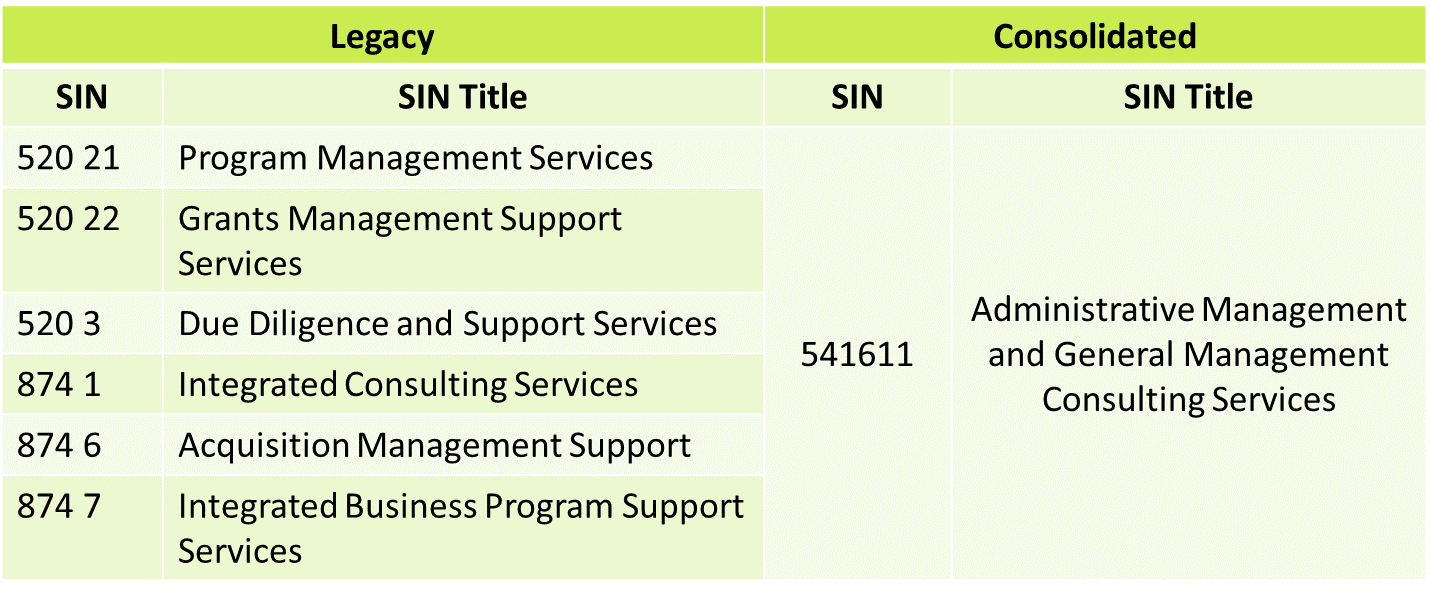 When SINs are consolidated the descriptions follow. It is important that contractors review the SIN alignment to ensure that their "new" SIN(s) cover all their product and service offerings. If contractors find gaps in SIN coverage, they may need to modify their contract. Keep in mind, however, that contractors will not be able to add any new SINs to their contract until they have accepted the Mass Mod.

As depicted above, if gaps between product and service offerings and the new SIN structure are identified, the contractor should reach out to their CO and the GSA Program Management Office, as GSA will continue to modify descriptions and add SINs to mitigate these discrepancies. Sharing feedback allows contractors the opportunity to provide industry insight to help shape the SIN structure.
GSA price list updates
Once the Mass Mod has been accepted, the contractor's SIN(s) will automatically update on GSA eLibrary within one to seven days, but the contractor is responsible for updating and uploading their GSA awarded price list. Within the price list, the contractor is required to update the contract title (i.e., "Schedule 70 Information Technology" becomes "Multiple Award Schedule"), SIN(s) and terms and conditions.
Contractors are allowed to reference the legacy SIN next to the consolidated SIN, but should notify their CO so that the price list is not rejected. When multiple professional services SINs are migrated to a single SIN, contractors may end up with duplicate labor categories under the same SIN. While these categories may have the same title, they will often have different functional responsibilities and education and experience requirements. If that is the case, the contractor will want to submit a technical modification to update the labor category titles after they have accepted the Mass Mod.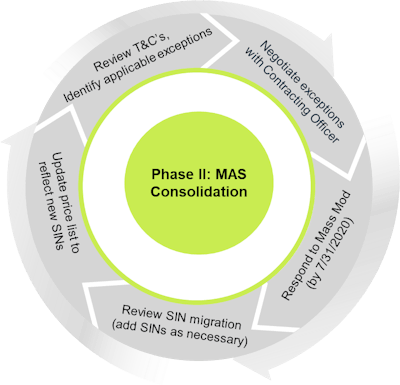 Access to GSA e-tools
Contractors must accept the Mass Mod by July 31, 2020, or the contractor's offerings will no longer be accessible on GSA e-tools. These e-tools include eOffer/eMod, GSA Advantage and eBuy. During the transition to the single schedule, e-Buy will have dual SIN notification so contractors with the legacy SINs can stay on top of opportunities.
Legacy contract carryover
Many aspects of a contractor's legacy contracts will remain the same through Phase II of the consolidation. The contractor's contract number, period of performance, products and services offered, and CO will not change due to accepting the Mass Mod. Additionally, other negotiated factors will not change, including warranties, compliance obligations, preponderance of work, NAICS code and prompt payment discounts.
What's next?
Phase III of the MAS consolidation will begin towards the end of July, during which on-going consolidation efforts will be executed for contractors with multiple schedules. Phase III will begin with GSA releasing guidance on how contractors should approach Phase III, but due to the high-buying season in Q4, GSA does plan to transition contractors to a single contract until January 2021.
For more information on this topic or to learn how Baker Tilly specialists can help, contact our team.