Watch an illustrative demo vignette showing fiscal resiliency analysis leveraging Oracle EPM Cloud.

Fiscal resiliency is not just a matter of  financial  health, it defines the overall viability of the institution and its ability to deliver on its mission. An August 2020 study published by  The Hechinger Report  showed that more than 500 colleges and universities have been struggling with fiscal pressures and uncertainty for years. For many institutions, these issues are nothing new, and the current global health crisis has aggravated the issues to the point where many higher education institutions are in unchartered territory with no clear path out.

Now is the time for higher education institutions to weave a fiscal resiliency approach into their planning cycle – to address the prevalent and increasing challenges in higher education and to swiftly overcome these challenges, which have only been exacerbated by Covid-19.  Institution leaders carry a heavy burden to take immediate action to shore up their financial position, all while continuing to fulfill their mission of supporting long-term student and institutional success.
Top factors impacting higher education institutions' fiscal resiliency include:
Student affordability concerns
Decreasing enrollment
Increasing operating costs
Expanding nature of higher education service expectations
As the coronavirus pandemic is influencing every higher education institution differently, determining what programs to invest in, scale back on or cut all-together can feel overwhelming. In order to identify and explore initiatives such as shared academic programs or institutional support, inter-institution partnerships, or community/corporate partnerships, both higher education industry acumen and technical capabilities are required. In an environment that will continue to change, it is crucial institutions have the capability to forecast, model and take action.  
How Baker Tilly can help
Positioning an institution to survive the current pandemic requires an intentional approach in order to avoid potentially drastic consequences. Leaders must chart a path forward with specific details on how to navigate the current climate strategically to ensure institutional sustainability. This plan should evaluate comprehensively the full range of resource allocations, asset commitments and debts/liabilities within the context of environmentally driven modifications to revenue sources and realities. 
To add to Baker Tilly's existing suite of fiscal resiliency solutions, we have partnered with Oracle to develop a fiscal resiliency offering for Higher Education. The solution allows institutions to assess short-term focus on cash and liquidity concerns and create financial models to assist in evaluating major changes for their institution. Powered by Oracle Financial Planning and Strategic Modeling tools, it provides a detailed cost and revenue analysis of the potential changes an institution must consider. Examples of critical insight offered through these tools includes analysis of optimal financial aid leveraging for enrollment growth, trends in various revenue sources such as meals/housing, on-campus events, etc., as well as profit/loss analysis for specific academic programs.  Frankly, the analysis is limitless.
This solution allows for well-informed, timely decisions, leading to visibility into choices and alternatives. Throughout the process, Baker Tilly equips organizations with the skills to dissect and analyze the results of the various scenarios using the tool and specific strategies as options to implement for continuously reacting to ever changing circumstances.
Baker Tilly's approach to fiscal resiliency leveraging Oracle Cloud Capabilities: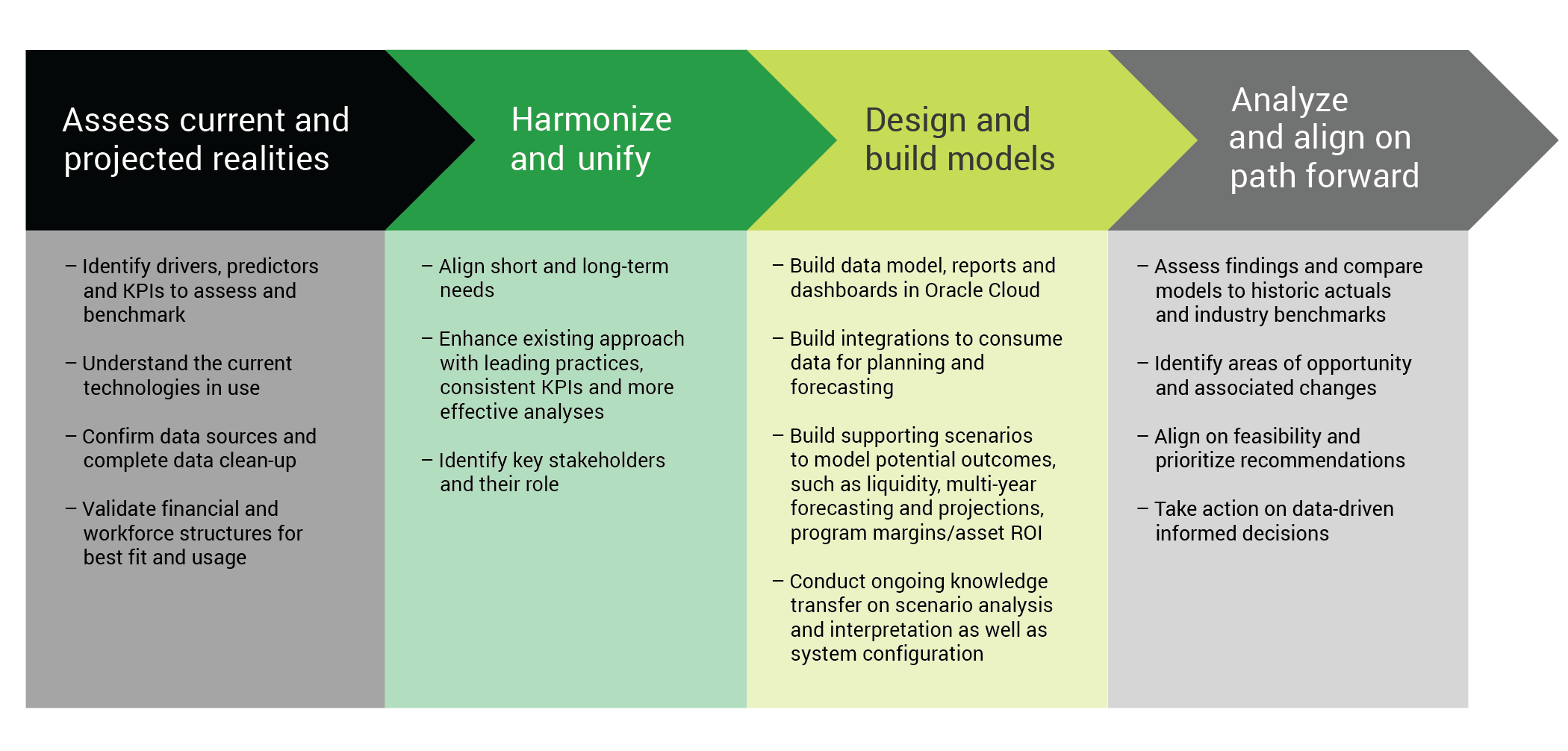 We are a premier Oracle implementation partner and our professionals have deep higher education industry experience. We can assist with keeping an eye on all drivers of student and institutional success, ensure approaches to provide informed decisions and assist institutions to succeed from both mission and fiscal resiliency perspectives, today and into the future.