What is Amazon Quicksight?
Amazon QuickSight is an Amazon Web Services (AWS) cloud-based, machine learning (ML) powered business intelligence (BI) platform that enables users to visualize their data, delivering quick and efficient insights across their business. QuickSight is serverless and scalable, allowing tens of thousands of user's access to the platform without the need for any physical infrastructure. With QuickSight users are offered a variety of innovative features to easily create and publish dashboards with ML powered insights, accessible from any device.
Dashboard function provides added business intelligence
By creating and deploying QuickSight's dashboard function, users instantly add a level of BI within their business unit with the ability to display insights and categorize error codes through XML data that is collected and segmented based on business preferences. The ability to segment data based on inputted preferences allows companies to display relevant analytics and visualizations pure module to identify business trends, streamline operations and target the right stakeholders for fast resolution times. This increased data visibility also serves to streamline the priority of fixing any issues that arise when implementing and running QuickSight.
The QuickSight operational dashboards also include a variety of features and functionalities to further display data in an easily accessible form. These functionalities include advanced filtering capabilities, drill-down capabilities (week, month and day) and trend analysis, machine learning insights that are embedded within the enterprise platform and customizable visualizations. By utilizing these features, businesses add a level of BI through the prioritization of items and the ability to target specific business users and executive stakeholders across the business.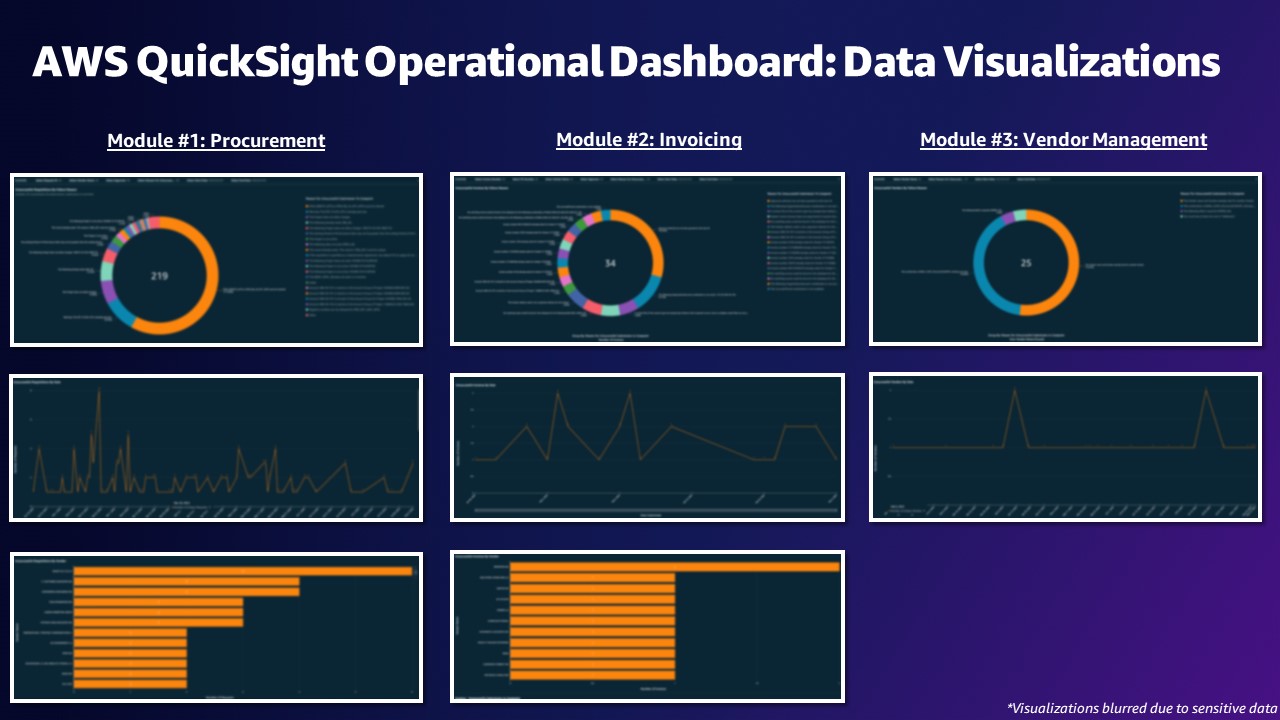 Key benefits of QuickSight solution
Implementing QuickSight solution and making it available across a business to target specific stakeholders provides businesses with real-time and self-services insights into integration issues and the ability to create and share new visualizations, increasing BI and returning a lot of business value. Increased BI and data visualization and prioritization works to improve accuracy and speed of integration root cause analysis by 5x and reduces issues resolution times from around four weeks to less than one week. This reduction of issue resolution times allows IT personnel and engineers to take on the entire resolution capability internally.
QuickSight offers a low total cost of ownership (TCO) and a quick turnaround from ideation to reality. As there is no need to go through a long, dated and slow procurement process to use other additional or competing tools, business can bring QuickSight to market quickly and for a limited cost. Lastly, with the added level of BI and data visibility, QuickSight enables client stakeholders to make more effective data-driven decisions to drive product and process improvements, while continuing to reduce integration issues across the platform.
Real-world QuickSight implementation
A large government contractor engaged Baker Tilly Digital to design and build a new solution to deliver data driven insights across the Procure-to-Pay (P2P) process. Due to the complexity, reliability and lack of reporting from integrated systems, the company urgently needed a solution to provide critical operational insights across their P2P process. Utilizing Amazon QuickSight, the team was able to extract, transform and load data to create a robust operational dashboard from ideation to reality in less than 5 days, significantly reducing issue resolution times and enabling client stakeholders to make effective data-driven decisions.
How we can help
Amazon QuickSight allows businesses to streamline processes by providing increased transparency into business operations through efficient access to accurate, up-to-date data displayed across segmented dashboards. The added layer of BI through increased data visualization works to propel businesses forwards through more effective, data-driven decisions.
At Baker Tilly Digital, we help our clients implement and fully leverage Amazon QuickSight based on their current technology portfolio and operational business needs. We work with our clients to design an implementation road map, address key challenges and put solutions in place to propel their business forwards. Connect with our team to learn more about QuickSight and the benefits your company could gain though implementing it.