Internal operational support is a must whether a utility with multiple departments supplies one service or a utility has multiple service lines (electric, water, wastewater, gas, communications).
In part one of Baker Tilly's two-part series on utility cost allocation, discussion focused on the fundamentals of cost assignments and the role of shared services. Having a well-designed, unassailable approach to allocating costs across multiple departments and/or utility services is the key component in a successful cost allocation strategy.                                                                                                        
Here in the final installment of the cost allocation series, we'll lift the curtain on common cost allocation methods that are utility industry best practices.
Three-factor formula
The three-factor formula is an allocation method used when no direct or other reasonable cost benefit relationship can be determined among multiple services offered in a single organization. Industry reviews have shown these three constant drivers determine the service level provided to customers, regardless of utility size:
Utility plant in service
Revenues
Total direct labor
The weighted average of these drivers of the utility business in a multiple service utility are calculated and used to allocate shared services expenses.
Example of three-factor formula in action
In this example, a utility provides electric, water and communications services to customers. Here's how the entity would calculate the allocation factor based on the three-factor formula. Amounts listed below are in the millions.

[1] The weighted average is calculated as (83% + 81% + 86%)/3
Upon performing the calculation, the utility would take these steps:
Direct charge any shared services costs to a utility if identified as caused by that utility
Allocate remaining shared services costs after they are pooled to electric (83 percent), water (nine percent) and communications (eight percent)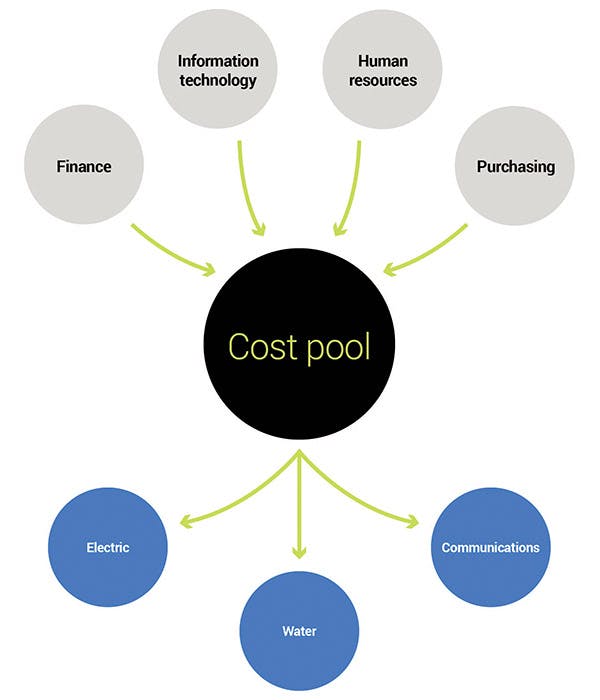 At times in practice, the utility industry will use an alternative calculation of drivers in the three-factor formula. In addition, the calculation can be performed using only two factors, such as:
Plant and revenues
Plant and labor
Revenues and labor
Plant, expenses (net of power expense) and labor
Other allocation methods
Other common cost allocation methods can differ by allocation area, but in general, the allocation is driven by the activity. Below are common allocation methods for shared services: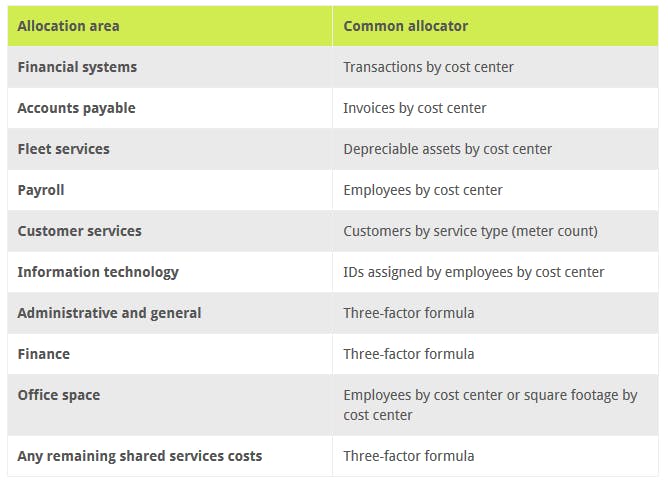 The first rule of cost allocations applies: direct charge expenses when possible to their cost causation. Then use one of the cost allocators in the above table for any remaining unallocated costs.
Summary
A systematic and defensible allocation of shared services costs ensures these costs are charged equitably across a utility's departments and service provided to customers. The key is to gain acceptance by all stakeholders within the utility to ensure an effective foundation for departmental budgeting for shared services and a basis to make shared services investment decisions for personnel, technology and improved business processes.
For more information on this topic, or to learn how Baker Tilly energy and utility specialists can help, contact our team.