Delivering service to customers requires a utility to have support operations that provide internal services to multiple departments within the utility. If a utility offers multiple services (electric, water, wastewater, gas, communications), the internal operational support must provide coverage to each service line.
Allocating utility costs is part art, part science, and always a topic for discussion and disagreement. A structured and defensible approach is needed to allocate these costs across the multiple departments and/or utility service lines.
This is the first part in Baker Tilly's two-part series on utility cost allocation which covers the fundamentals of cost assignments and identification of shared service opportunities as well as common methods and best practices for the utility industry. In this article, you'll learn the methodology of cost allocation and role of shared services.
Cost assignment fundamentals
The fairest and easiest cost allocators to share within a utility allocate cost based on "cost causation" — in other words, the cost driver behaviors behind the cost and the department or utility service drives that cost. The rules of cost allocations are simple:
Direct charge all costs that can be specifically identified with a department or activity to the area or activity driving the cost
Allocate remaining costs across departments or services based on an agreed-on methodology
Fundamental cost allocation methodology should have these characteristics:
Cost-causative: A relationship exists between the cause for the expense being incurred and the effect the activity had on the benefiting business unit
Measureable: Amounts  are recorded in the financial data, subject to internal controls and auditable
Objective: The method  determines how costs should be allocated without bias
Stable and predictable: The method  does not produce variations that are not in line with service level variations
Consistently applied: The calculated cost per unit is the same for all users of that service
These cost principles are designed to provide a defensible methodology for cost allocations.
Shared services
 The approach of "shared services" can deliver high quality internal services efficiently and effectively because it:
Centralizes internal departments with consolidated, dedicated resources
Provides process or knowledge-based services to multiple departments and/or service lines within a utility
Operates as a quasi-standalone business with its own profit center
Focuses solely on internal customers
Functional characteristics of shared services include:
High volume and routine transactions
Specialized skills to provide the services
Company-wide services delivery
Analyzing and allocating shared services in a systematic manner can remove some of the negotiation inevitable when utility departments need and want the services but are concerned about the budgetary impact.
Typical benefits of identifying and allocating shared services
The benefits of shared services can be felt across the organization in four main areas – strategy, people, technology and process. Let's examine each area and its benefits.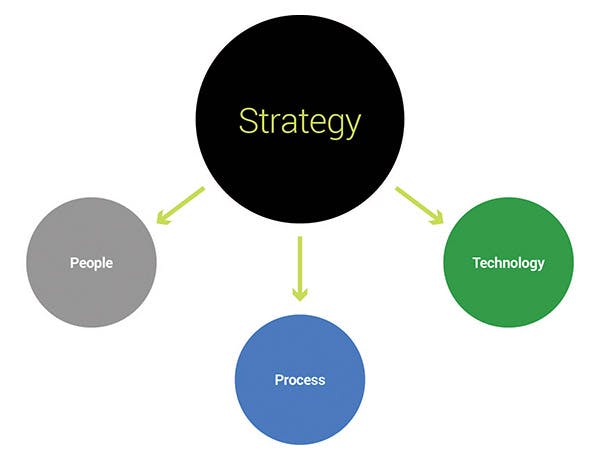 Strategy

A utility's strategy involves utilizing people, processes and technology to achieve its mission of providing reliable service at a reasonable cost. That doesn't mean all costs shouldn't be recovered. Rather, shared services drive strategy and make the utility's mission possible.
People

By dedicating personnel to internal customers, resources are more effectively allocated across departments to:
Increase flexibility for workload peaks through cross training
Improve the ability to build an environment of functional excellence
Share technical information and resources
Target personnel training opportunities
Focus on primary mission. Shared services focused on transaction accuracy and throughput; services provided are improved through synergy and specialization
Process

Through standardized processes, shared services become a third-party supplier to the utility and
Improve delivery efficiencies
Facilitate communication
Reduce non-value added activities
Technology

Shared technology provides a single source of information and technology solutions to:
Eliminate multiple maintenance staffs and costs
Eliminate need for training and skill building on different applications or architectures
Provide a single source of information
Provide ability for common tools among many users
Allow for real-time access to company-wide information, therefore better management decisions
Facilitate the move toward common data architectures
Allow for quick migration to new technology platforms with a single investment
Functional areas to review for shared services
Departments that are candidates for inclusion in a shared services allocation are listed below.
Base control and dispatch
Central maintenance
Customer service, billings and collections
Facilities
Finance
Fleet management
Human resources
Information technology
Internal audit
Meter reading and meter shop
Procurement
Public information
Safety
Warehousing and inventory
Many of these areas have the cost characteristics of being common and not critical to a specific utility department or service line. As in any case, directly assignable costs should be direct charged to a project or department, all others could be considered for a shared services allocation.
What's next?
In part two of Baker Tilly's two-part series on utility cost allocation, utilities will learn about common cost allocation methods that are industry best practices.
For more information on this topic, or to learn how Baker Tilly energy and utility specialists can help, contact our team.