The pandemic has played a significant role in entities needing to revalue the risks and opportunities they are facing. In addition to COVID-19, factors such as climate change and social justice initiatives have forced investors and stakeholders to think about these factors as long-term considerations. Entities are facing increased pressure from regulators, investors and stakeholders (both internal and external) to prioritize ESG efforts. Focusing on the financial reports is no longer good enough.
As evidence of the rising popularity of ESG, we can simply look at worldwide Google trends for the term "ESG." As seen below, it is clear ESG is on the radar of the general population more than ever – and that trend does not seem as if it'll disappear anytime soon – which is gaining attention from corporate executives.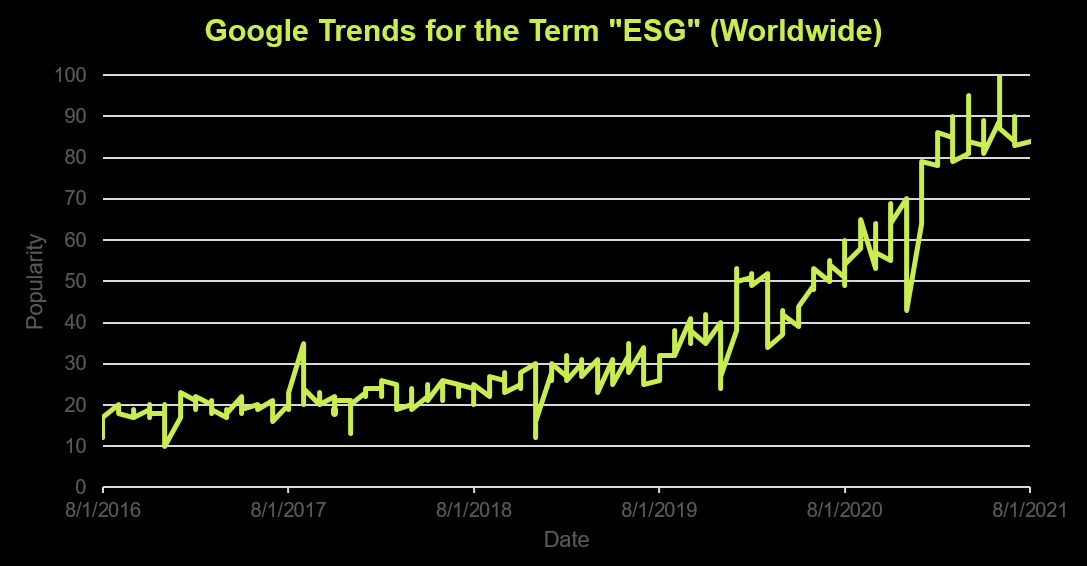 As far as why we are in this current ESG landscape, the primary reasons can be broken down into four areas.
Priority for investors and shareholders: Investors are urging companies to build ESG into their long-term strategy. Both individual and large institutional investors are demanding more ESG-related disclosures and reporting to help them make investment decisions. In fact, money invested in ESG funds more than doubled in 2020. Additionally, data shows the stocks of sustainable companies tend to outperform those in less sustainable companies.
Regulatory: Ongoing initiatives to make sustainability a reporting and disclosure requirement are currently underway. While publicly traded companies are currently required to disclose material risks in their 10-Ks, there are no regulatory mandates for specific ESG reporting or disclosures at the moment. However, the SEC has created an ESG investing resource page on their website, and established a climate and ESG task force. Further, the SEC Investor Advisory Committee has indicated ESG will be a top priority in FY22, and recent remarks by SEC Chairman Gary Gensler support this increased focus. Regulatory bodies are becoming increasingly interested in this area, and we can expect that trend to continue.
Key stakeholders in an entity's business operations: Suppliers and customers are becoming more interested in partnering with and purchasing from companies that are focused on sustainability. They see a potential for decreased cost, increased revenue and better utilization of natural resources.
Wealth transfer to younger generations: Organizations that are transparent in their ESG reporting are appealing to younger generations, who place a higher priority on sustainable reporting than older generations do. Younger generations also tend to be better advocates for ESG causes and thus are drawn to companies that share this value.
While ESG reporting remains largely voluntary, entities should be aware that ESG "raters" such as MSCI, Sustainalytics, and the CDP (formerly the Carbon Disclosure Project) are actively rating companies on ESG and sustainability reporting. Additionally, the CDP, Climate Disclosures Board, Sustainability Accounting Standards Board (SASB), International Integrated Reporting Council (IIRC) and the Global Reporting Initiative (GRI) released a joint statement in September 2020 to outline their commitment to establishing global sustainability standards. This would facilitate the transition to develop a universal set of standards and consolidate the different ESG frameworks to provide increased industry-wide transparency. The end goal is to create one system of reporting with universal transparency, and eliminate certain aspects of confusion and uncertainty regarding which ESG reporting framework or set of standards entities should use.