Achieving market access for an innovative medical device, bio-pharmaceutical agent or diagnostic test is critical to the sustainability of any life sciences companies. Because market access activities impact every part of the product lifecycle, life sciences companies should evaluate their market access strategies and identify areas of opportunity to increase your chance of success. 
 To help you and your life sciences company's market access strategy, Baker Tilly's team of life sciences specialists – consisting of professionals with experience as medical directors, CFOs, health economists, pharmaceutical executives and epidemiologists – has outlined steps your organization can take to help increase market access and secure reimbursement for your medical devices or technologies.   
This checklist can be used to aid in the planning of key market access initiatives including:   
Clinical and economic evidence strategy and generation   
Market intelligence, sizing and new indication strategy   
Pricing strategy  
Key opinion leader (KOL) identification  
Payer outreach strategy  
Value-based reimbursement strategy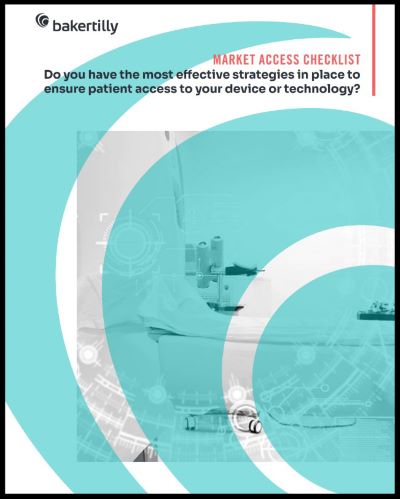 Download our checklist to help your organization gain market access for your medical devices or technologies.