Integrating and automating work processes can mean tremendous financial and timesaving benefits when an organization selects and implements the right solution for its needs.
In "Plex integration and automation: Connecting the digital workforce," a presentation given at the virtual PowerPlex 2020 conference in May, Baker Tilly's Nathan Morris, senior consultant, and Tom Miller, director, discuss what considerations should be taken before an organization chooses an integration and automation solution and specific examples of how it has worked for clients.
Organizations are constantly looking for ways to streamline their processes, decrease unnecessary expenses and increase efficiencies. Integration and automation helps organizations address these common initiatives.
For good reason, the issue that seems to resonate the most with organizations is cost effectiveness. Process automation should be seen as a strategic investment rather than an expenditure as it reduces the time and costs that would have been incurred with labor-intensive manual activities. The reduction in time and expenses varies, but some organizations see significant reductions, as discussed in our case studies below.
While costs are important, increased and improved communication may be an even more substantial benefit. Integration and automation increases transparency so employees have immediate access to information, documents and files in real time across their systems. Because data transfers are automated, errors in time-consuming manual processes are eliminated or reduced. Organizations also see a decline in redundant activities, which lessens the need for labor-intensive manual activities and gives employees time to focus on more value-added activities.
When selecting an integration approach, organizations have the option of several different options: file export and import; extract, transform and load (ETL); point-to-point; enterprise application integration (EAI); and integration platform as a service (iPaaS).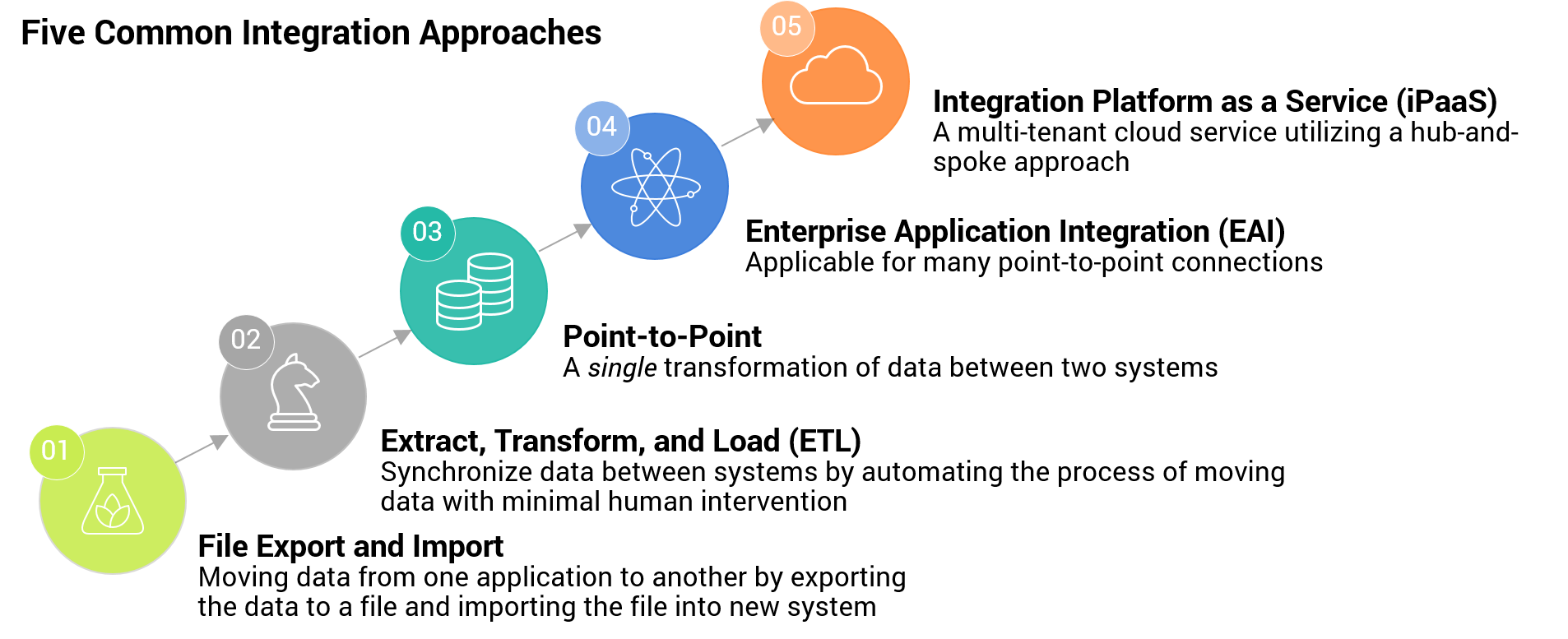 For this presentation, Morris and Miller focus primarily on the iPaaS integration solution. The iPaaS integration approach enables organizations to develop, execute and govern integration flows from a multi-tenant cloud service. It also makes system integration more approachable, allowing businesses to achieve integration without big investments into skills and software.
Integration and automation use cases
Examples from prior projects that present specific issues addressed through the implementation of integration and automation and some of the benefits realized.
Example 1: Automated cash application
Business problem: A client was spending many manual hours on transferring data from electronic documents to systems, applying payments and dealing with incorrect entries and discrepancies.
Automation solution: An automated cash application solution whereby the customer sent a file for processing, which was then parsed and loaded into the system where the payment was automatically applied and discrepancies were highlighted for manual resolution.
Benefits realized: Roughly 1,000 payment transactions processed every week. Once up and running, the solution required little technical skills and effort to maintain, and it is estimated to have provided a 97% reduction in employee time processing cash application files and transactions. This reduced the weekly effort from 80 hours to just two hours, focusing simply on resolving discrepancies.
Example 2: Integrated global purchasing
Business problem: A client was using a legacy AS/400 system, which was quickly approaching its end of life, as its central procurement database. They were midway through a global Plex implementation in which several local sites have not converted to Plex. The client needed a method of creating PO, receipts, and invoicing at their non-Plex facilities.   
Integrated solution: We were able to develop a solution that had all of the approved purchase orders extracted, transformed and loaded to the local legacy systems on a recurring four-hour basis. By using this solution, the client was able to retire its centralized AS/400 procurement system and use Plex as its global procurement solution for more than 17 locations while rolling out the broader solutions globally.
Benefits realized: About 2,500 POs are transferred monthly from Plex to the legacy ERP system, so instead of doing dual maintenance of that data, once the approved PO is processed, it gets sent and loaded automatically into those systems. We estimate it saves the client 25% of effort in manually entering or duplicating the POs in their legacy systems.
Integration and automation can help businesses streamline their processes, decrease unnecessary expenses and increase efficiencies.