Authored by John Romano and Rachel Schmoyer
The National Association of Insurance Commissioners' (NAIC) Annual Financial Reporting Model Regulation #205 Section 17 Management's Report of Internal Control over Financial Reporting – Annual Attestation on Internal Control , commonly known as "MAR" mandates that every insurer having annual, direct-written and assumed premiums of $500 million or more shall prepare a report, for the prior calendar year's year-end, attesting to the insurer's, or the insurer group's, internal controls over financial reporting (ICOFR).
We refer to an insurance company's processes to fulfill the requirement indicated above as a "MAR program."
Take the time to revisit your MAR program; the results are in the numbers
With focus on the current state of the MAR program, alignment of goals, resources and accountability, and application of current trends and practices, Baker Tilly recently helped a client experience the following: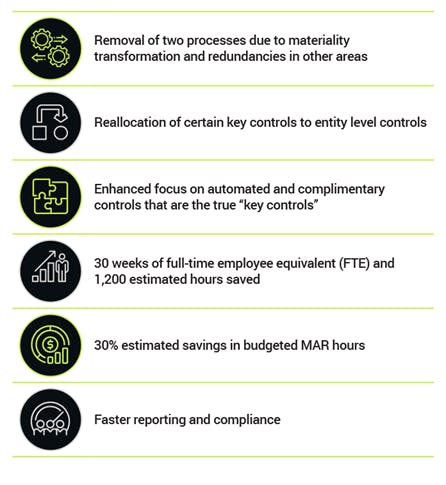 Define what you want from your MAR program and map your priorities and resources accordingly
Insurance organizations face many challenges with how to implement and continue their MAR program efficiently and effectively. This is primarily due to lack of definition of what they want as a result of the time and effort from their team members and providers. Where do you currently fall on the spectrum compliance to value? Where would you like to be?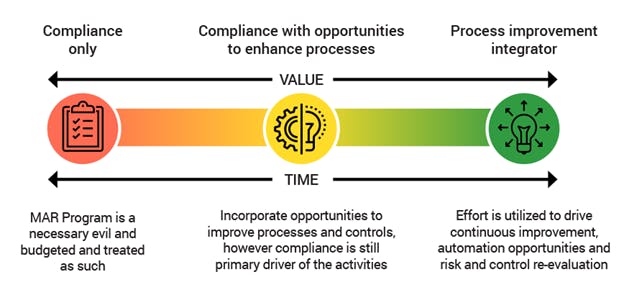 Unfortunately, what we see with some organizations is that the spectrum is imbalanced. The feedback we receive from management and internal audit is that the MAR program feels more like the following: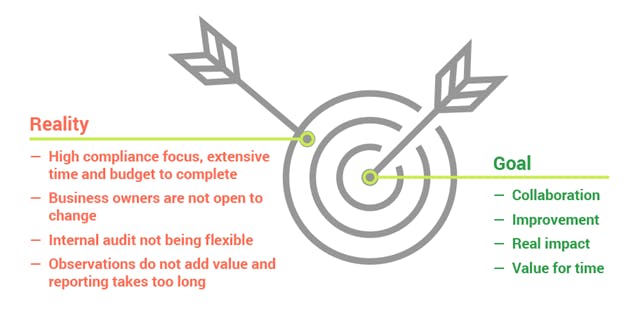 Reload your MAR program approach to add value
Develop a project plan approach that is agile and flexible to changes in the environment. Prepare for expected and unexpected changes to your overall goals and objectives for MAR program improvement.
Your approach to MAR program improvement should consider the following guiding principles for a successful outcome and efficient project:
Assess your current state: Review and understand time commitment, definitions of success, and challenges to address as part of updating the MAR program. Identify what is currently working and what is not, and develop a MAR program current state and future state analysis. Adapt to culture - change is implemented successfully only with understanding and adaptation to culture.
Target materiality: Materiality is quantitative and qualitative and should have various levels and sub-materiality applied to general ledger accounts. Consider using a benchmark of 5% of surplus. Conduct an inclusion and exclusion exercise.
Align risks for compliance: Identify the relevant MAR risks from a regulator's perspective, then incorporate risks of value to your organization if not aligned.
Focus on the "right" controls: Control rationalization is a top-down approach and should follow a systematic filtering process.
Apply "flex" testing: According to the MAR regulation, management may base its assertions, in part, upon its review, monitoring and testing processes performed in the normal course of its activities. Testing should be rotational for areas and for key controls.
Adapt to culture: Change is implemented successfully only with understanding and adaptation to culture.

For additional best practices and trends refer to our Model Audit Rule article here, and if you are a publicly traded company subject to Sarbanes-Oxley requirements refer to our article here.