With Amazon's buyout of Whole Foods, Disney's acquisition of several 21st Century Fox assets, or CVS Health's acquisition of Aetna, merger and acquisition (M&A) waves continue to ripple across different industries and geographies.
What are you doing to stay competitive?
Most organizations struggle to achieve the desired value from M&A's because their framework (methods, tools, and practices) do not reach the required levels of quality or effectiveness. Whether you are considering M&A as a growth strategy or you are trying to maximize the benefits of a recent M&A, the following three tips can help ensure your organization realizes the full value of an integration.
Map your customer journey
Mapping a customer's journey provides a holistic view of all customer interactions, from a customer's perspective, and enables organizations to support growth-oriented decision making throughout the integration. A bad customer experience (CX) in today's viral society can negatively affect your organization's ability to integrate and see a return on value. Don't be the next casualty of poor customer service — get serious about your customer experience.
Mapping the CX journey includes:
Definition of the current state of your CX
Design and testing of new customer experiences
Development of a future state CX roadmap
Establish an Integration Management Office
An Integration Management Office (IMO) is a temporary project management office (PMO) that drives the people, processes, and technology required to quickly obtain benefits from your M&A. According to Garner Industry Research, "organizations who establish standards for project management, including a PMO with suitable governance, will experience half the major project cost overruns, delays and cancellations of those that fail to do so.1"
The maturity of an IMO can vary across organizations and evolve based on the needs and objectives of your integration.
Quick self-assessment: What level is your IMO?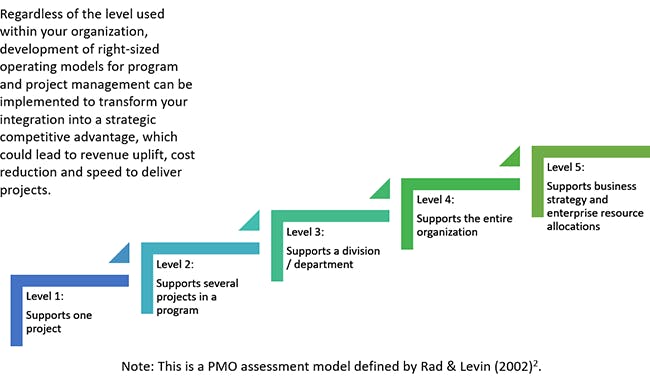 Transform your deal through change management
Effective change management will greatly increase the chances of success for your M&A activities. Change management, coupled with a go-to-market focus, can help acquirers make better strategic decisions for their organization. A McKinsey study found M&A failure rates to be 66-75 percent, with 92 percent of survey respondents citing the need for more attention to cultural fits and integration, and 70 percent of respondents indicating more effort should be focused on cultural integration3.
Change management is hard. Any type of change leads to uncertainty, which can result in a loss of skilled talent, productivity, and/or customer loyalty. Moreover, change management requires constant attention throughout integrations. Keep your focus by performing these four steps:
Initiate change management at the earliest possible stage
Perform a cultural due diligence assessment
Create a common change management language
Verify the change throughout the entire process
Those organizations looking to benefit from M&A implementations will need to simplify the complexity. By mapping the customer experience, establishing an IMO, and incorporating change management, your organization will be better positioned to realize the full value of the deal.
For more information on this topic, or to learn how Baker Tilly specialists can help, contact our team.
Amanda Klein is a Director in the Enterprise Transformation consulting practice at Baker Tilly with over 10 years of experience. She helps clients achieve their goals in a variety of industries including manufacturing and distribution, financial services, and healthcare. Amanda leads organizations through all phases of complex business transformation initiatives including defining strategic objectives and driving improvements in customer experience. She drives execution of the strategy by leveraging her deep experience in program management, change management, process improvement, and business analysis.
Seth Cooper is a consultant in Baker Tilly's management consulting group who operates out of the Chicago office. Seth has over 12 years of project management experience, including three years focused on management consulting.

 
1 Gartner Research: The Project Office: Teams, Processes and Tools (August 2000).

2 Rad P., Levin G. (2002), The Advanced Project Management Office. A Comprehensive Look at Function and Implementation, St. Lucie Press, Boca Raton, Florida.

3 McKinsey & Company, Perspectives on Merger Integration, June 2010.