Those of us in the government contract compliance community are familiar with a contractor's Government Property Management System.  It's one of the six systems covered by DoD's Contractor Business Systems regime (DFARS 252.242-7005) that requires withholding of money from contractors if one or more of these systems are "disapproved."  Of these six systems, the Accounting, Purchasing, and Estimating systems get the most notoriety (perhaps rightfully so due to their complexity and subjective system acceptance criteria).  Although these three systems will unlikely yield their spots on center stage, DoD is increasing its attention and emphasis on contractor Government Property Management systems.  Why, and why now?
In rich irony, DoD can't pass its own audit – despite preparing for 29 years (since Congress passed the CFO Act in 1990).  Among many other things (2,300 notices of findings and recommendations in the FY2018 audit), DoD can't account for its assets in the possession of contractors.  In this regard, the DoD Inspector General noted that –
"The DoD lacked policies, procedures, controls, and supporting documentation for the acquisition, disposal, tracking, and inventory processes of Government property in the possession of contractors, which prevented the DoD from substantiating the existence and completeness of this property. As a result the financial statements may be incomplete or inaccurate and could be materially misstated"
-DoD Inspector General, Financial Improvement and Audit Remediation (FIAR) Report June 2019
How can this be?  We know that the Defense Contract Management Agency (DCMA) performs more government property management system reviews than any of the other business system reviews combined.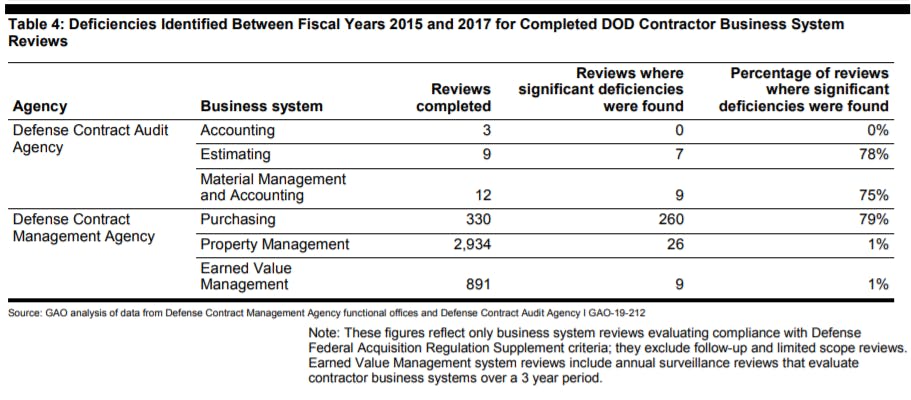 This data indicates that contractors have strong accountability for the government's property in their possession.  Yet DoD still cannot get a handle on its property.  Something doesn't add up. 
It appears to us that DoD intends to resolve its problem by taking a harder, closer look at contractor government property management systems.  Is it possible that DCMA missed significant deficiencies so large that contractors failed to account for so much property that it materially affects DoD's balance sheet? We doubt it, but DoD will double check for good measure…
On December 16, 2019, the Under Secretary of Defense for Acquisition and Sustainment, Ellen Lord, issued a memorandum entitled, "Strengthening Oversight of Government Furnished Property as Part of Property Management Systems Analyses." The memorandum cites the FIAR challenges with government property and tasks DCMA's Director to do the following:
Validate contracts, subject to DCMA administration and oversight for compliance with the requirements of FAR clause 52.245-1
Assess contractor compliance by reviewing records and physical inventory controls within the contractor's property management systems
This will occur annually for systems with over $100 million in government property
DCMA to publish its updated GFP guidebook on its website (not available as of this writing)
Where DCMA does not have cognizance, work with others within the DoD contracting community to implement similar processes
What does all of this mean?
Modifications to Contracts for Clauses
It's unclear what the memorandum means by "validate contracts."  We know DoD has reviewed and modified its contracts for property clauses as a part of its FIAR efforts in the past. Perhaps DCMA will continue to scrub its contracts for inclusion of the appropriate government property clauses i.e. FAR 52.245-1, DFARS 252.245-7003 and related clauses. So if you have a DCMA-administered contract without the government property clauses, you might get one since most contracts are likely candidates for the clause. The FAR Government Property System requirements apply to:
Cost reimbursable contracts
Time-and-material/labor hour contracts
Fixed price contracts where property is expected to be furnished by the government
Commercial item contracts where government property exceeds the simplified acquisition threshold and the contractor is directed to use government property
Of notable importance, these clauses don't have any sort of dollar threshold exceptions, business size exceptions, or contract purpose exceptions. If you start seeing your contracts modified for the addition of government property requirements, this may be grounds to modify the price on your contacts.
System Assessments
If your property system accounts for more than $100 million in government property, prepare for annual reviews.  We can't imagine this is a large population of contractors, so expect DCMA do reviews of contractors below the top tier.  The reviews will have an increased focus on physical inventory counts and the quality of the contractor's records. It's a good time to start reviewing your policies and procedures and tightening up inventory records to facilitate full accountability.
GFP Guidebook
DCMA has been hinting at a revised guidebook for months now, but we have yet to see it. The grapevine has been buzzing with rumors of new "standards" that DCMA will use as a part of its property management system assessments.  We hope these aren't more extra-contractual requirements for contractors to follow.  We expect DCMA's future government property management system audits will be different in the future than those in recent past years.
Non-DCMA DoD Cognizance Community
If your contracts aren't administered by DCMA, we expect you'll see DCMA-style reviews in the near future.  DoD wants everyone on the same playing field to address its government property efforts.
Final Thoughts
The December 2019 DoD memorandum put a new spotlight on DCMA's government property oversight regime.  This is rarely a good thing for the government contractor community.  Now is a good time to take a close look at how your organization accounts for, tracks, and safeguards Government property.  
All six business systems are interconnected, which means a significant deficiency in one system can cause deficiencies in others.  So don't approach government property management (or any system) with an overly narrow focus.  For example, the government property management system can place your purchasing system at risk.  The government property clause requires contractors to flow it down to subcontractors, but does your purchasing team know that?  Does your purchasing team know if the subcontractor has an acceptable government property management system? Who keeps track of government property provided to subcontractors, or government property acquired by subcontractors? 
For more information on this topic, or to learn how Baker Tilly specialists can help, contact our team.