The current COVID-19 crisis is unprecedented and many companies have been forced to make significant changes in response to the crisis, which includes rapidly transitioning their work force to a remote working environment.
The risk of corporate fraud and misconduct during this time remains high and in some cases, has significantly increased. Baker Tilly's Global forensic, compliance and integrity services professionals can assist you in mitigating these risks.
We understand your challenges in this current environment, as we too are dealing with the impacts of COVID-19 on our employees and meeting the challenge of a fully remote workforce. We offer a full range of practical, efficient services designed to meet the needs of organizations of all sizes and types. Our services include tools and techniques designed to deter, detect, investigate and remediate instances of fraud and misconduct, within our current constraints.
Culture/environment
Individual behaviors during a crisis are different from behaviors during normal times. During the 2008 financial crisis behaviors such as anxiety, fear, confusion, and disbelief, pushed some to make poor decisions and cross ethical boundaries. These same risks exist today and are oftentimes exacerbated when people are placed in a toxic environment.
Here are some behaviors to be aware of:
Individuals overlooking ethical violations and not reporting the alleged misconduct or unethical behavior. Remember that over 40% of all fraud is initially uncovered through tips and complaints!
Using the crisis to delay, shortcut, or ignore procedures and minimize the likelihood of getting caught.
The human factor – "Just one time"
A crisis situation can and often does increase the pressure on senior management and of course salespeople to meet their sales targets! Deviant behavior, like overriding or circumventing controls "just one time", is easily justified. So it should go without saying that companies and their boards need to recalibrate and, in most cases, increase their managerial oversight today and subsequent to the crisis. Why? Because of the likely mindset to maintain and, if that's not possible, make up for lost opportunities!

10-80-10 theory to ethics
10% of the people are ethical all of the time, 80% could behave unethically depending on the situation or the pressure(s) being applied, and 10% have no, or a severely broken moral compass, and will pounce on opportunities to commit fraud.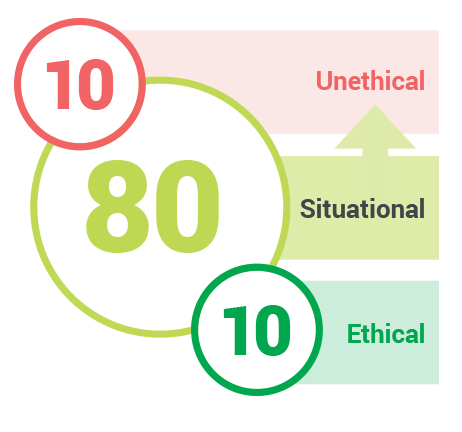 A crisis often limits "live" human interaction and thus creates difficulties when conducting investigations and maintaining an effective compliance program could be problematic.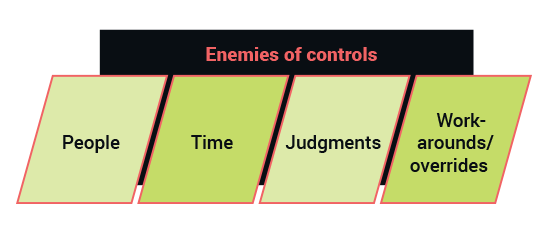 Some areas we need to focus on:
Ethics and compliance training schedules
Delays to time-sensitive internal investigations
Challenges related to pre/post-merger or acquisition due diligence
Third-party audits
Compliance reviews
The speed of change is such that opportunities to commit fraud will be prevalent. As crises such as the coronavirus unfold and markets decline, fraudsters learn to adapt and create new risks for organizations. White collar criminals adapt by profiling us and exploiting our weaknesses.
Therefore, companies need to remain vigilant and develop strategies to deploy appropriate programs, controls and tactics to mitigate these emerging risks.
Some situations that could increase risk:
Incapacitated leaders and lack of succession plans
Overreliance of skills and capabilities of others filling a void
Management override of controls
Pressure to manipulate the financial results and disclosures (i.e. Non-GAAP)
Overworked employees
Terminated or furloughed employees, without sufficient time for employers to reflect on the longer term consequences
Shortcutting hiring practices
Overreliance on technology
Improper or failure to conduct quality control procedures or good practices
Meeting investor expectations
Complying with bank covenants
Abuse of certain (government) programs
Translation loss due to meetings being done over a video conference or telephone
Reduced or no time to monitor relevant key risks
Failure to follow up on remediation activities
Physical control over assets
Inferior/substandard or counterfeit products
System access is given without assessing risk, including the theft of intellectual property
Phishing scams
Time/billing fraud
Using social media as an emotional outlet
Leaks of confidential internal information
Opportunities to bribe to assist in obtaining or retaining business
Reduced or lack of due diligence, know your customer procedures when onboarding a vendor or customer
Side agreements
Exploited loopholes that could place company's reputation at risk
For more information on this topic or to learn how Baker Tilly specialists can help, contact our team.