The affordability of water and sewer rates has long been an issue. Now the problem is gaining even more attention.
Aging infrastructure, EPA mandates due to public health and environmental concerns, conservation, delayed maintenance, the polarization of household income in the U.S. and population shifts are all driving factors affecting utility rates and charges on a national level.  These factors are, in part, why utility bill increases have outpaced both general inflation and increases in household income.  In fact, researchers at Michigan State University project that water may no longer be affordable for as many as 35.6% of American households within the next five years [1].
The following chart illustrates how income levels have increased at a rate lower than general inflation for most of the past ten years while water and sewer costs increased more than two and a half times the rate of income levels.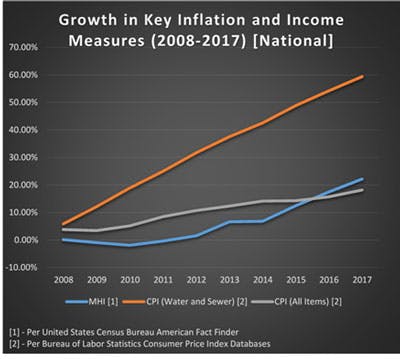 Defining "rate affordability" can be tricky. Affordability is influenced by many factors such as geography, demographics, local economic conditions and frankly, personal opinion.  So, how does one answer the question as to whether your local community has an affordability issue?
During the next several series of articles, we will explore ways by which communities measure affordability for water and sewer utilities.  We will also discuss specific methodologies used in assessing affordability and share ways that municipalities are addressing affordability issues.
For more information on this topic, or to learn how Baker Tilly municipal specialists can help, contact our team.
[1] Burgeoning Crisis? A Nationwide Assessment of the Geography of Water Affordability in the United States © 2017 Mack, Wrase
Baker Tilly Municipal Advisors, LLC is a registered municipal advisor and wholly-owned subsidiary of Baker Tilly US, LLP, an accounting firm. Baker Tilly US, LLP, trading as Baker Tilly, is a member of the global network of Baker Tilly International Ltd., the members of which are separate and independent legal entities.