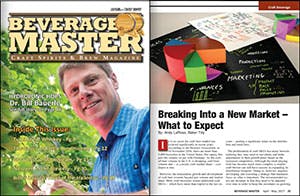 Reprinted courtesy of Beverage Master.

It is no secret the craft beer market has evolved significantly in recent years. According to the Brewers Association, as of November 2016, there are more than 5,000 breweries in the United States. Per capita, this puts the country on par with Germany. As the overall beer volume in the U.S. is dropping, craft beer volume and -- as a result, craft market share -- continues to rise.
However, the tremendous growth and development of craft beer extends beyond just volume and market share. More craft breweries means additional craft SKUs -- which have more than tripled in the last six years -- putting a significant strain on the distribution and retail tiers.
The proliferation of craft SKUs has many brewers realizing they may need to reevaluate and make adjustments to their growth plans based on the increased competition. Although the retail playing field has become much more complex, a smaller craft brewer can still have success in expanding its distribution footprint. Doing so, however, requires developing and executing a strategy that maintains focus on what is important. The recommended tactics are dynamic in that they need to be adjusted over time in order to keep the crosshairs on growing volume profitably while proactively managing market spend.
Where The Market Is Headed
So what does the future hold for the craft beer market? More strategic acquisitions and partnerships with aggressive, big-budget programming behind the acquired craft brands should be expected. Looking to grow market share, there will be concentrated efforts behind leveraging production capacity and shipping efficiencies via established distribution networks. Big-budget allocations will also allow for more brewery representatives, who will venture deeper into the slower developing markets and retail channels with increased brand and package innovation. For example, several acquired craft brewer brands could very well be available in 16 oz. aluminum bottles at select MLB stadiums this year.
Many national craft breweries have expanded their capacities via new production facilities in the past few years: 

These brewers will also be adding feet on the street to keep their new facilities running efficiently. Not unlike macro-acquired craft brewers, with additional staff comes additional resources, including trade and price promotional budgets, local and regional programming, as well as their own expanded portfolios.
The craft beer market is not only being significantly affected by suppliers. Distributors looking to build their current brands are becoming much more selective as to which craft brewers they are willing to bring into their portfolio. The ability to produce 'good beer' isn't enough anymore. They want consistency, not only in the beer itself but in product supply, a solid business plan and proactive brewery support. Front line sales representatives are being bombarded weekly with new "priorities," forcing sales managers to look for ways to effectively manage the expectations of their current brewer partners. Bringing on more, less proven suppliers will only fuel the fire, so the selection process is becoming much more stringent.
Several retailers are also getting into the production game. Walmart (Trouble Brewing), Hy-Vee (Baraboo Brewing) and Costco (Kirkland Signature) already have private label craft brands, and their contract brewer partners have sales teams pitching the same opportunity to other major chains. Private label allows for smaller margins, lower price-to-consumer (PTCs) and chain level competition for the prime tap, shelf, and display locations particularly around the high-volume holiday timeframes.
Risk Versus Reward
A craft brewery can find itself compelled to target new market expansion for a number of reasons. The need to fill production capacity is a big motivator, along with the appeal of the low-hanging fruit that is greenfield distribution, pipeline fill and, as a result, a quick sales lift. Other reasons include:
Unrealistic pitches from smaller, more aggressive 'brand collector" distributors looking to build their portfolios quickly
Witnessing other competitive craft breweries having success in expansion markets and asking, "If they can, why can't we?"
The need to fill out a retail chain footprint for authorizations
Consistent consumer feedback requesting a brewery's beer in other markets
Attempting to break into new markets is not without risk. As with any business-related decision, a brewer can experience a fear of the unknown and a desire to avoid additional costs and complexity. Trying to expand into a new area means competing against local craft breweries' established sales and distribution. These local breweries also benefit from a number of other competitive advantages, including the compelling draw of a neighborhood taproom, established brewery representatives with strong retail and distributor ties and seasoned events attended by a loyal fan base. While these challenges and risks should not be overlooked, they also should not be enough to halt or hinder the development of an expansion effort. Being committed to establishing and executing a sound strategy can mitigate some of the risks and reduce the common fears and concerns associated with expansion.
Three Phases
It is critical for a brewery to outline the process of breaking into a new market in three phases: pre-rollout, rollout, and post-rollout. Successfully navigating through each stage hinges upon both a brewery's capacity to remain focused and its ability to adjust its strategy as circumstances change.
Phase One - Preparation
Market expansion preparation begins with a solid business plan. There are many components that constitute a solid plan, but none matter unless the result generates the distributor partner's buy-in. If the distributor isn't fully committed to the brewery's vision, mission, strategy and culture, the brewer needs to either go back and reassess the partner decision or start from scratch.
Once fully committed, both the brewer and distributor must agree on several key factors, including:
Retail standards/expectations
Brand release calendar
Pricing
Market spend
Incentives
Media plan
There must also be agreement upon data sharing and the metrics used to gauge success. The importance of defining clear, attainable and measureable volume and distribution targets for distributors and brewery representatives cannot be overstated. Distributor and brewery partners also need to define a schedule of periodic communication meetings to review agreed-upon targets.
Brewers also need to have fully developed point of connection material (POCM) offerings that are:
Easily accessible
Customizable/imprintable
Relevant to the market and for both on- and off-premise executions
Share the brewer's unique narrative or story with the target audience 
Phase Two - Rollout
As the expansion begins, there are key considerations to avoid common mistakes. First, the initial SKU offering should be limited to core brands, as opposed to rolling out the entire portfolio. This maintains focus and creates an easily communicable story for the distributor's sales team. Second, the number of package configurations for the core brands should be carefully selected. Consumers will likely gravitate towards a lower-priced item when trying a new product. For off-premise locations during rollout, only a variety pack should be offered in quantities larger than a six-pack.
Spending wisely is also critically important. The natural impulse is to flood the market with promotional items to help generate excitement and interest among potential consumers. However, this does not create prolonged brand presence. Promotional items should be limited to wearables for front line sales representatives who become walking billboards. A brewer should focus a majority of its rollout budget on getting their beers in consumers' hands via sampling executions by brewery educated ambassadors. Once trial has occurred, the beer should be able to speak for itself and earn loyalty.
On-premise, brewers need to choose wisely regarding tap takeovers. The recommendation is to use them for retailer brand launch introductions, not just consumer draws. Although they can make a positive initial impression, multiple offerings from the same brewer tend to sit post-event -- potentially causing more damage than good. Like out of code product off-premise, brand equity diminishes with the host retailer and may turn off the "regulars." Worst yet, a brewer may have to buy back what is not used so, when doing tap takeovers, be conservative and keep it limited to 1/6 bbls and package.
Another recommendation for a brewer to focus during rollout is to make sure it is selling a compelling, memorable story. A brewer entering a new market should refine its pitch to highlight its perceived competitive advantage and use sales data success stories from previous rollouts (velocity, profitability, margin enhancement, etc.) whenever possible.
Phase Three - After Breaking Into A New Market
Ask any brewer its opinion of a rollout three months after launch and the inquiry will most likely yield a positive response. The brewer-distributor relationship is still in the "newlywed" phase, and initial trial is still driving consistent sell-through by both retailers and consumers. One of the most difficult periods of a new market expansion, however, occurs during the critical months following the initial launch. A brewer needs to maintain its momentum and do it efficiently. Rollouts can be expensive, and most craft brewers will have a hard time maintaining their initial investment. The key is to consolidate efforts around key initiatives that will anchor a brand presence. A few key recommendations are as follows:
Develop a phase-two marketing strategy that maintains retailer share-of-mind by driving traffic to a fully developed website that houses relevant information about the brewery (brewery history/highlights, brand descriptions, brand calendar, social media hub, retailer locator, news articles, market activities, awards, etc.)

Create local ties to the community via collaborations, philanthropic activities, green initiatives and local media connections

Hire local key retailer personnel as brand ambassadors for local beer competitions, samplings, food pairing dinners, and more
A brewer's need to maintain brand presence doesn't stop at retail. Equally as important is maintaining the share of mind of the distributor partner. To accomplish this goal, a brewer needs to be viewed as an asset, not a "to-do list" creator. This requires timely tracking of sales and distribution data, which make the periodic business review meetings more objective, productive and actionable. A brewer needs to come to the table with a clear understanding of its local sales trends by brand/package, uncover anomalies and provide recommendations that will drive sales profitability.
Key Takeaways
Ultimately, a few key factors can truly make or break a brewery's efforts to successfully enter into a new market. They include:
Proactive distributor communication
Initiating and maintaining marketing strategies, which sustain distributor and retailer share of mind (thus creating brand ambassadors)
Strategically using data/analytics that fuel proper business decisions driving profitable sales growth
Identifying/accepting skill set limitations and seeking counsel in areas they lack experience (ex: distributor selection/engagement, human resources, sales team management, data analysis, etc..) to avoid common, unnecessary mistakes  that sacrifice time money and opportunity
The craft beer market is in a constant state of flux, and market influences continue to evolve over time. The result is that any effort put forth by a brewery to break into a new market involves unpredictable cost, complexity and risk. However, by establishing, executing and following through with a focused yet flexible strategy, expansion can be a very profitable endeavor for craft breweries of all styles and sizes.
For more information on this topic, or to learn how Baker Tilly craft brewery specialists can help you, contact our team.