The Jeanne Clery Disclosure of Campus Security Policy and Campus Crime Statistics Act (Clery Act) is a federal consumer protection law aimed at providing transparency around campus crime policy and statistics. The Clery Act was enacted as a result of the homicide of Lehigh University student Jeanne Clery, whose parents campaigned for legislative reform after their daughter's death.
The Clery Act broadly requires higher education institutions participating in Title IV student financial assistance programs (i.e., receiving federal financial aid) to collect and report, both on their websites and to the U.S. Department of Education (Department or ED), annual statistics on crimes that occur on campus, in residence halls, in non-campus buildings and facilities used by faculty, staff and students as well as in nearby public areas. The Clery Act also requires timely warnings and notifications to provide information about campus safety. The penalty for non-compliance with the Clery Act, including misreporting data, has increased to $57,317 in citations for each violation.
U.S. Department of Education's announcement
On Oct. 9, 2020, the ED announced the rescission of and replacement for the 2016 Handbook for Campus Safety and Security Reporting to ensure specific "in-scope" information is available to the public. ED's announcement intended to ensure that reporting requirements are not excessive and do not obscure key information in order for institutions to continue to use resources for the mission of campus safety. Further, the Department determined that the Clery Act guidance will be provided in the Federal Student Aid (FSA) Handbook with an appendix that will replace the separate 2016 Clery Handbook (2016 edition or 2016 Handbook). ED included in the October announcement an overview of a Clery-related Appendix (the Appendix or new FSA appendix) of the FSA Handbook, which outlined key changes between the 2016 Handbook and the new FSA appendix.
Key changes
The following table highlights notable changes in the new guidance: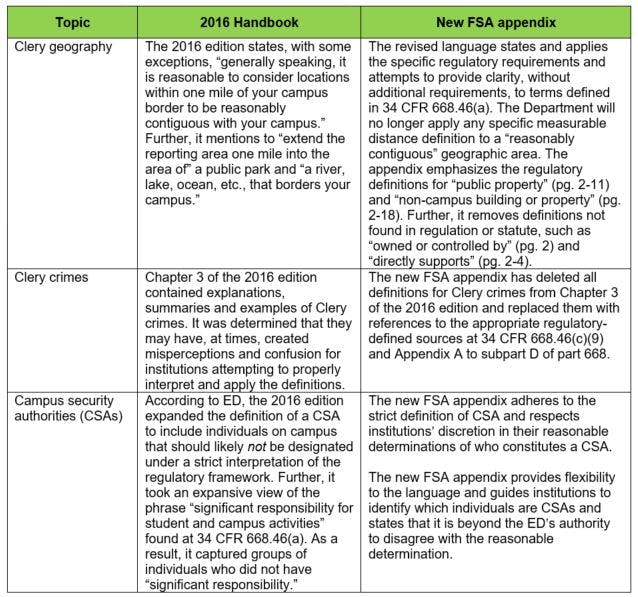 NOTE: None of the changes in the new FSA appendix impact the July 10, 2020, temporary extension (to Dec. 31, 2020) due to COVID-19 that the Department provided regarding Clery Act reporting.
For more information, or to learn how Baker Tilly's higher education specialists can help your institution comply with the Clery Act, contact our team.