M&A Activity
There were 51 transactions that closed in the Central Pennsylvania regional market during the fourth quarter of 2019 (Q4 2019), an increase from the 47 closed transactions in the prior quarter. The 51 closed transactions also marked a slight increase of 6.3 percent from the 48 closed transactions during the same period in 2018.
In 2018, North America's overall M&A value exceeded $2.0 trillion for the fifth consecutive year. M&A volume decreased 12.3 percent and aggregate transaction value decreased 14.4 percent compared to 2018. These declines are caveated by the fact that 2018 was a record year for M&A. Similar to recent years, much of 2019's activity can be attributed to a few large deals, including Walt Disney Company's acquisition of Twenty-First Century Fox and Bristol-Myers Squibb Company's acquisition of Celgene Corporation- both valued at over $70 billion. M&A above $5 billion comprised 32.6 percent of all deal value in 2019, compared to 33.2 percent in 2018.
With the increased prominence of startups and companies staying private for longer periods, high-growth companies have contributed to lofty valuations. The median EV / EBITDA multiple for M&A transactions rose to 10.1x in 2019, up from 9.4x in 2018.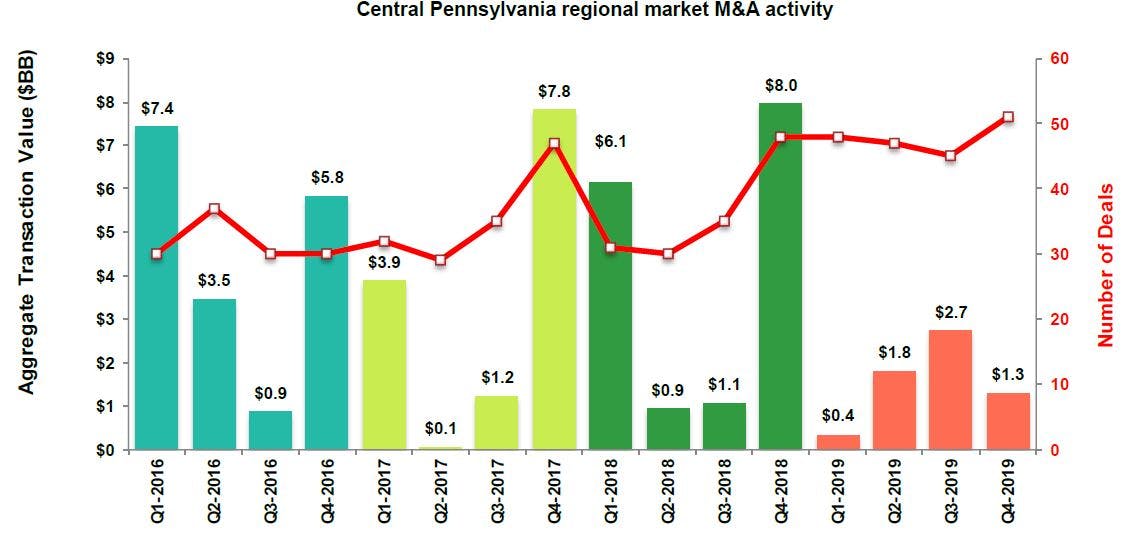 Source: S&P Capital IQ, PitchBook (January 2020)
For more information on this topic, or to learn how Baker Tilly specialists can help, contact our team.
Baker Tilly Capital, LLC disclosure
Baker Tilly Capital, LLC privacy policy
Baker Tilly Capital, LLC social media disclaimer