During this year's AGB conferences, Baker Tilly Higher Education Practice Leader Dave Capitano and Managing Director Christine Smith facilitated an interactive panel with board leaders and professionals about strategic risks across the higher education enterprise. The discussion served to equip board members with insights that are critical to navigate risks and focus diligence for student and institutional success.
This session explored how boards can successfully anticipate strategic risks that could bump their institutions off course. The panel addressed board frameworks, methods of operating and nuanced ways of board management that can keep institutions on track in the face of evolving context and conditions – defined as strategic risk categories. 
Trending risks in higher education
The discussion commenced with a reflection on top risks facing most colleges and universities:

The panelists agreed that college and university boards are challenged to understand and address risks across myriad institutional areas as identified below.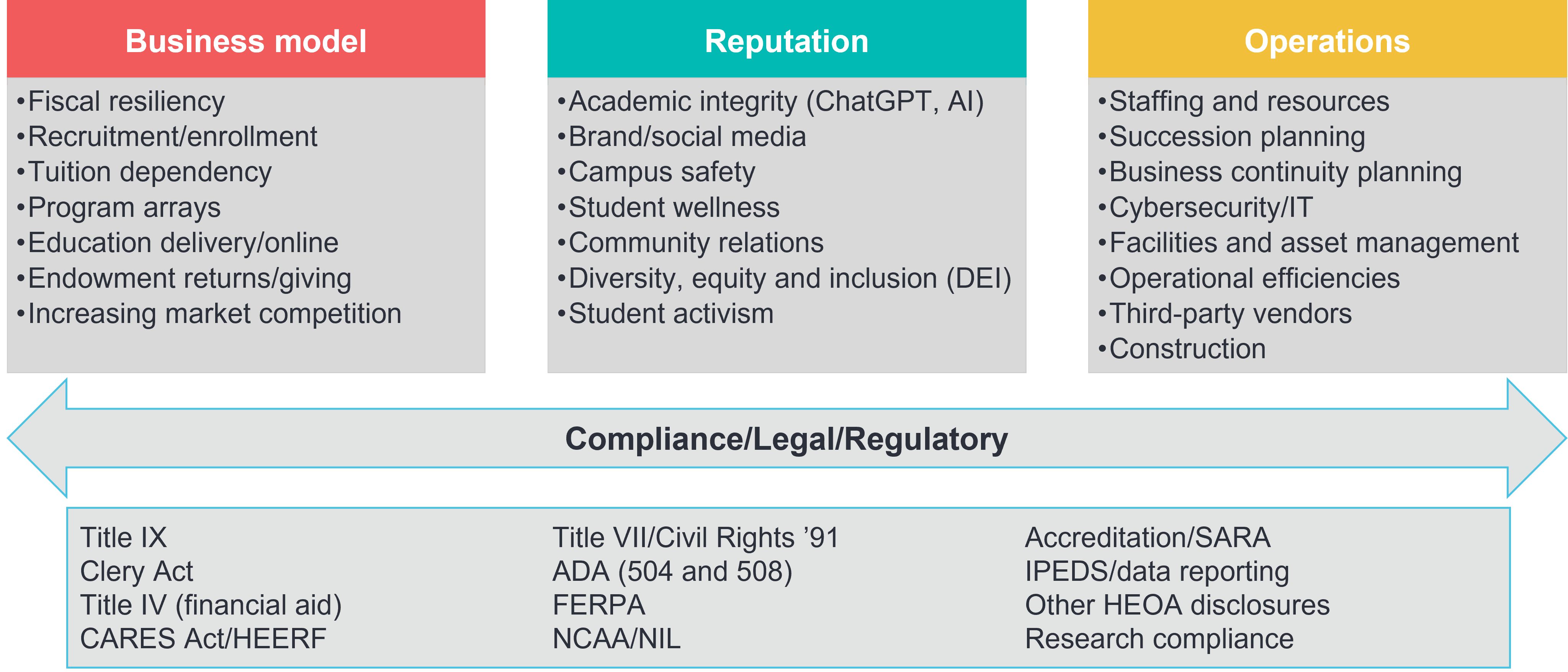 Today's higher education environment may be more complex than ever before due to the rippling student and economic impacts the pandemic has had across the industry.
Strategic risks – a deeper dive
Although much has evolved across the higher education ecosystem, what has not changed is that a board governs the institution. An institution's board must proactively anticipate strategic risks and understand how to stay on course relative to institutional objectives despite challenges that could take the college or university off track. Within the context of this discussion, strategic risks are defined as, "opportunities and threats to achieving the institution's goals and intended outcomes." And, each and every board decision can impact the achievement of these objectives.
The panel raised the following questions and offered insight to help board members diligently assess strategic risks:
What is the appropriate board role in managing strategic risks?
What are some pitfalls boards encounter that prevent them from managing strategic risks?
What is key to boards that excel at driving the right communication and actions?
How can the board position itself to provide the appropriate level of diligence related to these strategic risks?
When things get off course, what can the board do to get back on track?
In the AGB session, panelists and attendees explored potential steps to address the following strategic risks with a focus on student success and fiscal resiliency/affordability: