Where did revenues go?
At the start of the latest fiscal operating year, you, your management team and oversight body gave a big thumbs up to the annual revenue and expense budget. Now, as you review year-to-date revenues compared to the budget, a sinking feeling surrounds you: "How did we miss our revenue forecast by so much?"
With analytical trend tools at our disposal, budgets are more realistic and numbers are tighter than prior years. However, trends that do not show up yet in historical sales data will not work their way into our forecasting methods. For example, the growth in distributed generation is a relatively new trend. Microgrids are even more recent. Both are forecasted to grow exponentially in the next decade. Both reduce kWh sales from the utility where they are located.
Cost map for electric utilities
Costs for utilities, like any business, are a combination of fixed and variable costs. Fixed costs are the infrastructure to size the electric system and connect customers, while variable costs are the cost of fuel or purchased power and system maintenance. Take a look at this visual depiction: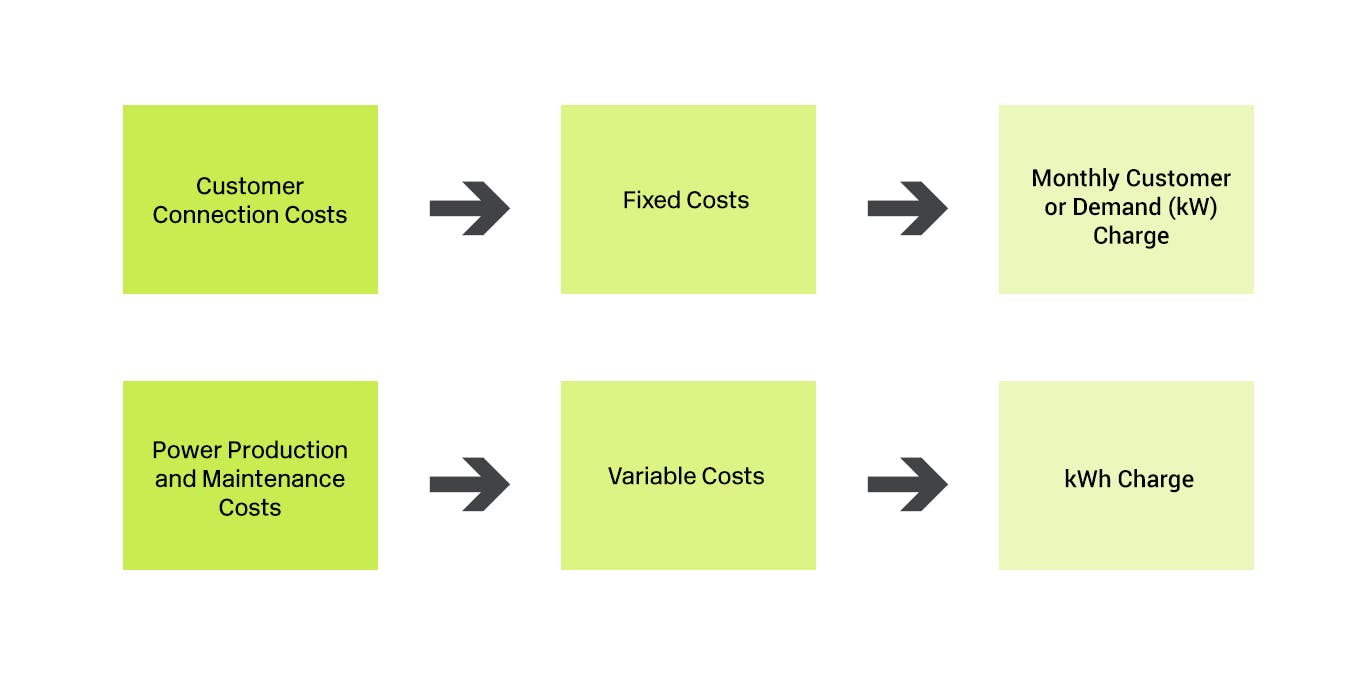 Recovering utility "available for use" costs
"Available for use" costs are those fixed costs to connect customers to the utility's electric system. Whether or not these customers use their connection, the cost of the connection must be recovered in utility rates. While distributed generation or microgrid customers may not always need this connection to the utility due to their ability to self-generate their own kWh's, the connection is there and available when needed.
Those connection costs should be recovered in the utility's fixed monthly customer or demand charge. However, these customers will be consuming less kWh's from the utility's native system due to their alternative use of distributed generation. Therefore, if the reductions in kWh are not considered in the revenue budget forecast for the year, a revenue budget "misses" results.
Rewriting revenue history for lost kWh sales
While kWh sales are variable revenues generated by variable costs (fuel, purchased power), a profit margin is built into the rate for each kWh and declining kWh sales will erode the utility's gross profit margin from the planned budget.
Allowing those lost revenues to slip away inflicts a permanent detriment on the utility's financial results and cash flows. Accounting methods such as "decoupling" exist to capture these "lost" revenues in order to collect them in the future.
Decoupling lost revenues for future recovery
Decoupling is a form of regulatory accounting used to record these lost revenues for recovery in future years. Keep in mind: if your utility is regulated by a state public regulatory commission, this process may or may not be allowable for rate recovery in your rates. For utilities regulated at the local level (such as municipal utilities and electric cooperatives), decoupling should be a consideration.
The mechanics of decoupling actual from budgeted revenues is shown in this image:

For example, if the utility budgets $10 million of revenues but sales are $9 million, that $1 million of "missing revenue" can be treated in one of two ways:
Accepted and thus the margin on this amount is not available for use in the business, or
Deferred as an asset with attempted recovery in the next rate case or as a cost adjustment recovery clause
Consider how "decoupling" might fit with your utility's revenue strategy
If your utility is missing revenue targets and budgets and the cause can be identified as a faulty forecast due to unexpected occurrences such as distributed generation kWh losses, these accounting treatments provide options. As you move into a new budget season, decoupling may be a tool that fits your utility's revenue strategy.
For more information on this topic, or to learn how Baker Tilly power and utilities specialists can help, contact our team.
[1] If these connection costs are not recovered from the distributed generation or micro-grid customers that cause them, the electric system's other customers will be required to pay for them and will provide a de-facto subsidy to the customers who have caused the cost.