As the Department of Labor (DOL) investigations become more frequent and aggressive, contractors risk greater exposure to Service Contract Act (SCA) as well as the Davis Bacon Act (DBA) compliance risks.  Review the SCA and DBA checklists below to ensure you have an effective set of systems in place to maintain compliance. 
Utilize the checklist to address questions related to:
Pre-award
Contract award
Contract performance
Post-Award/Project setup
Subcontractor performance
Contract modifications
Project close-out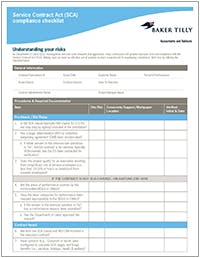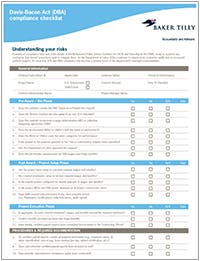 Listen to Baker Tilly specialists discuss the Davis Bacon and Service Contract acts
SCA and DBA compliance webinar >
For more information on this topic, or to learn how Baker Tilly government contractor specialists can help, contact our team.