CHICAGO (July 15, 2022) – Leading advisory CPA firm Baker Tilly US, LLP (Baker Tilly), has been named to Accounting Today's 100 VARs for 2022. The Top VAR 100 is an annual list consisting of the top implementation partners and resellers in the accounting industry. It is organized by revenue and number of employees to illustrate which VARs are the largest and how they aim to resolve their customers' needs. 
Baker Tilly's deep experience with Sage Intacct provides businesses with a financial management tool. Sage Intacct provides businesses with an accounting solution that can automate tasks to increase efficiency and allow businesses to keep up with the changing market.
"The pandemic and recent economic turmoil caused by the war in Ukraine have polarized companies into two extremes in terms of their sense of urgency to move to the cloud and accelerate digital transformation," said Marcus Wagner, Baker Tilly Digital partner and middle-market digital practice leader. "For those who want to act quickly, they are driven by an increased sense of urgency to automate processes due to the need to continue to support remote work and the ongoing shortage of skilled resources, coupled in many cases with an extremely active M&A market where both buyers and sellers are trying to accelerate digital transformation as quickly as possible to maximize enterprise value and integrate new acquisitions."
Now more than ever, our clients are making large investments in their digital infrastructure to keep up with the changing business environment. Baker Tilly is committed to helping businesses navigate change and meet their growing needs.
Learn more about Sage Intacct at https://www.bakertilly.com/specialties/sage-intacct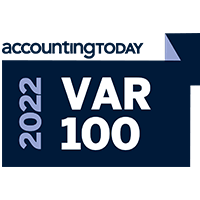 About Baker Tilly US, LLP (bakertilly.com)
Baker Tilly US, LLP (Baker Tilly) is a leading advisory CPA firm, providing clients with a genuine coast-to-coast and global advantage in major regions of the U.S. and in many of the world's leading financial centers – New York, London, San Francisco, Los Angeles and Chicago. Baker Tilly is an independent member of Baker Tilly International, a worldwide network of independent accounting and business advisory firms in 148 territories, with 38,000 professionals and a combined worldwide revenue of $4.3 billion. Visit bakertilly.com or join the conversation on LinkedIn, Facebook and Twitter.