Why is sales data important and what types of data should craft breweries be focused on?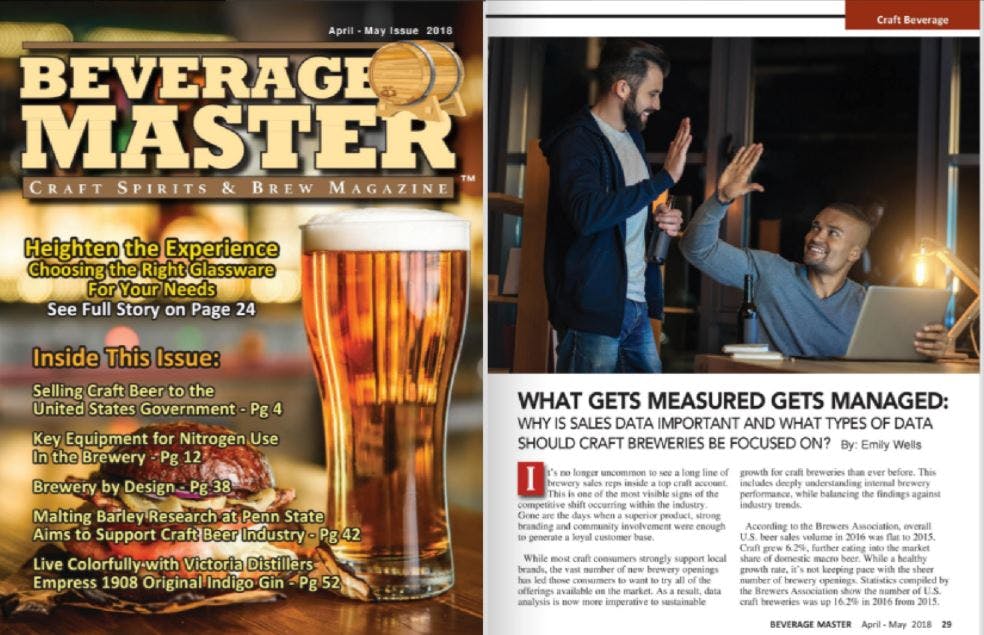 Reprinted courtesy of Beverage Master.

It's no longer uncommon to see a long line of brewery sales reps inside a top craft account. This is one of the most visible signs of the competitive shift occurring within the industry. Gone are the days when a superior product, strong branding and community involvement were enough to generate a loyal customer base.
While most craft consumers strongly support local brands, the vast number of new brewery openings has led those consumers to want to try all of the offerings available on the market. As a result, data analysis is now more imperative to sustainable growth for craft breweries than ever before. This includes deeply understanding internal brewery performance, while balancing the findings against industry trends. 
According to the Brewers Association, overall U.S. beer sales volume in 2016 was flat to 2015. Craft grew 6.2%, further eating into the market share of domestic macro beer. While a healthy growth rate, it's not keeping pace with the sheer number of brewery openings. Statistics compiled by the Brewers Association show the number of U.S. craft breweries was up 16.2% in 2016 from 2015. Therefore, on average a craft brewer sold 5,039 barrels (BBL) in 2015 compared to 4,065 BBL in 2016, seeing an average loss of 8.6% in sales. After years of unprecedented growth in the industry, concern is growing among many brewery owners.
However, examining the right data can help breweries identify opportunities for growth. Doing so will aid breweries in preventing the volume drops the industry is seeing with many of the craft breweries in the U.S. today. According to news reports, these volume drops have convinced Green Flash Brewing Co., Summit Brewing Company and other major breweries to begin retreating from certain markets.
With so much data available to a brewery, it can be overwhelming to know exactly where to start. Internally, there is sales-to-retail (STR), production, financial, marketing and taproom data. Externally, there is state shipment and syndicated data available to breweries. All data sources must be balanced to provide a well-rounded picture of performance. For example, sales might be skyrocketing, but if production and financial data reveals there are inefficiencies causing a hit to margin, then business might not be as healthy as it appears from the sales side. Fortunately, internal information can be balanced against state shipment or syndicated data to help benchmark performance and ensure goals are realistic. Everybody wants to grow 50% in a year, but if the craft breweries in the state are only growing at 20%, then a realistic goal would be closer to 25%. Most importantly, having dependable data sources is crucial to ensuring the information being analyzed is accurate.
State of the Industry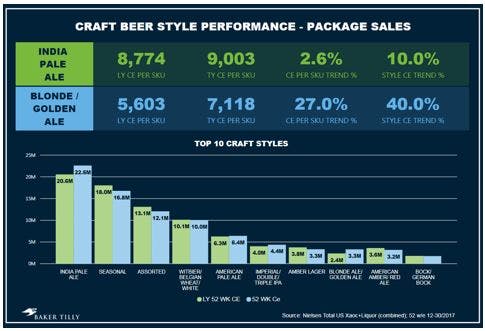 Analysis of 2017 Nielsen data (xAOC + liquor latest 52 weeks through WE 12/30/2017) of package liquor sales in off-premise accounts echoed closely the findings of the Brewers Association. While not encompassing on-premise sales and non-reporting off premise accounts, off-premise sales reflected trends in the industry as a whole.
The largest and most notable trend is breweries are opening and adding SKUs to the marketplace at a faster rate than the growth of beer sales. The takeaway here? Despite the industry growing as a whole, more and more breweries are feeling the competition increasing and seeing their sales slow.
A few other trends stood out as well:
Beer Styles
The popularity of craft beer styles can vary between states, but beer style trends at a national level can provide a high-level overview of cross-market patterns. In the U.S., IPA was the best-selling craft style with 22.6 M case equivalents (CE) sold in 2017. Of the top 20 craft beer styles in package liquor stores in the U.S., it's also the third-fastest-growing style. With a strong growth trend of 10% nationally, it may lead some craft brewers to feel their IPA sales are falling below par. This can be explained by the fact that the number of IPA SKUs in the total U.S. grew almost as quickly as IPA sales, meaning individual SKUs only grew at an average rate of 2.6% in 2017 versus 2016. Most of the IPA category growth has come from incremental SKUs being added.
Looking for beer styles that are growing in popularity can advise brewers on areas for opportunity if they do not currently offer the most popular styles among consumers. Golden/blonde ale has jumped to the eighth-most-popular craft style, with a 40% growth rate. Furthermore, new SKUs and breweries did not grow as rapidly for this style as other popular styles. On average, individual golden/blonde ale SKUs grew sales by 27%, which is by far the fastest-growing style at a per-SKU basis. As a result, it's still an optimal time to introduce a golden/blonde ale to the market due to lower competition and increased consumer demand.
Package Configurations
A major shift from bottles to cans is taking place in the craft beer industry today. It is likely breweries without canning lines have seen large hits to sales over the past few years, unless their draft sales have helped to offset the shift in package preferences. More and more consumers are gravitating toward cans and away from bottles. Aluminum as a package material grew sales by 34.6% in 2017, capturing 25.7% of market share. It's a major jump from 2016, when aluminum only had 19.0% of market share. All of the top 10 glass package configurations had negative trends over the course of the past year, so expanding assortment offerings to include cans would help breweries reach incremental customers and sales.
Traditionally, brewers have entered the marketplace with 6pk 12oz bottles. This package offering still dominates craft beer sales and held 37.3 % of craft share in 2017. But in the past year, sales of 6pk 12oz bottles dropped 6.6%, which directly reflects the shift of preference from bottles to cans. 6pk 12oz bottle sales are down 2.74 M CE in 2017 versus 2016. Conversely, 6pk 12oz can sales are up 2.77 M CE for the year, and the average sales per brewer for 6pk 12oz cans have grown a whopping 23.2%. In short, it's the number one configuration for can sales today.
Another new configuration rising to the top is 15pk 12oz cans. Among package can sales, 15pk 12oz has gained five points in market share. This package configuration had the highest average sales per brewery. On average, breweries sold 119,302 CE. This is partly because only 26 brewers are currently in this space. Yet those 26, primarily national craft breweries, have driven 15pk 12oz to be the number three can configuration in 2017. In addition, large breweries are using it as a promo package, attributing to a low cost per ounce. It is even ahead of 4pk 16oz cans, which has seen large SKU saturation in the market, with 112 incremental SKUs sold in 2017.
What approach do we recommend to analyze data?
Syndicated data, like the Nielsen results described above, helps provide further context of industry trends. This can reveal growth opportunities or demonstrate that internal trends are being seen across the industry. However, internal sales data is optimal for understanding how a specific brewery's customers respond to different beer styles, package sizes and branding. There are a few tips for reading and preparing such data, while also helping to inform future business strategies. These methods will ensure an effective and efficient sales review process.
Create a Repeatable Process
When first beginning to dig into sales data, start by developing a standard process for sales analysis to see small fluctuations in performance and anticipate potential areas of concern. Reviewing data on a weekly basis is recommended. Set aside time one day per week for looking into data, create a standard template of impactful charts and graphs, and regularly refresh with the latest sales history. A streamlined process helps to reduce the amount of time spent compiling and organizing data, while increasing the time that could be spent on discovering insights. This process approach should ultimately help solve problems, rather than create them.
Measure Key Performance Indicators
Key performance indicators (KPIs) are a metric against which progress can be measured. Without first identifying KPIs to track, data analysis can lack direction. KPIs are benchmarks that can be analyzed over time, providing a brewery with clear focus of the major priorities. KPIs should reflect the key strategies breweries want to execute, and it's useful to review the trends of KPIs across time periods. Trends quickly show if a specific KPI has positive or negative sales growth versus the prior year.
Year-over-year trends can compare against different chunks of time. Some useful time periods to review are one month, one quarter, year-to-date and one full year. Looking into various time periods reveals if sales performance is accelerating or decelerating. For example, the most recent quarter of sales might have a positive trend while the most recent month is negative, suggesting sales are slowing for that specific KPI in recent weeks. The primary function of KPIs is to enable this type of quick, efficient sales review.
Understand the Relationship Between Sales and Distribution
The metric that summarizes the relationship between sales and distribution is called rate of sale (ROS). Even if sales are growing rapidly, reviewing points of distribution will further provide clarity as to the factors driving overall performance shifts. If distribution is growing at the same or faster rate than sales, then the majority of sales growth could be attributed to new account placements. Growing distribution is vital to building a brand and is common during circumstances such as expanding to new territories.
However, monitoring distribution is important because only looking at sales growth could potentially mask underlying issues. New accounts drive more sales, but if all past accounts are losing volume, then there is a likelihood of seeing sharp sales declines once the market is saturated for distribution. It could also mask the issue that customers are not making repeat purchases and brands aren't resonating. Looking at rate of sale over time is an easy way to observe if individual accounts are growing or losing sales on average.
Manage the Exceptions
Paralysis by analysis is the idea that having too much to focus on results in having no focus. Resources should be focused on expanding on what's working and fixing or abandoning the ineffective strategies. Oftentimes there are a few variables attributing to the bulk of a brewery's sales growth or loss. Attempting to address every underperforming variable can spread efforts too thin, thus rendering them ineffective. Instead, breweries should manage by exception and put resources behind the major factors driving performance changes.
Pareto charts are a visualization which readily shows volume gainers and volume losers. They can visually aid in identifying the exceptions. This can quickly reveal which account, sales territory, brand, package size or other segment might be driving the majority of sales changes. An effective pareto chart examines the latest quarter volume change. Have sales performed above or below last year over the most recent three months? Sorting by the biggest attributors to the change will show breweries where to focus their efforts. Furthermore, pareto charts will continuously adjust based on the most recent sales information.
Business Segmentation
Segmenting the business will allow craft breweries to review results within these segments. There are a few big buckets that sales data should be segmented by: account, package and brand level. Accounts can be summarized by territory (rep or distributor). They can also be grouped based on size of the account. This will show, for example, what percent of sales the top 25 accounts are driving and if they are growing or losing sales volume compared with other time periods. Draft accounts can be grouped by purchase frequency, and the accounts purchasing most frequently likely keep brewers on tap compared with irregular purchasing, which means brewers may be fighting for that tap handle.
Item names should be coded by brand name and brand type, making it easy to review if specific brands or brand types are driving sales growth or losses, or if it is an overall loss stemming from all brands. This will also allow for the data to be filtered down to a specific brand or brand type. For example, what are the top accounts for seasonal brands? This same item process should be applied to package type and package size. This can be used to see if there is a healthy draft/package sales mix and which needs more focus to grow sales.
More than any time in history, businesses in all industries have increased access to data, allowing a granular look at performance. This is particularly true of craft breweries. And while access to data is a major positive, it does not provide information, insights or action if it's in its raw form. The data must be synthesized to extract useful details. Establishing a process to continually measure results will assist sales staff, operations staff and other teams to manage against goals and improve over time. Strategic decisions founded in data reduce exposure to risk, and theories seen from the field can also be reviewed to ensure that the data supports those assumptions. Having these processes in place across all parts of the company will help breweries build a strong business with greater ability to manage the top and bottom lines, and they will also help them to outperform competition in what has become an increasingly saturated market.
For more information on these topics, or to learn how Baker Tilly craft brewery specialists can help, contact our team.