For the first time since the administration of President Reagan, federal government tax policy is changing significantly. Tax cuts were in vogue for nearly four decades, but President Biden is planning on implementing higher federal taxes on corporations as well as high-income and high net-worth individuals in 2021.
Congress continues to debate the Biden administration proposal for a massive increase in federal infrastructure spending, which would require an increase in taxes and government borrowing.  Fritz Meyer, an independent economist, recently taught a professional education class, which was attended by 190 intendant tax, financial planning and investment advisors. Read below for two key observations made during the class.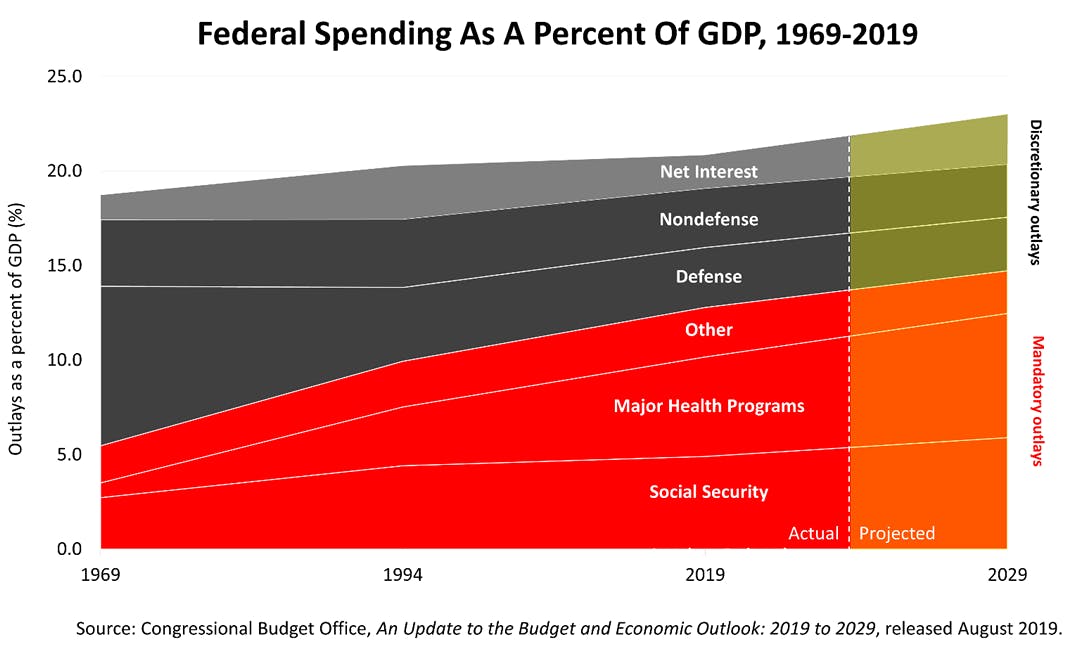 The above chart shows how the U.S. government spent its revenue over the half-century ended with the 2019 fiscal year; it's from the non-partisan Congressional Budget Office. Priorities have shifted; healthcare spending and Social Security are receiving a greater share of revenue, while defense spending has been judged a lower priority since the fall of the Soviet Union.   
In the decade ahead, spending on Medicare, Medicaid and other federal health programs, along with Social Security and the interest payments on the national debt, are expected to continue to steadily increase as a percentage of the total economy. 
Observation one: The nondefense spending category, outlays for maintaining the nation's infrastructure – roads, mass transit, communication, buildings and basic functions of American society – has been allocated a shrinking share of gross domestic product as the population grew.
Federal highway, mass transit and communication systems make America the envy of most of the world, but it has taken a backseat to other priorities.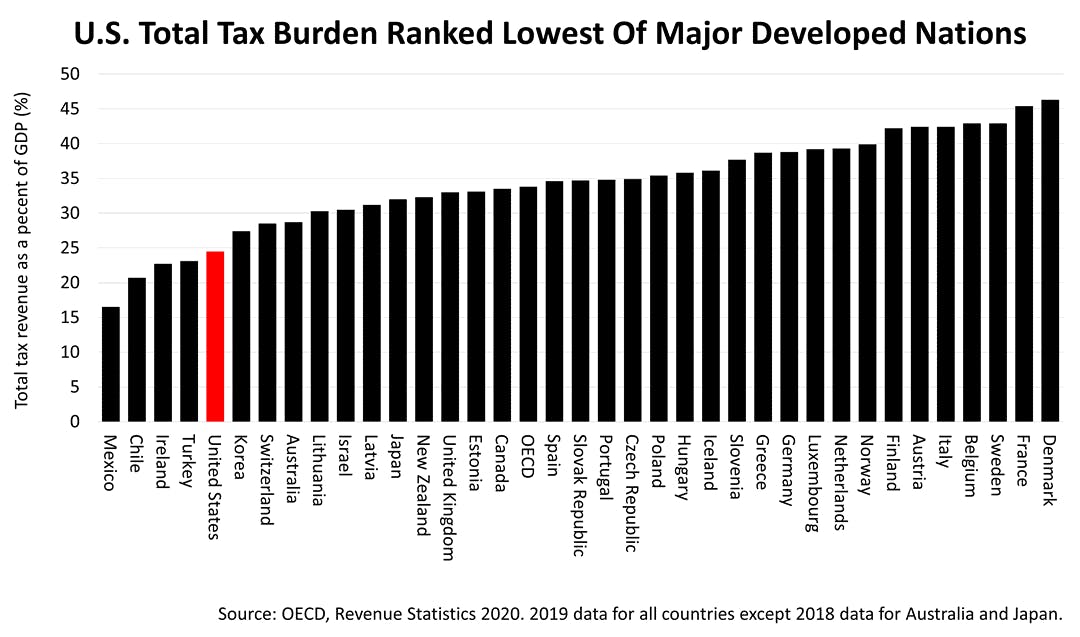 Including all forms of taxes – federal, state and local; income, sales, value-added, estate and property taxes – the U.S. has one of the lowest total tax burdens among the 37 developed nations that are members of the Organization of Economic Cooperation and Development (OECD). Countries, such as China, Brazil, India and Russia, are not OECD members and excluded here.
Observation two:  The comparatively low tax burden of the U.S. allows some flexibility in solving the country's long-term spending problems.
Nobody wants to pay more taxes, but these two observations might make the series of tax hikes expected to be enacted in the weeks ahead easier to bear.
For more information on this topic, or to learn how we can help, contact our team.