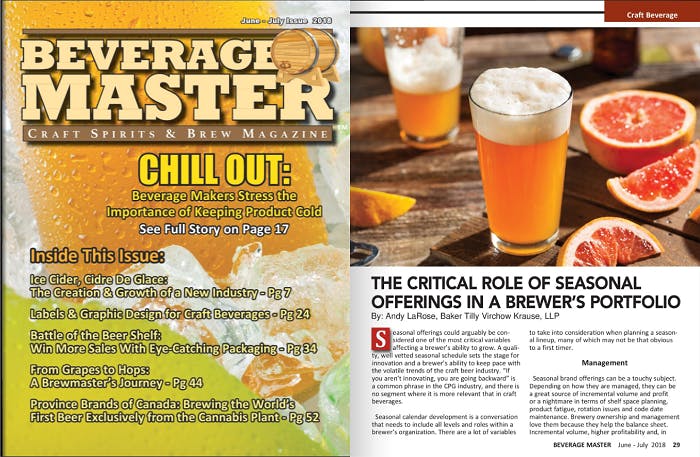 Reprinted courtesy of Beverage Master.

Seasonal offerings could arguably be considered one of the most critical variables affecting a brewer's ability to grow. A quality, well vetted seasonal schedule sets the stage for innovation and a brewer's ability to keep pace with the volatile trends of the craft beer industry. "If you aren't innovating, you are going backward" is a common phrase in the CPG industry, and there is no segment where it is more relevant that in craft beverages.
Seasonal calendar development is a conversation that needs to include all levels and roles within a brewer's organization. There are a lot of variables to take into consideration when planning a seasonal lineup, many of which may not be that obvious to a first timer.
Management
Seasonal brand offerings can be a touchy subject. Depending on how they are managed, they can be a great source of incremental volume and profit or a nightmare in terms of shelf space planning, product fatigue, rotation issues and code date maintenance. Brewery ownership and management love them because they help the balance sheet. Incremental volume, higher profitability and, in many cases for growing craft brewers, taproom traffic all play a role in the decision to produce seasonals. Craft breweries that rely heavily on their taproom(s) for operating cash flow need to maintain a consistent rotation of new products on tap in order to maintain the interest of their core customers. There is too much competition from bars, restaurants, venues and other taprooms to expect 'regulars' to keep coming back solely for a pint of their favorite flagship. "What's new?" is a question you hear across the bar from all types of customers, regulars and newcomers alike, so producing new brands (and pre-promoting with 'coming soon' teasers) plays a critical role in driving repeat visits and generating loyalty.
Financial
Financial considerations play a key role in the development of seasonal and experimental offerings. Maintaining a solid gross profit on seasonal offerings needs to be kept front of mind, and one way to achieve this is through the testing of new processes and recipes to fit the qualifications of the research and development (R&D) tax credit. Recent tax legislation made the R&D credit permanent for qualifying processes and maintained the payroll tax offset for breweries that qualify. While seasonal and experimental offerings cannot simply use taste to qualify for the R&D credit, they can qualify by using new processes or improving existing processes during the creation of these products. The R&D credit can be easy cash in pocket for breweries, and in many cases, breweries can also capitalize on the deduction for the R&D expenses subject to the § 59(e)2 limitations. The wages, supplies and contract research costs associated with the seasonal offerings should be monitored for qualification of the R&D credit as well.
As an example, one of the most popular trends in seasonal offerings is barrel aging. This process applies to a variety of craft beer types from stouts and porters, to barley wines and flavored ales, and there are some uncertainties faced when producing barrel aged type products. This uncertainty helps in qualifying for the R&D credit, since there must be a degree of uncertainty in the new process or product being created. With aging sometimes occurring over a period of months or even years, the R&D credit must be looked at for breweries aiming to increase gross margin on seasonal offerings. Current customers look for new creations, and new customers will be attracted to innovative breweries. Utilizing processes and products that meet R&D qualifications could be a way to retain and attract these customers.
Operations
For the brewers themselves, seasonal brands offer an opportunity to do what many say is the reason they got in the business: create.  Ask most brewers why they started (home) brewing and inevitably the conversation will turn to the fact that they love to experiment and test the status quo in terms of ingredients, technology and the brewing process itself. Most brewers want to make their mark and actively participate in providing craft drinkers something unique, exciting and that maybe hasn't been done quite the same before. Limited releases, which typically have an even shorter timeframe, smaller quantity and footprint availability, along with a hyper-focused customer appeal, and seasonals are the brewers' chance to 'give it a shot' without exposing the company to an uncomfortable financial commitment or risk.
Sales
Brewer and distributor sales departments typically like seasonal offerings because they provide an opportunity for them to re-engage with their retail customers. It can be difficult making sales calls, particularly with non-buy accounts, when you have nothing new to talk about. Seasonals provide new dialogue material and an opportunity to showcase their other service offerings that can set them apart from the competition (marketing materials, social media, samplings, etc…) It also gives sales teams another tool to maintain and/or increase the shelf space and tap placements in current accounts. With 'SKU-liferation' (SKU proliferation) at an all-time high, sales teams need new relevant brand offerings that will appeal to the typically promiscuous craft beer drinker and capture some of the interest or impulse purchases of the current timeframe. Providing sales analytics to a buyer (prior success, new market/style trends, other comparable retail success stories) on why a particular seasonal will be successful is what separates quality retail calls from a 'business partner' from the norm that has come to be expected from a 'professional visitor'.
Seasonal Strategy
Whether a brewer is going to offer one or 21 seasonals annually, a sound strategy is crucial. With the limited timeframe and quantity produced, aligning all three tiers (supplier, distributor, retailer) ahead of time could very well be the difference between a brand exploding and becoming next year's new flagship or from pulling half the product out of market due to code date issues. Brewers and distributors need to be on the same page well in advance to properly forecast, schedule production, market and ship to targeted retailers. If your first seasonal of the year is not managed properly and runs long, it can throw off the schedule for remainder of the year and delay rollouts for more time-sensitive styles (ex: Octoberfest) which is unacceptable. It's typically better to run out early and find ways to protect your shelf and tap placements with other portfolio options than to run long and have multiple brands vying for the same space. This is true not only from a cash flow standpoint but also for brand health and equity. Long running brands make distributors and retailers question consumer pull and brewer relevance. Deep retail discounts on product to 'make room' on the shelf or draft tower can deteriorate brand equity from a consumer's perspective as well.
A seasonal brand that is varying off a particular defined beer style should try and stay to true-to-style and approachable for fans of that category. They should avoid alienating customers with misleading descriptors that will only disappoint. For example, if you state on the label 'hazy IPA', the product shouldn't pour like a pilsner. Seasonals that are charting new territories and don't necessarily fit in any defined brand category need to be tactical with their rollouts and, at a minimum, have extensive sampling programs planned in advance to get product in hands. For example, brewers of cocktail-imitating malt beverages (gin and tonic, Moscow mule) can't expect those drinkers to make a purchase unless there is an opportunity to try it out first.
Some typical seasonal styles by season:
SPRING
SUMMER
FALL
WINTER
Irish ales / stout
Pilsner
Marzen / Octoberfest
Holiday ale
Bock / doppelbock
Cream ale
Pumpkin
Winter warmer
Fruit infused pale ale
Kolsch
Brown ale
Strong / dark ale
Hefeweizen
FMBs mimicking cocktails
Dunkelweizen
Scotch ale
Saison
Lager
Harvest ale
Porter
Lambic
Blonde ale
Malt forward / spiced
Stout
Many brewers of seasonals also keep sessionability in mind to maintain velocity and discourage one-and-done customers. New releases that are more bold and adventurous from a flavor profile standpoint tend to be limited releases with much more focused distribution and marketing (ex: taproom only availability combined with a release party). A habanero infused barrel-aged stout may taste fantastic, but chances are it's not going to drive significant incremental volume.
Multi-functional
To recap, seasonal beers play multiple crucial roles within a brewer's business plan.
Taproom traffic sustainability
Higher margins (typically)
Favorable tax implications
Shelf space / draft tower programming leverage
Innovation pipeline / R&D for future flagships
Sales team dialogue / relevance
(Social) media content
Sampling opportunities
Not only do seasonals help you today, but they provide a challenge for the entire organization to analyze how they can do things better and question how to improve from a management, operational, marketing and sales standpoint. The craft beer market is a volatile industry. That volatility needs to be matched by a brewer's ability to innovate for long-term success and profitability.
For more information on these topics, or to learn how Baker Tilly craft brewery specialists can help, contact our team.