With the unprecedented measures being taken to control the spread of COVID-19, small businesses, artisans, ranchers and traditional healers have been some of the hardest hit by the effects of actions taken. Many tribal businesses and entrepreneurs have been forced to temporarily close or significantly alter the way they do business. Now more than ever before, it is crucial to provide support to these businesses through  business interruption grants, assistance with navigating complex federal relief programs and/or providing education on ways to alter their businesses in order to be successful in the new COVID-19 environment.
Baker Tilly's tribal small business advisors are ready to stand by you and help you provide direct and indirect relief to these tribally owned small businesses that have been devastated by the pandemic. We understand the challenges that come with staffing, cash flow, inventory management and the cost of safely bringing customers back into the marketplace. Now is the time to take a look at resources available to support your tribe's small businesses as a first step to getting on the path to economic recovery and future prosperity.
The following are a few of the funding programs that have been made available to small businesses as direct tribal set-asides.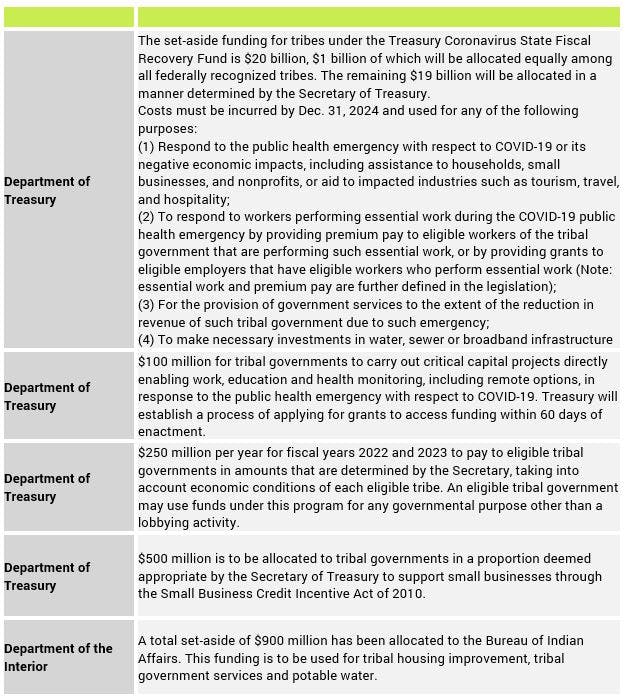 In addition, several other non-set aside programs under previous or newly signed legislation are available to support tribal small businesses, such as:
Paycheck Protection Program
Restaurant revitalization fund
Employee retention credit
Recently, Baker Tilly completed the administration of a $30 million small business grant program for a tribal government using CARES Act dollars as the source of funding. This program was administered via an online portal application process to allow for tribal small businesses on reservations as well as across the country apply during the height of the pandemic.
Some highlights of this effort included the following:
Development of a customized online portal for application receipt and supporting documentation upload
Communications and training on program to tribal stakeholders
Development of compliance requirements and associated compliance framework
Staff augmentation for application review and follow-up
Grant payment and processing
Issuance of Form 1099 to grant recipients
Program closeout and audit preparation for tribal government's external auditors