On Sept. 29, 2021, Jennifer Abruzzo, General Counsel for the National Labor Relations Board (NLRB) issued Memorandum GC 21-08 establishing that "certain Players at Academic Institutions are employees under the [National Labor Relations] Act (NLRA)" and have the right to unionize.
In the memo, Abruzzo notes that the NLRA adopts a very broad definition of the term "employee," which does not expressly exclude "university employees, football players or students". (Note: the NLRA does not apply to the public sector.) She argues, "Football players at Division I FBS private colleges and universities, and other similarly situated Players at Academic Institutions, are employees under the NLRA" because they:
Perform services for their colleges and NCAA by playing for their institution that generates profits and positively impacts the institution's reputation, which then influences student applications and financial donations
Receive compensation in the form of scholarships that cover their tuition, fees, room, board, books and additional expenses
Are subject to their control since the NCAA controls activities such as maximum number of practice and competition hours, scholarship eligibility, minimum grade point averages and restrictions to gifts and benefits a player may accept and the institution controls the players' work on the playing field and some aspects of the players' daily lives
In addition, the memo more broadly signals an expansive view of joint employer activity and independent violations for misclassifying workers. Further, it would also, by definition of employee, extend Section 7 rights and protections to college athletes.
To further support its conclusion, the memo also cites:
The Supreme Court's recent ruling that the NCAA was in violation of the Sherman Antitrust Act "by agreeing to restrict [certain education-related] compensation colleges and universities may offer student athletes who play for their teams"
The NCAA's suspension of name, image, and likeness (NIL) restrictions in response to state regulations effective on July 1, 2021
Collective action on the part of student athletes to speak out against racial injustice, demand fair treatment and express their desire to play despite a global pandemic
The memo does not constitute an official change in the relationship between student athletes and their institutions but it does provide insight into the way the NLRA may be applied in the event of future labor conflicts. The new guidance certainly raises questions in regards to its practical application and creates additional challenges for institutions as they continue to adapt to the rapidly changing landscape within collegiate athletics.
Baker Tilly can help
We can help your institution take a proactive approach to evaluate the current state of your policies, processes and internal controls related to athletics and the student athlete experience to identify opportunities that align with potential legislative changes.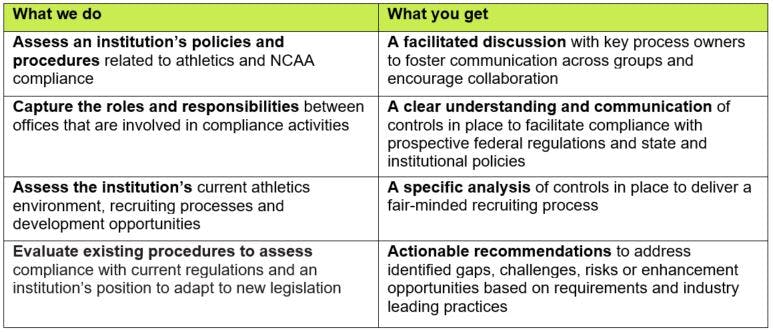 For more information, or to learn more about how Baker Tilly's higher education specialists can help, contact our team.