As the summer of FY18 comes to a close, GSA's OASIS contracts are heating up in the form of open-season on-ramps for contractors of all sizes.  Since their inception in 2014, two "best-in-class" (BIC) multiple award IDIQ vehicles, OASIS Small Business (SB) and OASIS Unrestricted (UNR), have proven to be a popular choice for the procurement of tasks requiring complex, integrated professional services, and these contract vehicles are about to scale significantly.
On September 10th, GSA released a solicitation to on-ramp an additional 190 contractors to OASIS SB Pool 1 (Management, Scientific, and Technical Services) - a considerable jump from the 40 slots offered as part of the original contract award in 2014.  That news comes on the heels of a recent GSA notice that the OASIS team expects to increase the number of contractors on OASIS SB Pools 1, 3, and 4 to a total of 500 – almost quadrupling the current number of contractors on those pools.  The primary purposes for these on-ramps are to increase competition, and to replenish the pools as vendors "graduate" from the current size standards for each pool.  For example, OASIS SB Pool 1 is expected to see a 70% graduation rate of its current industry base from that pool's $15 Million size standard in April 2019.  Additionally, on OASIS UNR, GSA described their intentions to expand Pools 1 and 3 to a total of 200 contractors.  These large-scale increases show GSA's confidence in the contract vehicle.  Some optimistic GSA officials have stated that it is not outside the realm of possibility to see as many as 12 to 18 additional OASIS solicitations between now and the end of FY19, for various Pool and SubPool on-ramps, for both OASIS SB and OASIS UNR – good news for prospective contractors.
With this increase in awarded contracts per pool, what may have been a risky use of B&P funds in 2014 may now present a more attractive opportunity for professional services contractors.  But why should contractors be thinking about OASIS?  And what should be considered in the bid / no-bid decision?  Below is a description of the vehicle itself, some of the proposal requirements, and insight into what might make a company a candidate for an on-ramp.  
OASIS in a Nutshell
The One Acquisition Solution for Integrated Services (OASIS) contract provides government agencies with a streamlined approach to the acquisition of both commercial and non-commercial services. On each of the two vehicles (OASIS SB and OASIS UNR), professional services are broken out into seven categories, or "pools", each of which operate as separate multiple award IDIQ contracts.  Pools cover 29 different NAICS codes (and 6 NAICS code exceptions) for a wide range of services, including program management, engineering, finance, accounting, and various R&D focuses in the fields of science, air and space.  The contract is structured as a 5-year base award with one 5-year option period, where only OASIS contractors in their awarded pool can compete for task orders on various contract types, including cost reimbursement, FFP, and T&M contracts.  The awarded contractors are qualified and experienced, as the rigorous on-ramping process awards contracts to only the highest technically rated contractors.  Contractors are drawn to OASIS for the following reasons:
Growth
The proof is in the numbers.  Through OASIS, agencies have obligated over $11.34 B in funding over the first four years of the contract, and funding has increased from $565 M in FY15 to over $5.26 B in FY18.  This trend in funding combined with GSA's intention to significantly increase the number of vendors per pool gives contractors high hopes for this vehicle's continued growth. The below graph displays the trend in funds obligated, per pool, over the first four years of the base period:
Graph 1: Sales by Pool for OASIS SB and OASIS UNR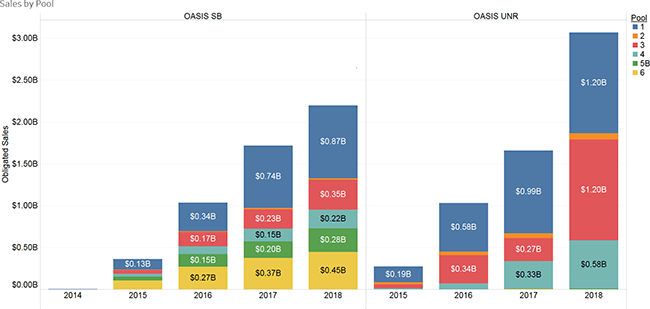 Graph 2: Task Orders and Sales by Pool for All OASIS (SB & UNR)
Flexibility
One of the primary benefits of OASIS is its flexibility. Under OASIS, contractors are given the opportunity to provide a mix of labor categories spanning multiple disciplines as opposed to confining labor categories to only one type of service or discipline scope.  Along the same lines, ODC's are easily added to task orders without the need for ancillary SINs or OLM procedures.  This streamlined approach allows government agencies and contractors to shift their focus away from these contracting hurdles and towards the requirements at hand.  OASIS also provides for task orders of all contract types, allowing the nature of the work to guide contract type selection rather than the restraints at the vehicle level.  As illustrated below, OASIS has predominantly issued task orders that are cost reimbursement in nature, differentiating itself from many other IDIQs/GWACs and the Federal Supply Schedules program.
Graph 3:  Sales by Contract Type on OASIS SB & UNR
Graph 4:  Task Orders by Contract Type on OASIS SB & UNR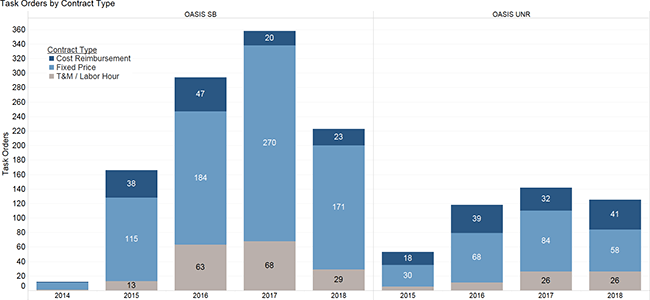 Prestige
This contract is not for the everyday contractor, serial subcontractor or LPTA-focused bidder.  Source selections for OASIS are made based on a scoring system geared towards the highest technically rated contractors with fair and reasonable pricing.  Evaluation criteria for the upcoming on-ramps will be identical to the original procurement, weighting Relevant Experience at 40%, Past Performance at 40%, and Systems and Certifications at 20% out of a total 10,000 points.  To be awarded an OASIS contract means the contractor has met the minimum requirements of these evaluation criteria and has scored enough points in the "nice-to-haves" to make the cutoff for the most technically qualified contractors in the targeted pool.  The overarching intent for OASIS is to give agencies the ability to receive bids from only the most technically savvy and experienced contractors.
Barriers to Entry
Minimum requirements for an OASIS award are high, but the over-and-above requirements to actually contend for a slot are much higher.  The solicitation breaks out the evaluation process into two phases, where contractors must first meet the minimum requirements described in the "Acceptability Review."  Only upon passing phase one will the contractor move to the points evaluation phase of the review process.  If the contractor maintains standing in the Top "X" number of contractors to be awarded (Top X is defined in the solicitation), only then will the government review for fair and reasonable pricing.  A self-scoring sheet  is provided for contractors to assess how well suited they are for OASIS, and if they should consider submitting an offer.  Below are some of the evaluation criteria that the government assesses when reviewing an offer:
Phase 1:  Acceptability Review
There are a number of baseline documents that serve as minimum requirements for an offeror's OASIS proposal to even be considered.  Of those outlined in section M.4 of the solicitation, the most important include –
Accounting System Review – Unless the offeror is subject to Cost Accounting Standards (CAS), the offeror need not have a DCAA audited and approved accounting system prior to proposal submission; however, the accounting system must be ready for DCAA audit.  The offeror will required to complete a Modified Pre-Award Survey (SF 1408), found as an attachment to the solicitation, and have supporting documentation to demonstrate compliance.
Pool Qualification – To qualify for a pool, the offeror must submit documentation for at least 2 Pool Qualification Projects for OASIS SB and at least 3 projects for OASIS UNR.  These projects must be prime contracts awarded under a NAICS Code, NAICS Code Exception, or Product Service Code (PSC) that correspond directly to a code in the offeror's targeted pool.  These projects must have been performed within the 5 years prior to solicitation closing date.  Additionally, the offeror must have received a Past Performance Rating of at least 3.0 or better for each project, and the offeror must submit the required documents (outlined in solicitation section L.5.1.2) in its proposal.
Relevant Experience – To prove their capability of executing OASIS type projects, offerors must submit project information of relevant projects that are at least one year long (exceptions apply), and are either ongoing or completed in the past 5 years.  These "primary projects" must have been awarded under a U.S. Federal or State Government Prime Contract, or have been a commercial project (government subcontracts do not qualify).  Requirements differ for OASIS SB and OASIS UNR proposals, as outlined below:
OASIS SB:
Minimum of three, maximum of five submitted projects
Minimum average project value of $750k per year
No project less than $150k per year
Each project must cover at least three of the six OASIS core disciplines
OASIS UNR:
Must submit information on exactly five projects
Minimum combined project value of $25 Million per year
No project less than $3 Million per year
Each project must cover at least four of the six OASIS core disciplines
Past Performance – At a minimum, the offeror must receive a combined average Past Performance rating of 3.0. or better for Pool Qualification Projects and Primary Projects.  The offeror must submit available CPARS reports with their proposal to support past performance ratings.  If this report is unavailable, an Award Fee Determination shall serve as the basis for past performance.  If neither the CPARS nor Award Fee Determination are available, the offeror must provide each of their project POCs with the Past Performance Rating Form (which will be a separate attachment to the solicitation) so the projects can be rated and the forms submitted prior to the proposal closing date.
Please note that the descriptions of the requirements above are general in nature and subject to change in the on-ramp solicitations, however GSA has stated that the on-ramp solicitations will be largely in line with the original solicitation documents.  One notable change from the latest OASIS SB Pool 1 Solicitation allows for Contractor Teaming Arrangements (CTAs), in which one or more companies can form a Partnership or Joint Venture and submit a bid.  This allows prospective offerors to leverage the experience of their partners and/or first tier subcontractors for pool qualification, primary, and secondary projects – an important revision to the original OASIS SB solicitation.   For more detailed information, please refer to section L and M of the latest applicable OASIS solicitation that you are considering pursuing (SB or UNR).
Phase 2: Points Evaluation
Offerors will complete a self-scoring worksheet as part of the proposal which will be used to preliminarily rank offerors.  Upon the government's completion of the Acceptability Review, scores will be evaluated to determine if adjustments are necessary.  The Scoring Table in section M.6. of the solicitation outlines the evaluation criteria, which are summarized below:
Relevant Experience – As noted above, Primary Projects can be federal, state, or commercially awarded contracts, but Secondary Projects must be awarded by the federal government directly.
For primary projects, offerors can earn additional points if the project –
Has the same NAICS or PSC code as the offerors target OASIS SB pool
Is of high value
Covers four or more OASIS core disciplines
Was performed in multiple locations
Involves at least three or more subcontractors / teammates
Includes ancillary products and/or services
Is a cost reimbursement type project
Was performed OCONUS
For secondary projects, offerors can earn additional points if the project –
Past Performance – Contractors that receive exemplary past performance scores on their Primary Projects can earn additional points.  In the Scoring Table, a tiered scale outlines the points possible for average past performance scores ranging between 3.5 and 5.0.
Systems, Certifications, and Clearances – Aside from the approved accounting system, none of the evaluation criteria in this section are mandatory.  However, for experienced contractors with mature systems, this section is an area where contractors can run up the score.  The evaluation items are as follows –
Systems:
Approved Purchasing System
Current FPRA, FPRR, and/or Approved Billing Rates
Earned Value Management Systems (EVMS)
Acceptable Estimating System
Certifications:
CMMI Maturity Level 2 Certification (or higher)
ISO 9001:2008 Certification
ISO 17025 Certification
ISO 14001:2004 Certification
AS9100 Certification
Government Facility Clearances:
Secret
Top Secret
Conclusion
OASIS continues to show great promise as a go-to contracting platform for DOD and many other federal buyers. If you are a contractor on the fence about OASIS, it might be beneficial to determine how well suited you are for the contract.  The self-scoring sheet provides a great starting point in determining whether you have the requisite projects, past performance ratings, and systems to be eligible for award.   Additionally, the minimum scores from the already awarded contracts may be valuable in benchmarking yourself as you look to make a decision as to whether you should move forward with a bid.  Regardless of your decision, the contracting community would be wise to continue to track how OASIS develops into the future given how quickly agencies have turned to the vehicle over its short life span. 
For more information on this topic, or to learn how Baker Tilly specialists can help, contact our team.