As organizations plan for recovery after COVID-19, they do so with an extraordinary level of uncertainty about what's next while also doing everything in their power just to keep the lights on. To ensure a successful recovery, it is critical to continue monitoring the COVID-19 situation in addition to broad economic indicators. Simultaneously, companies must manage customers' ever-changing needs, suppliers' inefficiencies and employees' needs and emotions as they evolve day to day. Forecasting cash flow and strategic planning have never been more important.
This is an overwhelming environment for many businesses, but it also reveals the value of effective scenario planning. The future looks a little different for every company but now is the time to rally forward-thinking leaders in your organization, invest in technology that simplifies information management and tracking, and develop plans based on changing indicators and assumptions.
To successfully map a course of action in this fluid environment, we recommend using a strategic scenario modeling process. This will allow your organization to make assumptions on how this crisis will play out, and how your environment and key factors may change over time. This helps to develop a set of tactical and strategic actions to address the uncertainties as they become realities.
Many organizations use a combination of disconnected spreadsheets to model scenarios for the corporate FP&A processes or utilize outdated technology. Neither of these solutions provide data in real time across one unified platform. Customized spreadsheet solutions are difficult to manage, lack data transparency and integrity, do not integrate with operational plans, and are not efficient at handling treasury and financial modeling activities.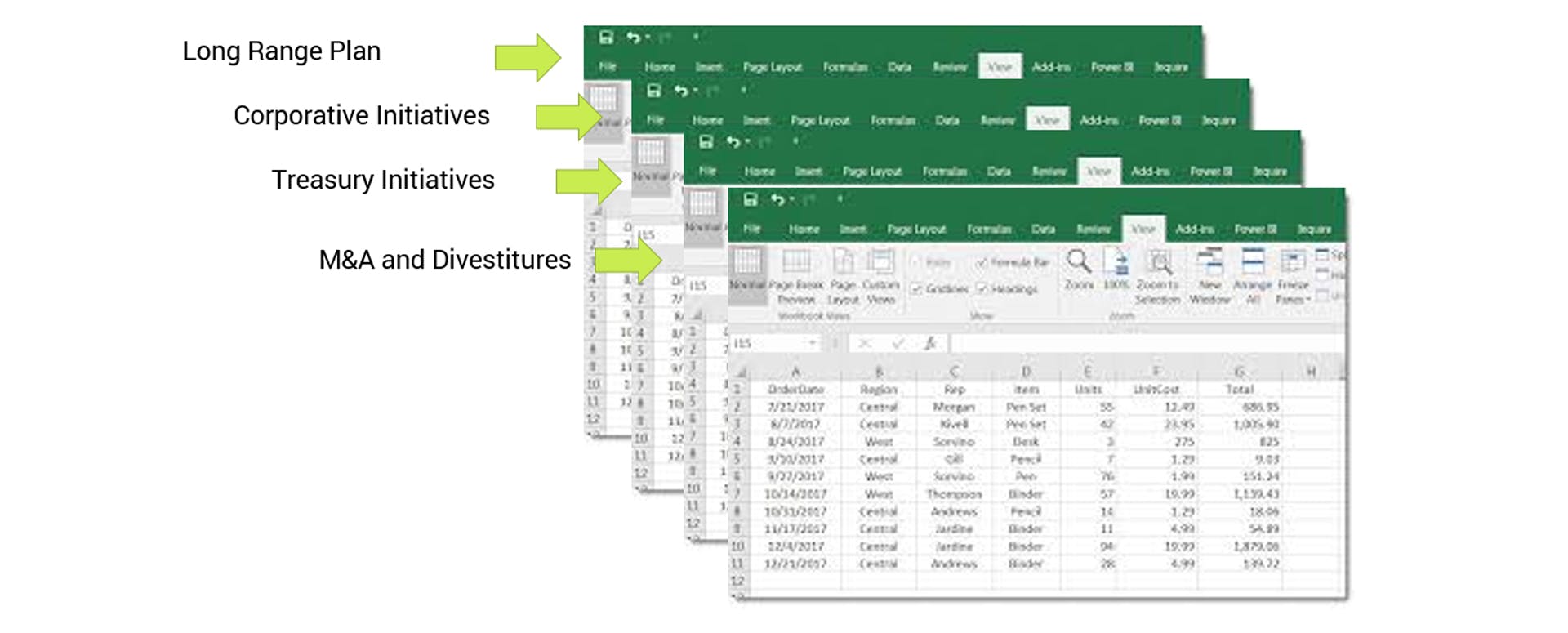 There is a much better way to execute this process than via spreadsheets. Leveraging modern, cloud software such as Oracle's Enterprise Performance Management (EPM) solution, will help you follow and execute this path through robust scenario modeling functionality. Scenario Modeling (SM) within the Oracle EPM Cloud product provides out-of-box capabilities to handle all aspects of multi-range financial modeling, what-if scenarios, treasury initiatives and corporate finance under one platform. This software enables users to create forecast models for fast-changing business dynamics using built-in, sophisticated modeling functionality. When helping our clients execute scenario modeling in Oracle EPM cloud, we focus on the process outlined below.


Step 1: Build infrastructure and define strategy
Financial models reveal the impacts of strategic decisions on an organization's bottom line, balance sheet, cash flow and shareholder value. Before starting a scenario planning exercise, define the appropriate scope, issues and timeline (short, medium or long term objectives) for the scenarios to be constructed.
Assemble leadership group and information hub
Determine stakeholder roles and responsibilities
Ensure process is in place for data capture and processing
Define the frequency to revisit and refresh the models as more information is captured
Define timeline
Focus on short, medium or long-term goals
Define scope
What issues or decisions are being evaluated?
What are the key factors and potential outcomes that influence the future environment?
What is the timeline for making decisions and then executing against them?
Step 2: Define drivers
Identifying the right drivers will inform the development of strategic models. Analyze the factors internal and external to the organization that drive the most important issues to be addressed.
External drivers
Changing market conditions, consumer spending patterns and demographics
COVID-19 factors: Number of cases, governmental orders, remediation steps, etc.
Supply chain disruptions
Technology availability, innovation and costs
Financial: GDP, inflation, exchange rates, pricing
Internal drivers
Funding and access to capital, costs, market share
Talent pool, acquisition and management
Productivity, quality, business model, time to market
Customer acquisition, satisfaction and retention
Step 3: Model scenarios
In times of uncertainty, a strong financial planning solution is imperative. You want a model that effectively performs scenario modeling functions, captures a range of possible outcomes, and ensures agility, business continuity and growth.
Develop two to four scenarios
Scenarios must test the strategy, plans, decisions and/or behaviors using quantifiable metrics
Organize scenarios around the key questions being modeled
Develop a narrative for each scenario
Document the differences between each scenario
List key drivers
Step 4: Business case proposal for decisions
Review the models and create the business case proposal
Assess how plans, decisions and priorities will change under different circumstances
Test the strategies, plans and budgets under different scenarios
Document the positive and/or negative implications of each scenario
– Complete more detailed analysis of specific initiatives or decisions
Finalize most likely scenario for business to adopt
Step 5: Develop strategic actions
Creating models is simply not enough. Often organizations spend the effort to create models but fall short in applying them to the business. It is essential models are included in strategic decision making and applied to actions. Scenario planning will allow leaders to identify and evaluate potential actions indicated based on each scenario. Some actions may apply to all potential scenarios or to others if/when a scenario becomes real. Some actions may be deferred until more is known.
Analyze the models and develop potential action or contingency plans
Prioritize list of actions and risk factors
Ensure management has a clear understanding of the models, risks, outcomes and action plans
Apply the scenarios to planning, budgeting and decision making processes
Step 6: Monitor and refine
Building a strategic model is not a one-time activity. Internal and external environments change, therefore models must be fluid. Revisiting, modifying and updating will always be crucial. As more data points become available, the scenario model should be updated to refine or generate additional possible outcomes.
Revisit the models and process (is the data changing faster or slower than anticipated?)
Review models in comparison to actuals
Refresh data, reassess drivers and inputs
Evaluate the modeling scheduled, does the frequency of review need to adjust?
Repeat the steps above to refine and produce new models
Getting started
The Baker Tilly team has packaged an assessment and training program focused on leveraging Oracle's robust scenario modeling functionality for better visibility into all the potential outcomes that can affect your business. This is critical so your organization can put plans in place to successfully navigate through the economic recovery.
Please contact us if you are interested in Baker Tilly helping you implement Oracle's Financial Planning offering.