Communities in Michigan are facing tough questions regarding their infrastructure.  Many have completed, or are in the process of completing, a Stormwater, Asset Management and Wastewater (SAW) Grant financial plan and asset inventory pertaining to their sewer system.  They may have also completed a Water Asset Management Plan (WAMP) pertaining to their water system. These processes have been very informative for community leaders and administration regarding the upcoming needs of the sewer and water systems. Many of these communities have taken necessary steps to adjust rates on their systems to account for the upcoming capital needs. After addressing their enterprise funds, administration and council/board members are now coming to an oft-asked question in Michigan …"What about our roads?"
Without user rates or a dedicated revenue stream (in most cases), what are the options to fund this type of infrastructure? While projected increases in Act 51 monies from the State are on the way for many communities, the overwhelming conclusion among all sizes of communities is that this is not enough. Even supplemental and upcoming budget appropriations from the State are not addressing the major needs of most communities. What can communities do to fund their road network? A road funding analysis is a good place to start. 
What is a road funding analysis? Most communities are aware of sewer and water rate studies and the need to perform these, whether internal or through a hired consultant. However, many are not aware that a similar type of analysis can be performed for their roads as well. It is often a more involved discussion than sewer and water, and in today's environment, it is just as important. There are many options when it comes to road financing. Some of the most used range from special assessments, to increasing operating millage under Headlee, to voting a charter amendment (extra-voted millage), or voting bonds. The options are numerous and sometimes confusing. There is no "one-size-fits-all" solution for communities. Thus, having an individualized holistic discussion can be the first step.
Baker Tilly can assist in leading this discussion with administration and/or the governing board. Through this discussion, we identify the many variables pertaining to road finance and empower the decision makers to take action in addressing their needs.
Tax-Exempt Municipal Bond Rates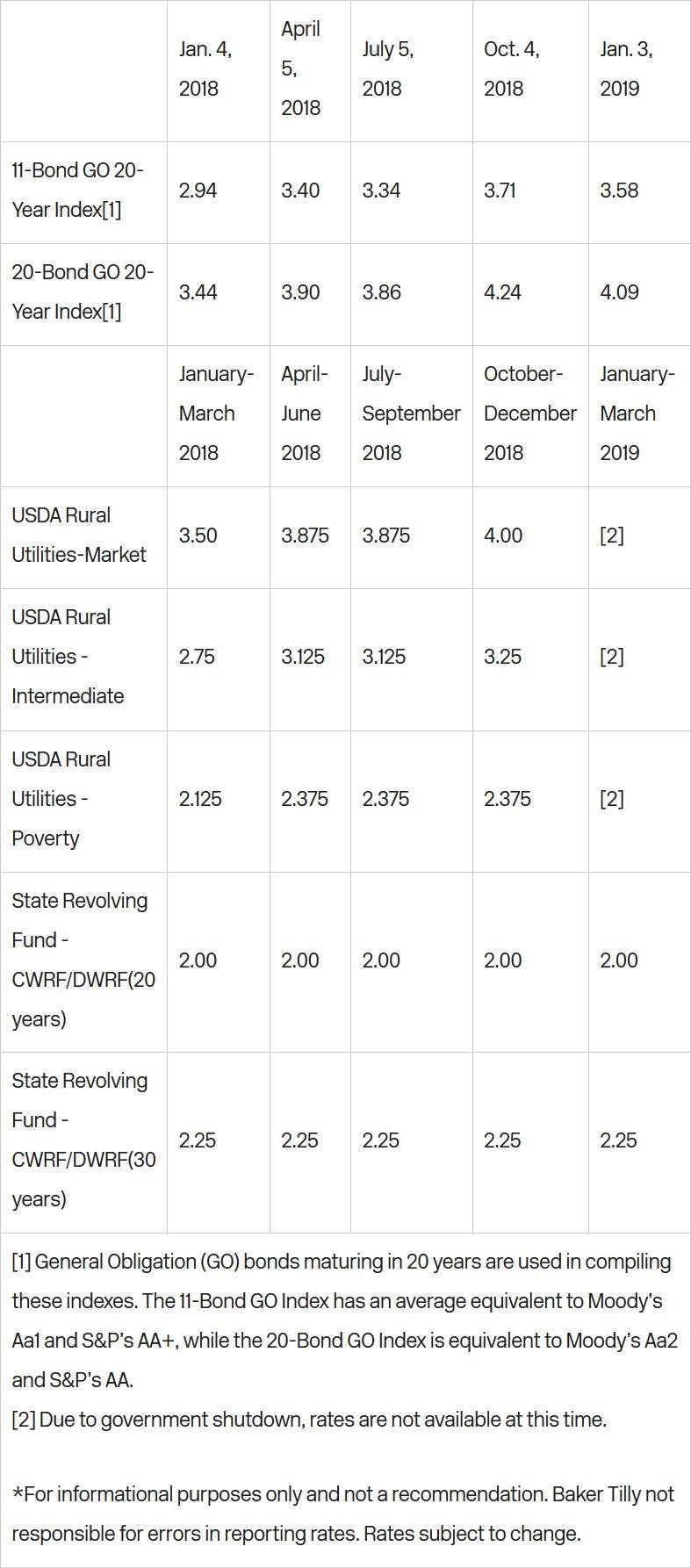 For more information on this topic, or to learn how Baker Tilly municipal specialists can help, contact our team.
Baker Tilly Municipal Advisors, LLC is a registered municipal advisor and wholly-owned subsidiary of Baker Tilly US, LLP, an accounting firm. Baker Tilly US, LLP, trading as Baker Tilly, is a member of the global network of Baker Tilly International Ltd., the members of which are separate and independent legal entities.