Data can tell us only so much about an organization. It is really in how data is used that it actually becomes valuable – and when leveraged properly can give organizations an edge over their competition.
At the virtual PowerPlex 2020 conference in May, Baker Tilly professionals Colin Chimento, enterprise solutions consultant, and Dan Bolinson, data science and analytics manager, presented "Gaining competitive advantage through reporting analytics." Their presentation discussed how organizations can integrate business intelligence and visual analytics tools into their processes to help monitor and improve their financial and operational outcomes.
"Self-service" analytics puts information into the hands of a variety of stakeholders and allows them to find answers to their questions directly. Business intelligence drives real bottom-line value when it helps practitioners make better decisions – and that means being able to get to the analytics within the timeframe of the decision. Self-service analytics reduces or eliminates the need to wait for IT or a corporate analyst to respond. Individuals can then develop a visual story that presents data in a concise and coherent narrative that should compel an audience to make decisions or take a desired action. A well-designed visualization will increase the impact of data and leave a more lasting impression than any single statistic on a spreadsheet.
Why and where is it used?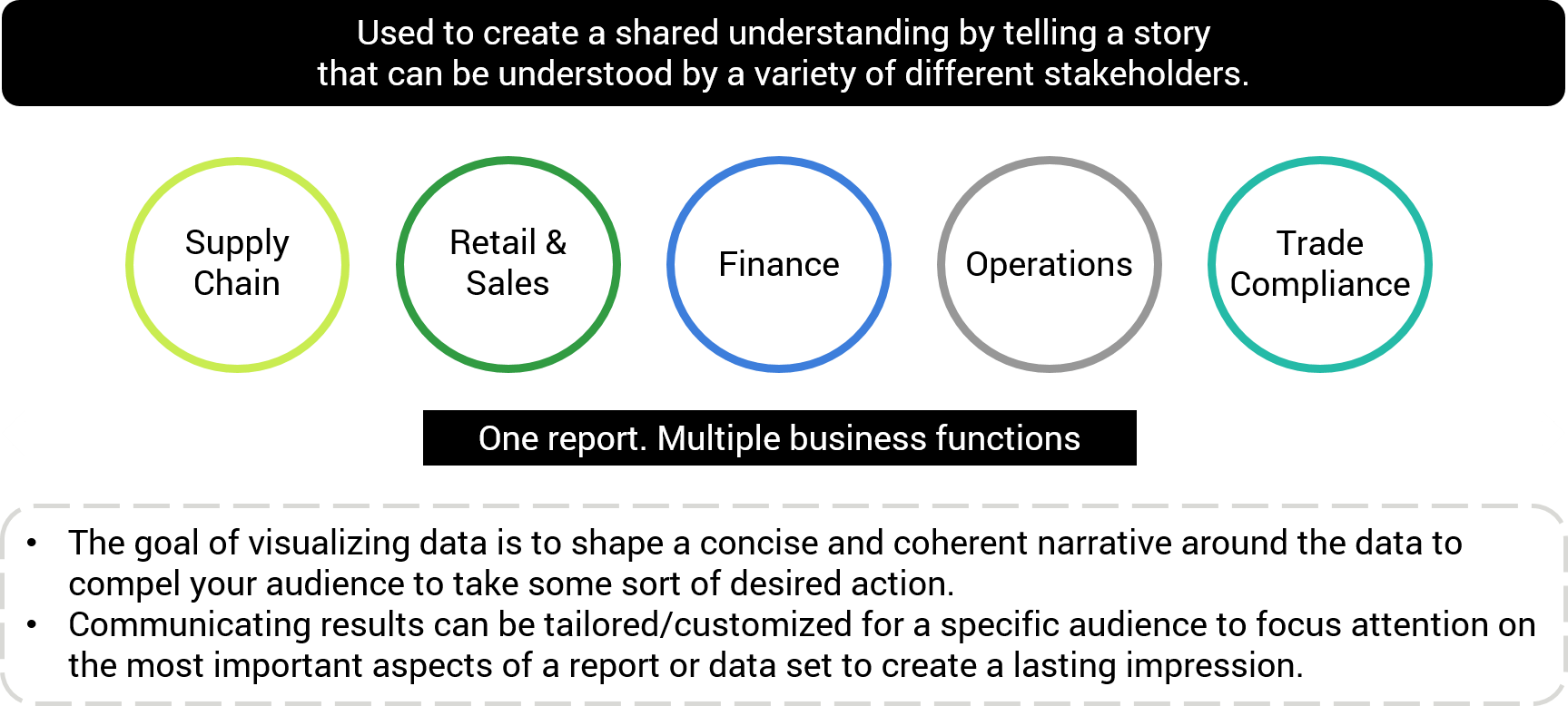 While most organizations would agree having certain analytics readily available could help them, knowing where to start can be overwhelming. Having clear objectives and a though-through roadmap is therefore critical, and should consider the people, processes and systems involved. As Bolinson said, it is easy to imagine hiring the best data scientist in the world, but if that person is not given the appropriate tools or the backing of a team, they will not succeed. Similarly, an organization could buy all of the best analytics tools, but if no one knows how to use them, they are worthless. People, processes and systems should be considered as each integral, and all interrelated.
Succeeding with data analytics is as much about building an analytics-driven culture as it is about finding and investing in the right reporting analytics tool. A disabling culture will undermine the right technology every time, Chimento said. Having an analytics-driven culture means allowing insights derived from data to guide everyday decision-making. Top-down buy-in is really important, but identifying and supporting the champions who will pioneer use-cases within the organization will root and grow the use of analytics in the business
Organizations also must take an honest assessment of their current in-house capabilities before they consider areas of investment and development timeframes. Often, it is helpful to have an independent voice, or third party, dissect the organization's goals and needs to help map out where it wants to go and how quickly it wants to get there. They can strategize the way data is collected and classified and can develop tools to generate valuable business intelligence, Chimento said. An experienced advisor can also help an organization develop dashboards and establish an effective data analytics program in weeks and months, whereas a company might struggle to implement on its own over years.
Data analytics will only continue to become more valuable in business planning and execution. It puts, in an instant, a level of detail at the fingertips of stakeholders that allows them to make educated decisions, and ground conversations in facts. The most relevant data for any organization is its own, but it's how the organization transforms it through data analytics that makes it vital to attaining an edge over the competition. Baker Tilly professionals can help your business leverage their data analytics to grow and reach future goals.
Contact us to begin your data analytics journey with Baker Tilly.