Food and beverage processors that adopt scalable robotic process automation (RPA) solutions can achieve dramatically higher efficiency and effectiveness in their sales processes, according to panelists at a webinar hosted by Baker Tilly.
Eric Kroll, Partner, Food and Beverage Advisory, noted, "When we refer to robotic process automation (RPA) we're essentially talking about software that automates business processes. The ideal business process for this situation is a routine, standardized, structured data, rules-based process."
Effective use cases
Claudio Garcia, Director, Enterprise Transformation Services, said that while "there are probably a series of workflows in the organization that are candidates for RPA," it is important for food and beverage processors to establish an effective use case that will yield a "very strong, quick win" and have a strong ROI.
Garcia noted that there are three types of use cases when considering RPA:
Standard – a process that saves time and money by replacing manual, routine workflows with an RPA solution
Advanced – a process that mitigates risks or improves regulatory compliance
Intelligent automation – a process that combines RPA with other technologies to align with a revenue-generating objective
Kroll said that there are many different vendors offering RPA solutions, and that food and beverage processors have to choose a vendor with a solution that best fits their needs. Regardless of the initial objective, Kroll noted, it is important for the company to pick a solution that they can scale and so that they do not lose momentum especially after the initial success of a quick win.
Specific food and beverage use cases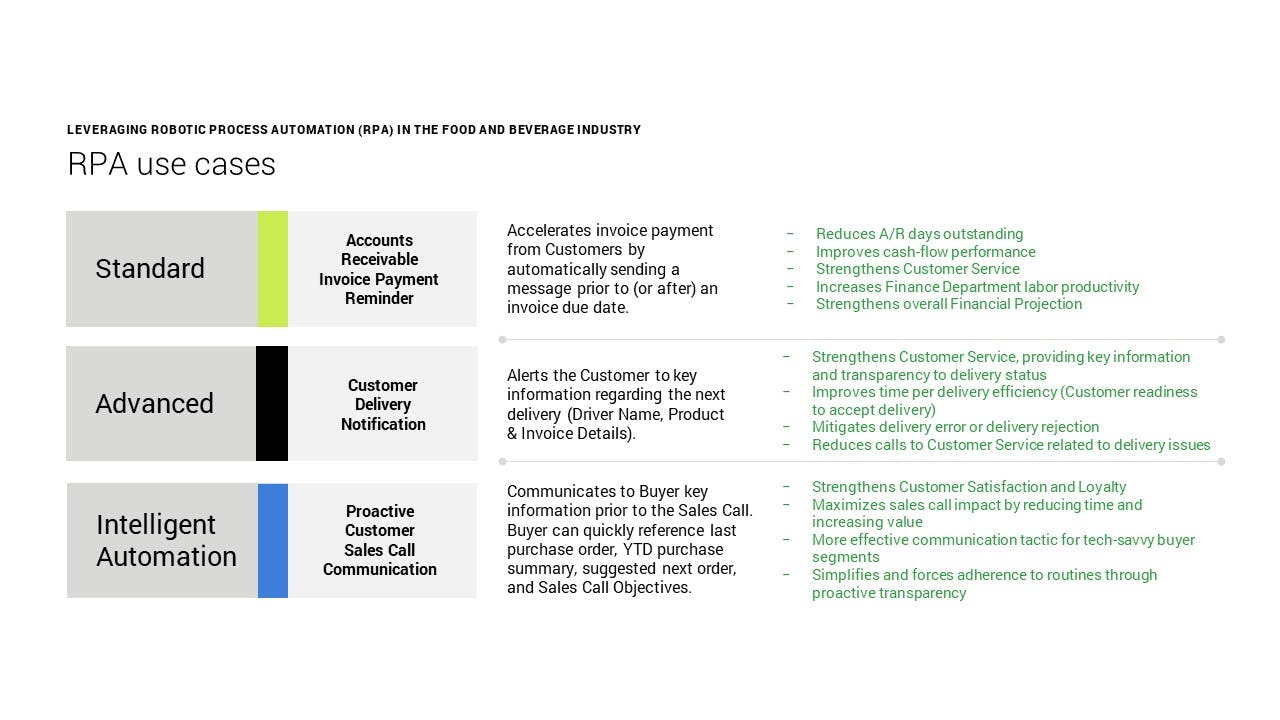 Baker Tilly said that "the impact of a traditional sales call – to gain new distribution, improve shelf space, sell ads or features, or get displays – are less effective by a face-to-face visit with the retailer today than they were years ago." He added that customers are looking for digital solutions "to improve efficiencies, enhance the customer experience, and overall execute profitable ways to operate the business in a changing marketplace," because of the following:
SKU proliferation and technology to handle it
Customer loyalty
Impact of market disrupters such as Amazon Prime
Employee retention and recruitment pressures
Corporate trend toward "going green"
Historic sales/service strategy effectiveness
Baker Tilly described three specific types of RPA solutions that food and beverage processors would find useful:
Standard: accounts receivable invoice payment reminder – automating reminders to customer accounts several days ahead of when an invoice is due, or past due.
Advanced: automating a customer delivery notification – alerting a customer when a delivery is in route, giving a customer time to review the order before it arrives, process a check (if necessary), or simply prepare to receive a delivery.
Intelligent automation: proactive customer sales call communications – providing the customer with a solid plan for an upcoming call, which will help force the conversation around the objective and make sure the appropriate data and sales collateral are utilized to convince the customer to say "yes."
Implementation challenges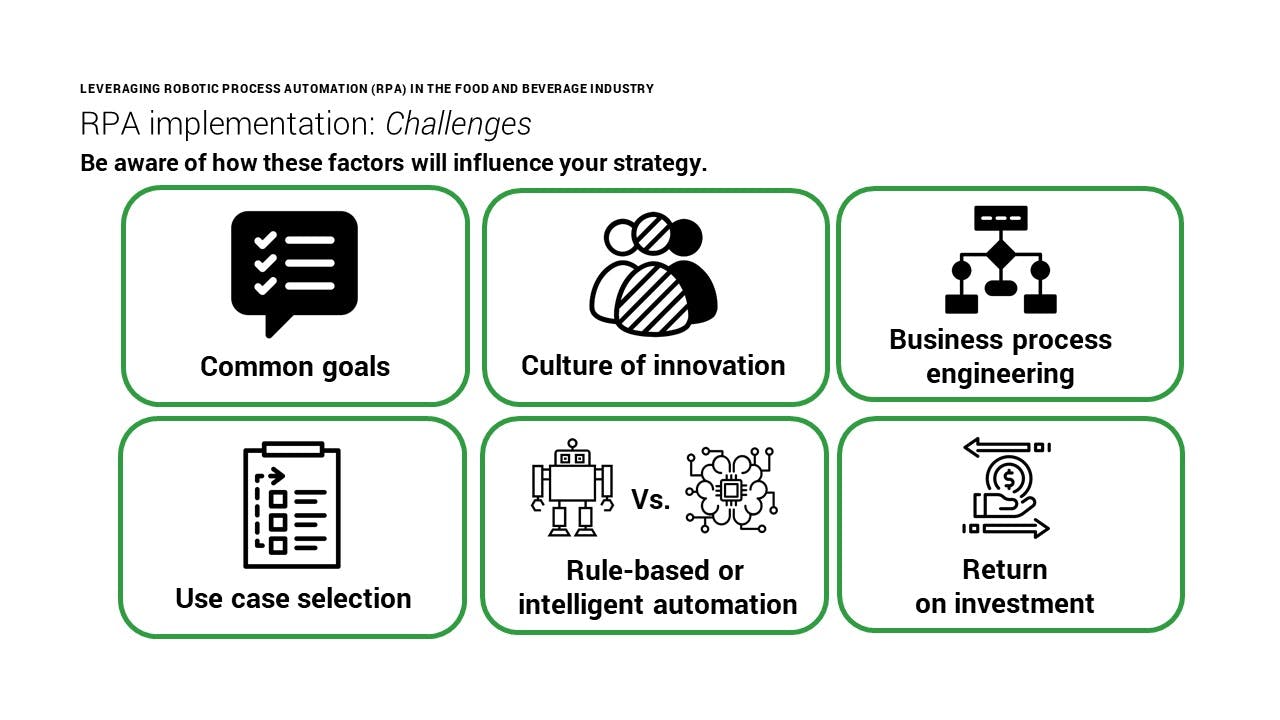 Gwen LaPole, Consultant, Enterprise Transformation Services, noted six implementation challenges food and beverage processors need to be aware of when designing an RPA strategy:
Common goals – aligning goals from the IT team to each of the functional business units will help with selecting use cases as well as drive the implementation process.
Culture of innovation – a company must be "open to thinking on different forms of innovative ideas or potential use cases from across the organization," LaPole said. "Great use cases can come from the front end of the business to the back end."
Business process engineering – food and beverage processors should have clear documentation on the current processes they are considering for RPA to ensure there is organizational alignment as well as to better measure the impact of automation.
Use case selection – LaPole said, "it's important to take a broad approach and look across the organization and identify a full list of potential use case candidates for RPA, from multiple different business units" before prioritizing which use case to implement first.
Rules-based versus Intelligent Automation use cases – LaPole noted that rules-based use cases are basic tasks that are easy to automate – the "low-hanging fruit" that enable a company to adopt and get familiar with the technology. "After resources within the organization have adopted the technology and are comfortable with RPA," LaPole said, "[the company can] begin focusing on some of the more intelligent automation processes and scale the technology within the organization to start addressing some of the more cognitively capable processes."
Return on investment – the company should be clear on what it expects the return on investment to be for implementing an RPA solution, whether it's simply cost savings, improved data quality, or an enhanced customer experience.
Key tips to getting started
Garcia noted three key tips food and beverage processors need to consider concerning an RPA solution –
it must be integrated with the company's overall IT strategy;
the company must maximize the ROI associated with the first few use cases;
the company has to account for the total cost of implementing RPA, including development, software licensing, hosting and storing software, and post-implementation robotics support.
Baker Tilly said, "Companies are hungry to understand better ways to sell and service their customers in a profitable way." By adopting RPA solutions, "an organization is going to achieve dramatic business benefits by redefining its key sales processes for significantly higher efficiency and customer satisfaction."
For more information on this topic, or to learn how Baker Tilly specialists can help, contact our team.