Law firms historically are entrusted with highly confidential data, which makes them prime targets for today's cyber criminals. Protect your firm—and your clients' information—from cyber threats with these cybersecurity steps and avoid compromising sensitive information and damaging your reputation.
Networks
Basic protection: Use firewalls with restrictive settings to protect critical systems
Advanced protection: Restrict wireless network access
Mobile devices
Basic protection: Require passcodes and encryption on all devices
Advanced protection: Set up remote wiping capabilities on all devices
Vendor management
Basic protection: Require vendors to annually certify their cybersecurity practices
Advanced protection: Develop a robust vendor management process including cybersecurity service level agreements and audits
Encryption
Basic protection: Encrypt all laptops and desktops
Advanced protection: Encrypt databases with critical and regulated data
Training
Basic protection: Frequently communicate cyber threats and proper practices to users
Advanced protection: Test user compliance using simulated threats and reward users who act responsibly
User access
Basic protection: Be authoritarian with adding, modifying, and removing all user access
Advanced protection: Implement two-factor authentication for all users
Disaster recovery
Basic protection: Replicate critical systems and data to off-site data center
Advanced protection: Virtualize server and network infrastructure
Incident response
Basic protection: Purchase quality cyber liability insurance
Advanced protection: Create an incident response plan, including a multidisciplinary response team and then test against the plan for weaknesses
Logging and monitoring
Basic protection: Select your top four to seven security events to log and then setup alerts when the events are triggered
Advanced protection: Implement a security event monitoring system/service
Audits/assessments
Basic protection: Get an independent third-party to evaluate your cybersecurity practices
Advanced protection: Develop an annual audit/assessment plan, including quarterly vulnerability scanning
Baker Tilly's cybersecurity and professional services industry teams can help you assess your current cyber-risk profile on the roadmap or tailor a customized plan unique to your law firm environment. We can give you the tools to protect your law firm today from tomorrow's cybersecurity breach.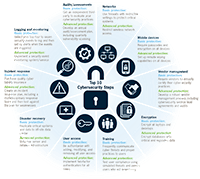 Protect your firm today form tomorrow's breach